When I originally came up with the brilliant idea of hiking Mount Kilimanjaro, it was more of a joke. I didn't actually think it would pan out…but it did. Once my flights were booked and I had more than 6 months to train, I knew deep inside that I wasn't going to do anything to prepare for this adventure, except spend a lot of money on really great name brand gear. I lied to myself and kept pushing back on practice hikes. The gym and me never really got along so I wasn't going to start now. As a master procrastinator (any of my editors can confirm), I wasn't going to give in, and I would worry about it later. When later arrived, I was scared shitless of what I had signed up for.
After landing in Africa, I had a little over a week before the hike would begin. During this waiting period, the tour I was with involved us visiting parts of Kenya and Tanzania, including the Serengeti. We were also camping, so in my mind, this was great training for the camping I would be doing as I hiked a mountain — the tallest mountain in Africa. It was also during this time that I met a few of the others who would be taking the challenge with me. One of the first people I met, a lovely woman named Lucy, began to talk about the high altitude training that she went through at her gym back in Sydney. It was at this point that I began to panic internally. I nodded my head when I was asked about my training, in an effort to deflect without truly answering.
After our week of camping and spotting wildlife came to an end, it was time to make our way to the entrance of Mt Kilimanjaro National Park, where we would meet the remainder of our small group — ten in total. It was that night, at dinner, that I learned that four out of our group of ten identified within the queer spectrum. Two gays, a lesbian and a bisexual, oh my! I had my suspicions but it was the other gay man on the trip that quickly brought it up at dinner and got everyone to divulge their sexual preferences – I was glad he did because I immediately felt safe. I somehow knew that there was an understanding between the queers that we would be there for one another during this difficult hike to the top, which spanned over 5 days. Thankfully, the other six members of our group were all unfazed by our mini-queer takeover, and just like that, our family of 10 was bonded and we would conquer this mountain together. This was the same night that I also learned that most of the others had also not done much to train, so I was a bit relieved as I finished my third pint of beer.
The days that followed were miserable but memorable, mainly because of the amazing people that I was with. We were all suffering throughout, in one way or another, so it was easy to bond over our pain. I was doing it, though, and each day, as we got closer and closer to the base of the mountain, while gaining altitude, I was priming myself for what ultimately would be one of the most difficult experiences of my life. On summit night, we departed base camp at around 11pm with a goal of reaching Uhuru Peak (the very top of Kilimanjaro) by sunrise, which we did.
The way up was thankfully in the darkness because I didn't have time to freak out over the steep grade of the climb, or notice how easy it would have been to fall off the side of the mountain. It wasn't easy; nothing about this entire trip was easy. I was a solo traveler, climbing a mountain with strangers turned friends whom I had just met. The saint-like porters and guides that accompanied us were our lifelines. They watched every movement we made and at any sign of hesitation, they were there to reassure us and or carry our packs for us. These guys, along with my fellow hikers, are the reason I made it to the top, plain and simple. And that sunrise was magical. Not being able to tell the difference between the snow on the ground and the clouds surrounding the peak was something I will dream of for the rest of my life. The sense of accomplishment I felt was enough to start my waterworks. I cried because it was that damn beautiful. I had never cried over natural beauty so I was really taken aback when I did.
But now it was time for the climb down, and with the intense heat burning our skin and lighting the path we took to get up, I took a few moments to gasp at what I had just done because it was seriously terrifying. Going down was just as difficult because of the severity of the steepness. And for those who have trouble with their knees, it can be harder. A few years back, I had seriously injured my knee while trying to play it cool with my attractive surf instructor in Australia. It was raining, and I slipped off the board in 2 inches of water after successfully riding a wave into shore. Looking back, I always wished my surfing accident that led to months of a knee brace would have been a bit sexier, but it wasn't, and I was forever reminded of my embarrassing slip with a right knee that often pained me, especially when walking or hiking down hills.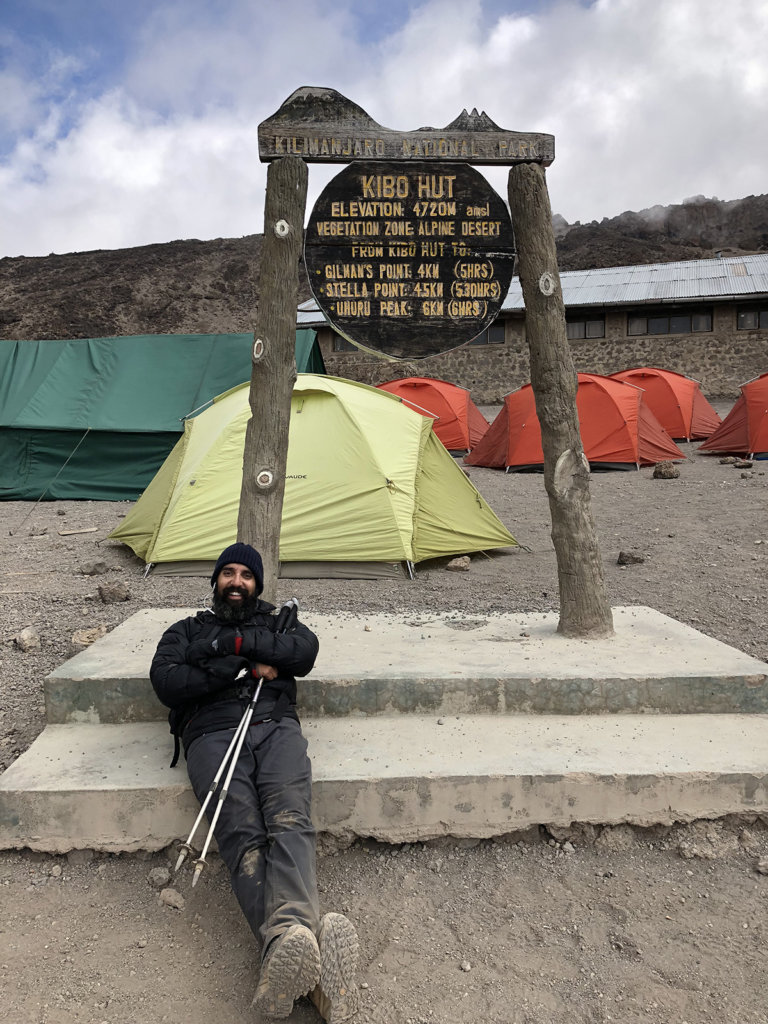 It wasn't until I was about 25% completed with the tiresome downhill that I felt my knee twist and lost my balance before falling onto a porter and we both tumbled a few times over before he grabbed me by my jacket and stopped us both from continuing to slide. At this point, I knew my knee was done for the day, as I thought I felt the same sensations I did after slipping off that surfboard. We gathered our things and I stood up, only to realize that it was going to be a very painful way down. I put my arm around the porter and he helped me as best as he could as I hobbled down the mountain. My only option for getting down was to hike down, as services are limited. Once we reached a more comfortable portion of the mountain, where it wasn't as steep, more men came to my rescue. They would take turns as I continued to place my arms around their shoulders and make my way down. I was holding back my tears and was doing everything I could to just make it to base camp.
A few hours into my pained journey down, a man from base camp (whom was not affiliated with my tour company whatsoever) met up with us, and he insisted on asking me about what had happened. I explained, and he didn't seem convinced that my injury was as severe as I felt it was. It was then that he placed his hands on my leg and pulled it in one jerk force. He was under the impression that I had dislocated my knee and was attempting to reset it, without asking. I screamed in agony and the tears shot out from my eyes without hesitation. He looked at me and said, "Men don't cry, stop crying, you will be fine." I was gutted. All of the confidence I had built up over the last couple of weeks, the sense of accomplishment I had just felt while looking at the sunrise on top of Kilimanjaro, my sense of safety as a gay man in Africa, all of it, gone in an instant.
I couldn't blame him. He wasn't making that comment maliciously, but it ripped right through me and left me emotionless. I stood up, pointed to two of the porters and asked to continue the hike down. I was silent for the rest of the way down, ignoring the pain I felt in my knee and in my heart. As I walked into the hut where the 9 others were waiting for me, as I was the last to arrive back down, I looked at them and immediately burst into tears. My safety net was back and I once again felt supported. Our guides later came to me and showed concern, but it wasn't the same. I could see they were worried that I was upset, but I wasn't. I was just uncomfortable with the situation, and being shamed for crying didn't help the situation whatsoever.
At the end of the day, I summited Mount Kilimanjaro, something I will always be proud of, and something I'll most likely talk about for years to come. It was something I never thought I could do, but I did, with the help of my diverse new group of friends. Tears were shed, my masculinity was questioned, ligaments were abused…but none of that can ever replace those memories of the epic views from the top of Uhuru Peak.
The Best Way to Travel While There
My entire 17-day experience throughout Kenya and Tanzania was experienced through Intrepid. This was my first solo traveler group trip and although I was a bit hesitant at first, after completing this one, I'm ready to book my next. Intrepid Travel sends more than 100,000 travelers across the globe with their more than 1,000 itineraries. The Best of Tanzania itinerary offers adventure seekers the opportunity to experience Tanzania's most famous natural wonders like the vast Serengeti plains, Ngorongoro Crater, Mt Kilimanjaro and the shore of the Zanzibar coast.