Having recently, only in the past couple of years, experienced my first ocean cruises, and still not being fully convinced, I often considered river cruises, mostly because they were a lot smaller and the allure of being able to see and experience more, while using the ship more as a place to sleep, sounded like a much better deal. Don't get me wrong, the big ocean ships have lots to do onboard, but when I travel, I travel for the destinations, and the feeling of being held captive on a floating city never really appealed to me. At least with a riverboat, the time spent onboard could be extremely limited if I wanted it to be. My only issue was mainly that everyone recommending river cruises to me were slightly more mature than me in age, and although I get along famously with people of all ages, I wasn't sure river cruising would be a good fit for what I was looking for.
When I learned that Uniworld was launching a new river cruise brand, aimed at a younger demographic of travelers, I was suddenly more interested in the idea of sailing down a river or two. This was the first time that a big name brand like Uniworld was venturing into marketing towards younger travelers (or the young at heart). Although there are no age restrictions for U by Uniworld, anyone who takes a look at the excursions offered, as well as the décor and itinerary of the cruises they offer, will quickly discover that these trips are not at all your typical river cruises or vessels.
After arriving to Amsterdam, my port of embarkation for my 7 night cruise, and my taxi pulled up to the dock, I got my first glimpse at the shiny, all black river, something I had never seen, and which stood out immensely amongst all the other white riverboats. Looking back now, painting the ship all black was the smartest marketing decision Uniworld could have come up with because it's virtually a floating billboard – I eventually lost count of the amount of onlookers taking photos of the ship when docked or as it sailed by. I think you either love it or hate it and those who love it, most likely tend to be on the lower end of the age spectrum.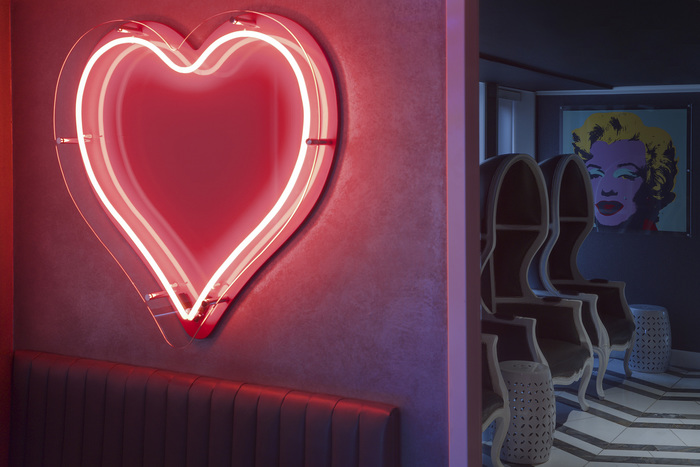 As I stood on the dock, waiting to gain access onboard, I couldn't wait to get on to see the inside. From the outside, all I could see was a glowing red neon heart through some of the windows, and that was enough to peak my interest. After boarding, I immediately knew I had made the right decision in booking this trip as the atmosphere was laid back, chill and really freaking cool. There was no classical piano music playing or formal spaces, but instead there was a DJ booth and really chic hang out spaces. The rooms were decorated in vibrant colors and the excessive amount of mirrors in the small space helped opened them up a bit more, and well, also came in handy throughout the trip while testing out different outfits. My biggest annoyance in a hotel room is when there aren't enough mirrors, especially when sharing a small space, so this was a welcomed change.

On these cruises, early morning breakfasts are non-existent as most guests prefer to sleep in and grab a later brunch before disembarking for a day full of activities and late night shenanigans. At dinner, family style meals are presented to guests in an effort to encourage socialization. As for the excursions, there are always options, but the more active ones always seemed to draw the most crowds, which included things like challenging bike rides to wine tasting, blokarting – look it up, it's beyond incredible, and in the evenings, nightlife tours. And for those times when going out doesn't sound incredibly appealing, the onboard options are pretty great as well, and include stuff like local DJ's coming on to play a late night set or a silent disco upstairs on the outdoor deck and glass Ice Bar. Making friends onboard was also relatively simple because onboard, like-minded people surround everyone; all there to have a great time and experience a river cruise in the same way you want to.
More about the U by Uniworld
U by Uniworld is the first river cruise dedicated to a new generation of adult travelers, with a sexy, stylish look and feel that offers immersive experiences along the world's most popular rivers. Itineraries focus on longer stays in destination, allowing guests to connect with local people, experiences and each city's vibrant nightlife. The U fleet offers two, 120-passenger matte black ships – The A and The B, each boasting two rooftop venues, a spa, mixologists, international DJ's, communal tables for dining and locally-inspired, farm-to-table cuisine. Onboard accommodations include four Suites, 26 Balcony Bedrooms, 29 Studio Bedrooms and two Studio Bedrooms with triple occupancy, all with waterfront views, built-in Bluetooth speakers and BeeKind amenities.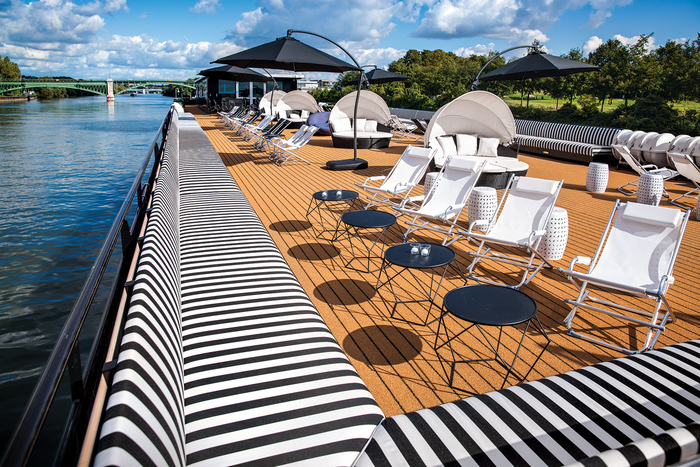 Each cruise program includes onshore excursions led by a U Host; these excursions have been designed to provide travelers with the most culturally immersive experience onshore, from an evening bike ride along the Danube, evening strolls, vineyard hikes, castle visits and much more. In addition to the included excursions each day, guests have the chance to amplify their itinerary with specially planned experiences and activities created by U's destination experts and designed for every type of traveler from immersive food tours, art walks, adventurous hiking tours and much more. 8-day trips start at $1499.