Before I had been, I had never really had Rome high up on my bucket list, mostly because in the back of my mind, it was just too touristy for me. Plus, Rome has been featured in so many movies and television series that I felt as if I had already seen itbut once I finally did, it was unlike anything I had ever imagined.
I've always been drawn to Italy. The combination of the food, the culture, the language, the gelato, and of course, the men. Each time I leave, I leave with a broken heart, at times longing for the one more slice of that perfectly thin pizza, or espresso paired with a Nutella filled fresh-baked cookie.
There are many ways to see Rome, and one needs plenty of time if you plan to see it all. I've now been a handful of times, and each time I find a way to experience the city in a new way.
First Timer
On my first trip to Rome, I booked at theRome Cavalieri, Waldorf Astoria Hotels & Resorts. I wasn't messing around, I wanted a full-on, over-the-top hotel and experience. And I got just that with this grand hotel. It was a bit out of the city center, but it didn't matter because the opulence of the property and the luxuriousness of the rooms made up for it. Plus, the pool overlooked the city from atop, making one feel as if they were more important than they truly were, emperor-like.
On my first day, my friend Michelle and I decided to skip the taxi to the city center and just walk. We saw the Vatican in the distance and decided that was where we would attempt to make our destination. The epic long walk proved to be a successful one. Upon arrival to the Vatican gates, we were first enthralled by the presence of the Italian military guards, who all mostly had short beards and were somehow more handsome than the Italian men all around them – it was the uniforms, it had to have been the uniforms.
The lines to enter the Vatican went around the city blocks, and Michelle and I followed them just to see how long they actually were – it was like a scene from my worst nightmare, and we had no intention of standing in any line, especially on that extra hot day.
As we continued our romantic stroll through Rome, as we like to recall it when telling the story to people we meet, we found the Trevi Fountain and took some time to be tourists. The fountain has recently undergone a restoration, so it's currently a brilliant white that just looks stunning against the teal blue water. But now it was time to eat. We walked into the tiniest of restaurants and managed to get two seats next to the wall. The table was so small; there were wine glass holders attached to the wall so that your food plates could occupy the table space.
We had some fresh pasta and a bottle of rosé and by the end of our quick meal, we had only one thing on our mind; gelato. We found ourselves at Piazza Barberini and walked into the first gelateria we could find. We were both craving the sweet treat, but we were also really wanting to capture that great Instagram shot of our hand holding a cone with brightly colored scoops on top of it. I think I picked the most obnoxious pink options and Michelle went for the more traditional and non-chemically enhanced flavors.
We walked over to the main fountain across the street to get our photos. The sun was intense that day and our photo shoot turned disastrous when the gelato began to melt all over our hands and then mine plopped over and made the biggest mess. We still got our pictures; they just weren't exactly what we had envisioned.
After our solo adventure in the city, we booked all of our tours with City Wonders, a company who pretty much does all the work for you and makes things a lot easier. Our tours included the Vatican, with an early entrance pass before the hoards of tourists were permitted inside, and a beautiful gourmet dinner with views of the Colosseum at night, followed by a private nighttime tour of Rome's most iconic structure.
The package options range from affordable to not so affordable, but hey, in the end, the ones we did were worth it – no lines, no hassle, no stress.
One Day
While on a cruise around Italy, one of our ports was near Rome, so I decided to hop on the Rome Express train with my friends and make our way to the city for the 7 hours we had free that day.
Cruises can be frustrating at times because you get such little time in the ports and typically the port cities are not that great, so one must find a way to reach the bigger and better cities nearby, in this case, Rome. We had all been to the city before, so we didn't need to hit the typical sights. We focused on one neighborhood; Trastevere.
Just across the Tiber River (which is what the name translates to) is this part of town that is often overlooked by general visitors, as it's not in the city center, but really, it's just a quick walk over a bridge away. Trastevere is filled with little restaurants and small streets that twist and turn, making it at times a bit confusing to navigate.
In the evenings, the place comes alive and the streets are filled with young people drinking outside of the bars and clubs that dominate the area. We had a day to spend there, so we went on our own food and wine tour, which consisted of us walking into a restaurant, ordering bites to share with a bottle of wineand then repeating that over and over again until our time in Rome was up. In the end, we may have overkilled on the pizza, pasta, and wine, but we managed to make our train, and somehow managed to bring a bottle of wine for the hour trip back to the port.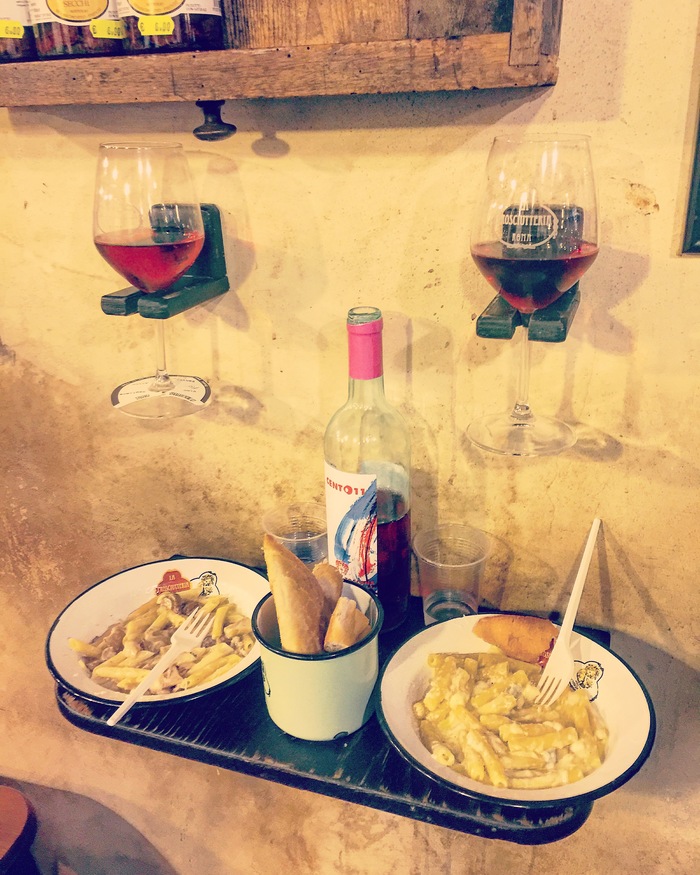 Next Level Rome
On my most recent trip back to Rome, I had booked a hotel for the two nights I was going to be in town. Days before departing, I received a call from the hotel asking if I was going to still be checking in that day. Apparently, I had confirmed the dates incorrectly and had flubbed up my reservation.
While I waited for the hotel to call me back with possible booking options, I quickly made a decision and went with it. I wanted something different and I wanted an adventure of sorts, so I canceled the hotel and found myself on the MrB website. Within minutes I had found a very affordable shared space with a young gay couple. With my affinity towards young, cute Italian men, I felt like this would be a great fit, and in the end, it was just a couple nights. Their new modern apartment was on the outskirts of the city, about a 20-minute car ride from the center. For me, it was perfect because it would give me a sense of real life outside of the hotel infested city center.
After landing, I made my way to their home, where they greeted me at the gate (both just as cute as their profile photo). Obviously, I was here to rent a space from them and not date them, but it didn't hurt that they were easy on the eyes. After an afternoon nap, I wandered to the grocery store and picked up the essentials; cheese, charcuterie, and wine. Dinner was perfect that night.
I spent the next morning with them, just running errands; household shopping, a trip to the mechanic, and grocery store. Later I hitched a ride to the city center. I walked around on my own, got my gelato fix in, and had an opulent dinner. I met back up with them around 11 p.m. and they took me to the "gay street," which is literally a small street with two gay bars on it where everyone just stands outside and drinks. If I hadn't been so tired from the day, I would have found it more amusing, but I was glad to see it so I could return the next time I was in town.
Spending two rather simple days on the outskirts of Rome was exactly what I needed and what I was looking for. After one has visited a city more than a few times, it's nice to go beyond the typical and find new ways to see more of what the city and city life has to offer.
No matter how many times I've now been to Rome, there's always one takeaway; amo a Roma. Ask Italians in any other part of the country and they will most likely tell you how awful it is. I think that's mostly because they love whatever city they live in a bit more, and feel a sense of pride, which makes sense and I can totally relate to.
But whether it's Rome or Milan or Lucca…I honestly could live in any part of Italy, so long as there is gelato readily available on every corner.