During your flight into the Bay Area, the San Francisco peninsula sticks out like a thumb from the chilly waters of the Pacific Ocean. It connects itself to the greater area by a cobweb of great bridges that zip cars in and out of the tightly packed streets into the state's renowned wine country and epic stands of gigantic redwoods.
Inside the city, a miserable socio-economic contrast is present: during just a short walk, the city's relentless homeless crisis is unavoidable. As the public health department picks up hundreds of thousands of used needles a year, cranes assemble towering luxury condominiums. But despite the boom of the new tech presence that is quickly squeezing the city and expanding the Bay Area, San Francisco grapples with its own disparities. For despite it all, the city's historically queer roots and activism persist, not only in unapologetic festivals like Folsom Street Fair and Up Your Alley, but in the essence of its marine layer, cemented into the hearts of the hills. No matter how many times you visit, it's hard not to marvel at the city's unwavering queer endurance.
Friday
6pm- The Castro
The heart of queer San Francisco beats strongest in its longstanding gayborhood, marked by a massive Pride Flag that shines and ripples in the cool northern California breeze. Start your San Francisco weekend in Harvey Milk Plaza perusing the hundreds of queer-owned businesses, bars, and restaurants. At the corner of Market and Castro Streets, revel in the history where many demonstrations, rallies, and protests took place that sparked change not only in San Francisco but across the nation.
8pm- Sichuan Spice
Not far off Harvey Milk Plaza on 18th Street is Mama Ji's, a small Sichuan restaurant with tongue numbing spice. Most come for the Dim Sum, but end up sampling the rest of the menu, especially the Sichuan Leng Mian, the spicy cold noodle. Be sure to start with their spicy cucumber appetizer, and soothe your taste buds with their delicious wine, beer, and tea. Reservations are not accepted but service is lightning fast so guests never wait long for a table.
Late Night- Parties for Queer Women
Friday is certainly one of the best nights for queer women in the Bay Area. If you happen to be in town on the second or third Friday, be sure to venture to UHAUL SF, "San Francisco's Party For Girls Who Love Girls!" The party has been around since 2014 and prides itself on creating a safe space for women and welcomes the "queer/trans/questioning community." The party floats around the city in various venues so keep in touch with the latest on their Facebook page. For more events for queer women in the Bay, check out writer Brigitte Hoch's guide for Do the Bay.
Saturday
8am- Gawk at Redwoods
Hi. Good morning. You didn't come all this way just to sleep in. Arrive early to beat the crowds (and be sure to book a parking spot) at Muir Woods National Monument, a short 30-minute drive (that will take you over the Golden Gate Bridge!) If you've never seen a redwood tree, this is your chance. An old-growth redwood stand (some trees are over 1,000 years old) dominate the lush rolling hills of the monument and wow visitors. Choose your own adventure with a half-hour, hour, and two-hour loop on the Main Trail or get a canopy view by hiking a more strenuous 3-mile loop. You will want your camera to remember these giant friends.
11am- Foodies and Ferries
Time to chow down. The iconic Ferry Building is advertised as "a feast for the senses." The 1898 building re-opened after massive renovations in 2003 to become a world-class food market that is a "community gathering place for the celebration of local culture and cuisine." Alongside a smorgasbord of merchants and restaurants, the Ferry Building hosts a farmers market three times a week, with Saturday being one of the most popular days. You won't go hungry here—have a coffee at Peet's or Blue Bottle, a grilled cheese at Cowgirl Sidekick, or a cupcake at Miette Patisserie.
12pm- Radical Reading
Take your coffee to go from the market and zip over to Bolerium Books in the vibrant Mission District. The radical store has been around since 1981 and features an extensive collection of books and ephemera from "labor and other social movements, including the struggles for Black and Chicano equality, the Gay liberation movement, Feminism, and Asian-American activism." It also includes a shocking collection from the Far Right to "preserve this historical record" for better understanding of the movement. You may lose hours here in these unique, queer, and one-of-a-kind texts.
1pm- Queer Crush
While you're in the Mission, drop by Mission Cliffs, one of San Francisco's oldest climbing gyms. The gym is a part of the chain of Touchstone Climbing gyms across California, which feature different chapters of the queer climbing group Queer Crush. The company holds large fundraisers for local LGBTQ communities every Pride Month and offers great introductory classes for first-time climbers. The gym also hosts yoga, acroyoga, and fitness classes for those with a fear of heights.
3pm- A Cold, Naked Plunge
Marshall's Beach, located in the Golden Gate National Recreation Area, is a long, rugged, and secluded clothing-optional beach with a large queer presence. People come to the stunning beach to suntan, relax, take stately photos of the Golden Gate Bridge, and generally unwind from the confines of city life. Do be careful dipping in the water if you decide to cool off as it is rather chilly and rip currents are present, so it's suggested to take a quick dunk near the shore if you must swim. Park or ride-share to the Golden Gate Overlook and hike the steep trail down the bluff to the boulder-strewn beach. Why not stay for sunset and watch the bridge glow in the last rays of the day?
7pm- Plant-Based Food
After showering the sand off from the beach, we're headed back to the Mission for dinner to a true California staple, the original Gracias Madre. Since its critical acclaim in reimagining Mexican cuisine in an all plant-based and organic menu in 2009, the restaurant opened another location in West Hollywood in 2014. Be sure to try the Platanos con Mole Negro, the Quesadillas De Calabaza with butternut squash and pumpkin salsa, and one of their truly unique cocktails, the Rolled Fashioned, with mezcal añejo, bourbon, house sarsaparila, aromatic bitters, and since we're in California, cannabinoids. Do make reservations.
10pm- Call Me Mother
For the best drag show, head to OASIS, a club opened in 2015 in SOMA (South of Market) by San Francisco drag legends Heklina and D'Arcy Drollinger. Mother is a weekly Saturday night event that opens at 10pm, with the show starting at 11:30pm. The event always features local SF drag queens as well as favorite Ru girls. Most recently, Valentina performed a one-woman show "The Valentina Experience," and next month there's a Janet Jackson Tribute, featuring A Star is Born icon Shangela.
Looking for the best after hours events? Check out Resident Advisor for a slew of dance parties, DJs, and queer events around the Bay Area. Rotating parties like A Club Called Rhonda and Desert Hearts touch down in SF from time to time.
Sunday
10am- Brunch
Good morning. Drink some electrolytes, it's all going to be okay. Head over to Kitchen Story for brunch and order the award-winning Bloody Mary (seriously this thing is decked the f@#* out with garnishes). The restaurant, located in the Castro, has a nice mix of California cuisine ranging from sweet to savory. You can't go wrong at Kitchen Story, but do show up a little early as the place pops off on Sundays.
12pm- Gay Beach
I'm sure you've seen photos on Instagram of Mission Dolores Park's Sunday "Gay Beach," where the southern slopes of the lovely and recently expanded and renovated hillside park are flocked with queer people enjoying a sunny afternoon with their friends. There are shirtless broskis, chatty rosé drinkers, and hungover picnic blanket snoozers. The park has incredible views of downtown and a happy and vibrant mix of San Franciscans refusing to acknowledge the weekend's impending end.
The Snugs
Luxury- Hotel Vitale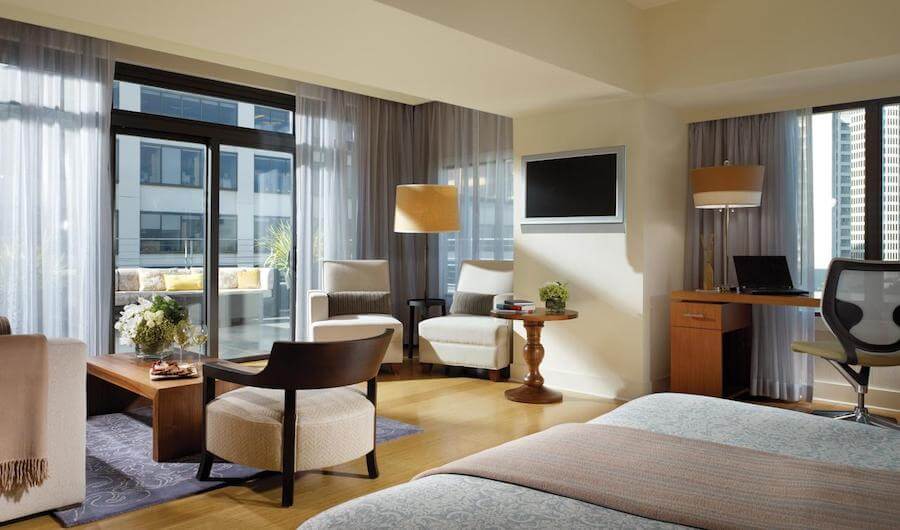 There's something rather special about the 180-degree deluxe panoramic circular suites at the Hotel Vitale, a part of the queer-friendly (and queer-founded) Joie de Vivre boutique hotel group. The large floor-to-ceiling windows frame the twinkling Bay Bridge as you watch pedestrians stroll along the beautiful Embarcadero boardwalk while sailboats sweep across the bay. The lavish hotel has expectation-surpassing service, a luxurious spa, workout room, as well as a handsome floor level bar and Italian restaurant, Americano. Rooms from $299.
Just Right- Galleria Park Hotel
Steps from the Financial District and Union Square is one of the most historic hotels in SF, another Joie de Vivre property, the modern and cozy Galleria Park Hotel. The hotel's history dates back to the 1800s as it sits on the same land as the most luxurious hotels of the time, the late Occidental Hotel and Lick House. It's said the martini cocktail was invented on the property; over a hundred years later and after $11 million in renovations, the Galleria Park offers guests a complimentary sipping hour every day in their colorful and cozy lobby. And on top of it, the property makes efforts to combat the city's homelessness crisis with Project Homeless Connect. Fancy a pair of SF skyline socks? Rooms from $250.
Backpacker- Hostel International San Francisco Downtown
Located in the heart of it all, this award-winning (two years running) hostel is the perfect low-budget place to call home during your visit to San Francisco. The hostel features free wi-fi, breakfast, and a long list of incredible tours. Dorm beds from $40.