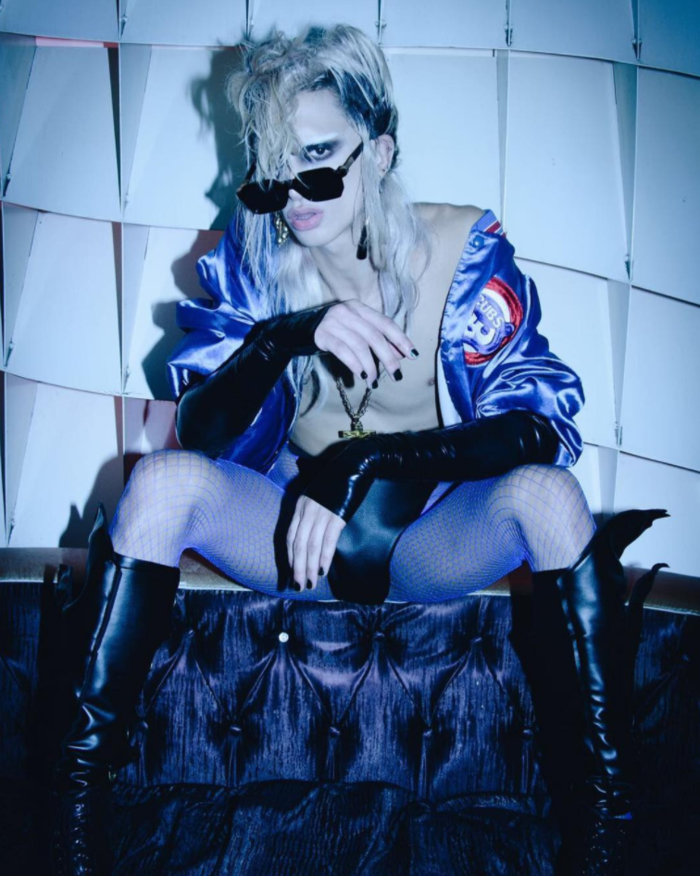 photo credit: Daniel Paramio Ortiz
From the dancefloors of Ibiza to the runways of Madrid Fashion Week, Santakyra (or Santa if you're nasty) has Spain completely snatched. And the rest of the world is next.
Filmmaker Joseph Wilson recently captured Santa's essence in a video portrait and interview that sums up the fantasy: disco-drenched domesticity, a shameless hunger for stardom, and androgynous lewks for days. Come thru, Spain.
Joseph: Who is she?
Santa: Or maybe, who is he? Someone who has decided to live his/her life as a show, someone who adores fashion and doesn't think gender-wise. I am not a character; I decided to create myself, as I wasn't happy. I'm just pretending to be a superstar. I'm the new generation.
What pronouns does she prefer?
"X," but it doesn't exist, so whatever you prefer.
What are her views on gender?
Gender is something invented by society. What we are physically is just an aesthetic, the way we want to project ourselves, but society calls it "gender." Culture needs to evolve and grow up. Gender is illogical, it doesn't exist.
What was her journey to discovering her preferred gender?
I was unhappy being an average guy until I started having fun breaking the norm and the rules.
Who are her muses and role models?
Divine, Freddie Mercury, and my mum.
How do people treat her in public and in clubs?
It's funny because in normal life, I'm not so well accepted, but at clubs and events I'm like a star. They ask me for pictures. Sometimes it is difficult to live under people's eyes in normal life.
How has social media impacted her life?
I have a love/hate relationship with social media, but I appreciate having the opportunity to show my work there so people on different sides of the world can see it.
How does she unwind?
I love to see old films and research music, cinema, and fashion icons.
What is she working on now?
I am working in fashion as a genderless model and directing my own shorts films.
What inspired your aesthetic?
My sources of inspiration are blasphemy, punk ideology, and haute couture. Gregg Araki also inspires me.
What are her political views?
Love will save the world.