When we first meet Carlos "Carlitos" Robledo Puch in Luis Ortega's El Angel, he is breezily breaking into a home. He is methodic and cautious, while also careless. We see him roam the rooms of the house, find a record player, put some music on, pour himself a drink, and then, hilariously, start to dance.
With a head full of blonde curls that frame his baby face and his plump lips, young Carlitos (played by newcomer Lorenzo Ferro) seems almost comical. He's a teenager merely joking around. The Argentine film immediately encourages you to fall for his this angelic rascal. Only those who know the story of Robledo Puch are keyed into the dark comedy Ortega is setting up with this intro.
Dubbed "the angel of death" because of his pretty-boy looks, Robledo Puch remains Argentina's most infamous serial killer. By the time he was apprehended back in 1972 when he was only 20 years old, he had committed 11 murders and 17 robberies. Most of the people he shot were asleep or turned away from him, adding to the disquieting effect the baby-faced assassin had on the public when he was caught. Headlines at the time probed the all-too-close relationship he had with his first accomplice, Jorge Antonio Ibañez. He's still serving his sentence in a prison hall exclusively for homosexuals. Offering not so much a biopic as a pop-colored character study of the teenage criminal, El Angel delves deep into the relationship between Carlitos and this school buddy, here refashioned into the handsome Ramón (played by Chino Darín), and turns what was mere speculation into the emotional core of the film.
"I was in school and my dad sent me a message telling me that they were looking for Robledo Puch for the next Luis Ortega film," Ferro tells INTO. "I didn't know who either of them were! So I headed to my school's computer lab and researched them both."
By the time he was cast (seven callbacks later!), Ferro realized that his prep work would have less to do with the real-life Carlitos, still serving a lifetime prison sentence, than in the heightened version of him Ortega had created. "This is a film that's inspired by real-life events but it doesn't follow what happened to a T," Ferro said. Much of that involved fleshing out Carlitos' attraction to his friend-turned-accomplice Ramón.
The film hints at the sexual and romantic undertones of the chemistry between the two. When Ramón, who's tall and imposing and all-around gorgeous, invites his new friend over to his house, his intentions are unclear. As it turns out, he wants to introduce Carlitos to his father. Once he stops being fixated on Ramón's father's balls (they're hanging out his loose boxer shorts, and yes, we see them in full close-up) the young boy is encouraged to shoot his first gun. "You gotta clench your ass," he's told by a winking Ramón.
It all begins as a lark, a way to pass the time, but soon the two young men begin jointly planning bigger and deadlier heists. Viewers can't escape the homoerotic undertones of the piece. After robbing a jewelry store, a recently-showered Ramón falls asleep on the bed. Ogling his friend's body, Carlitos proceeds to adorn it with the bounty they've just amassed. He creates a lustful tableau that's as sexy as it is prudish, the jewels hiding Ramón's privates. While El Angel never quite leans into Burnt Money territory (the 2001 Argentine flick about gay lovers-turned-criminals that was also based on real-life events), provocative moments like that suggest there's a blurred kind of attraction between the two.
"It's a relationship that is not well-defined, really," Ferro told INTO. "Carlitos meets Ramón, and he knows he's strong. He wants to befriend him because he thinks he might be able to protect him. Well, that leads Carlitos to start admiring Ramón and Ramón starts to be amazed by the 'bicho raro' that is Carlitos." Ferro's expression for his character is a curious one — it means "odd creature" — but "raro" has always carried connotations akin to the word "queer" in English.
The close bond that existed between these two young men, which veers from pulse-pounding violence to tender caresses, is the emotional anchor of the film. "It's a kind of love," Ferro says. "It's not clear whether it's a romantic relationship ('un noviazgo') but they are partners in crime, and at the same time, they have a mutual admiration."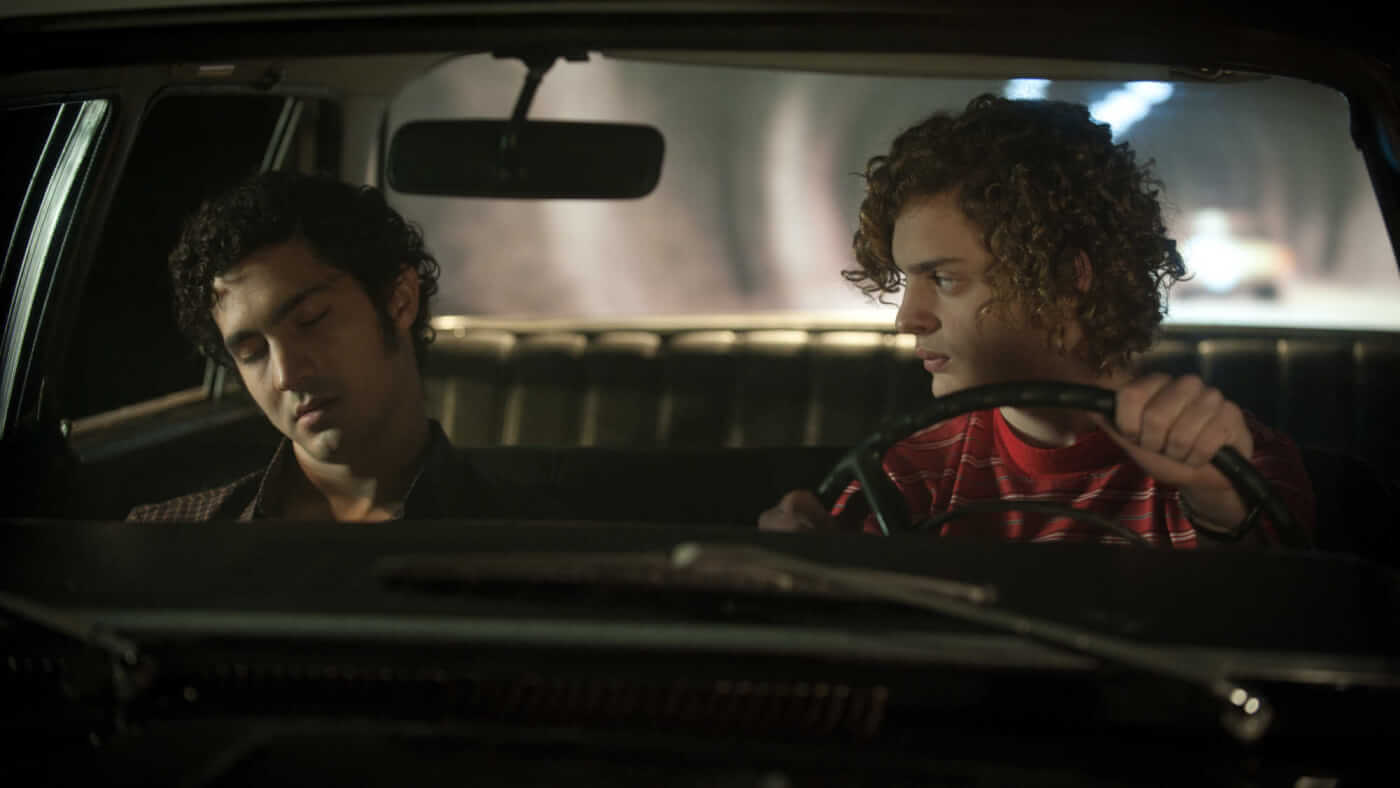 As the film paints Carlitos and Ramón as a kind of homoerotic Bonnie and Clyde, their chemistry proves to be quite deadly. Their first outings together, robbing a gun store with Ramón's dad, soon leads to a string of cold-blooded murders. And though it's all fun and games for Carlitos, his friend sets his sights on disappointingly mundane goals. "Carlitos starts losing that admiration as he realizes Ramón is just like everyone else," Ferro says, "that he wants fame and wants money, all these things that other people want."
Part of why this depiction of Robledo Puch strikes a contemporary note is that in El Angel, the heartthrob-turned-killer becomes an icon for radical thought. "He doesn't take life seriously," Ferro says "For him, life is a bit of a joke. He sees it in jest. He wants to do whatever he wants to do and however he wants. He doesn't want to be restricted by any rules or limits that govern everyone else's lives."
That thirst for freedom is presented as both alluring and extremely dangerous. And, as it is for Ramón, the mix is intoxicating until it is merely just toxic. For, despite his angelic appearance and his chilling childlike approach to killing innocent bystanders, it's obvious that Carlitos was nothing more than, as Ferro put it, "a crazy guy, a weirdo." Which explains why his story still fascinates close to 50 years after he was a tabloid sensation.
El Angel opens in limited engagement on November 9, 2018