About 15 minutes into Some Like It Hot — a new Broadway musical based on the 1959 film about a pair of musicians, Joe and Jerry, who dress as women to avoid the mob after witnessing a hit —  the leads strip down to frantically don dresses, heels, makeup, and wigs to disguise themselves. The process occurs during a song, where each clothing element is added with a comedic flourish. 
Sitting in the Shubert Theatre, I was sucked back to other recent transphobic man-in-a-dress musicals in recent memory, such as Tootsie and Mrs. Doubtfire. At the core of all three musicals is the misappropriation of drag. The issue isn't drag but how the art form is used: drag as drag is not problematic, but drag as disguise often is, especially when it plays into the man-in-a-dress transphobic trope. 
Some Like It Hot, a musical adaptation of the 1959 Billy Wilder classic by Matthew López and Amber Ruffin (book) and Marc Shaiman and Scott Wittman (music and lyrics), received positive reviews, with many critics praising the writing of Jerry/Daphne's character and the reconsidered exploration of the character's gender. 
But it's not that simple. 

Some Like It Hot feels like two competing musicals: one that attempts to update the source material to speak to contemporary understandings of transness and another that delivers a barely updated man-in-a-dress comedy rooted in transphobic tropes. The two plots never converge and in fact are in ideological conflict with each other. Specifically, Joe's transphobic humor undercuts Daphne's gender euphoria narrative.
Hot or Not? The Problematic Modern History of 'Man in a Dress' Musicals
After watching the show and reading the positive reviews, I kept thinking: How did no one else see what I saw? Several cis gay men I talked to said that they loved the show. But, to quote a line from the musical, "I don't know why everyone's so damn happy."
I guess I shouldn't have been surprised. After all, most cis people don't get it. Tony-nominated transgender actress L Morgan Lee (A Strange Loop) was invited to a dress rehearsal of Some Like It Hot back in March and later told the New York Times, "I remember sitting there thinking, 'They are going to get celebrated for this, when what's happening here is actually really irresponsible.'"
Creative teams and producers who want to tell trans stories need to have trans people in the room and part of the creative process, not just in the audience. Even better, they should give us the platform to tell our own stories. 
'Some Like it Hot' feels like two competing musicals: one that attempts to update the source material to speak to contemporary understandings of transness and another that delivers a barely updated man-in-a-dress comedy rooted in transphobic tropes.
In a recent Playbill interview, writer Logan Culwell-Block wrote that Shaiman and Whitman "worked hard to get this story right for the marginalized communities with which it intersects, they also want the musical to be funny — for everyone." For his part, Shaiman commented that people are "going to see that we have taken it very seriously — and it's also really f*cking funny."
From a trans perspective, I did not find the show "f*cking funny."   
Two recent man-in-a-dress musicals rife with transphobia — Tootsie, where an actor disguises himself as a woman to land a role, and Mrs. Doubtfire, where a man disguises himself as a woman to be a nanny to his children after he lost custody — were both short-lived on Broadway. It seems almost unfathomable this season that we have another show with a similar concept to complete the trifecta.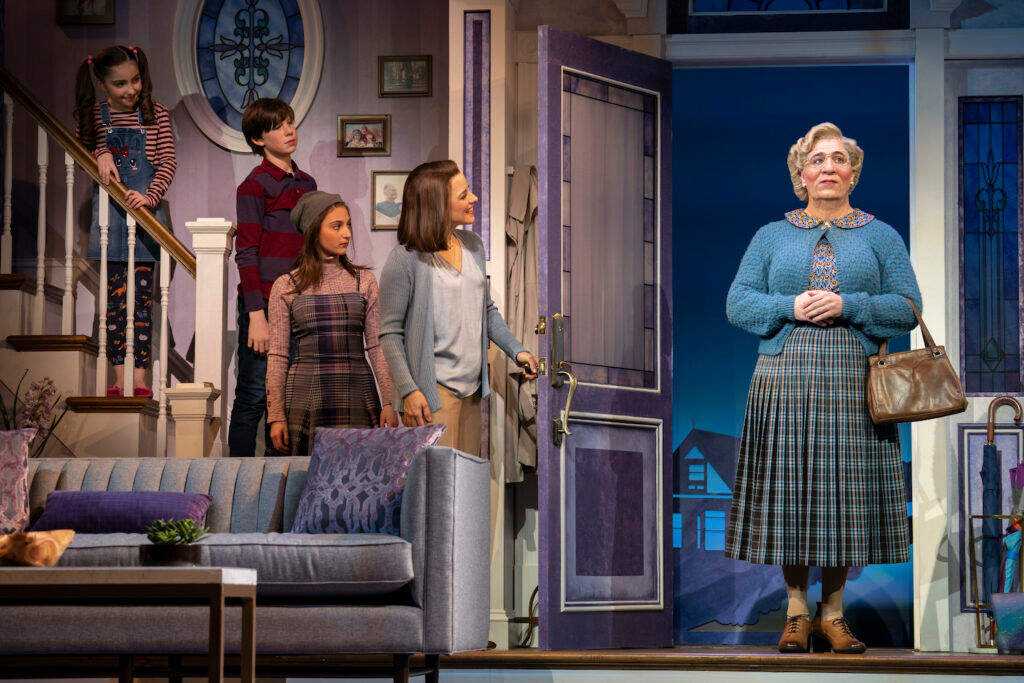 Some Like It Hot tries to alter the "man in the a dress" trope. The film's subtext about queerness and queering gender is brought to the fore in the musical: Jerry, played by J Harrison Ghee (he/they), finds gender affirmation by wearing a dress and embraces a new gender expression. 
The creative team also made an effort to update other elements of the source material. They have added a racial element, writing Jerry, Sugar (Adrianna Hicks), and Sue (NaTasha Yvette Williams) as Black, and giving them space to discuss their experiences with racial and gender-based discrimination. 
Throughout the musical, Jerry embraces femininity as Daphne and experiences moments of gender euphoria — made even more significant because a nonbinary actor plays the character. Ghee's memorable performance, if nominated for awards this season, may even be the catalyst for those institutions to consider gender-neutral acting categories.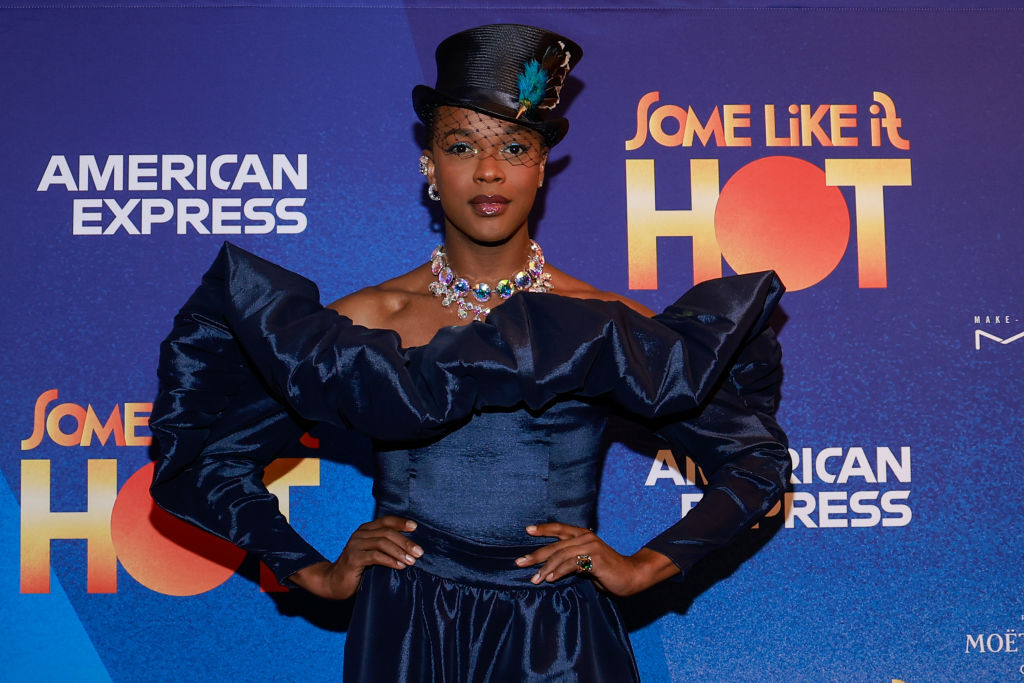 But what happens to this show without Ghee: will the writers specify that the role only is played by trans and/or nonbinary actors? If a cis person plays this role (on Broadway, on tour, etc.), it no longer remains an authentic representation of transness, trans joy, and gender euphoria to praise, but yet another instance of a cis person taking a trans role. 
Beyond Ghee's presence in this show, however, there are several problems with Some Like It Hot's gender politics. As we saw with the previous man-in-a-dress musicals, it is treated as comedy that Joe (Christian Borle) and Jerry put on dresses at all, and many of its gags are steeped in subtle transphobia. 
While improvising a backstory, Joesphine says, "Well, we're both women. And always have been," quoting a TERF talking point. When Jerry names herself Daphne and says, "it just came out naturally," Joe says, "Well, put it back in!" — a coded genital joke, borrowed from the film but not updated. Sugar also discusses renaming herself, is coerced by Joe into revealing her birth name, and is mocked, which — intentionally or not — has clear resonances to trans people and given versus chosen names. 
One of the show's biggest sources of comedy is that Joe looks ugly and old in drag, and he does not pass as a woman. To date, the production has released no photos or videos of Borle in drag, despite the fact that he is a lead character and is in drag for much of the show. The production's publicity firm responded to an inquiry by stating, "At the moment, we are releasing limited assets. The production began the campaign by releasing images and video of Daphne."
The costume design is a crucial factor: designer Gregg Barnes puts Borle and Ghee (at least initially) in frumpy dresses, bad wigs, and minimal makeup; while their slips have built-in prosthetic breasts, they do not wear any other shapewear to alter their hips or waists. When placed next to the ensemble of women, who often are in quite flattering outfits, Borle and Ghee stick out. The pair, especially Borle, is designed to look different from the women in the cast — to not pass — and this is treated as humorous. Being laughed at, ridiculed, or attacked for not passing is an issue many trans people face and should not be treated as comedic. 
Some Like It Hot also plays into the transmisogynist claim that trans women are actually just men in dresses who are sexual predators preying on women. Joe uses his drag disguise to get close to Sugar; they even have a conversation about sex in a bathroom (another transphobic conspiracy theory). Joe's horniness is one of his defining traits, and at one point (as Josephine) encourages Sugar to have sex with Kip (Joe's male disguise). Frustratingly, Joe faces no consequences for his manipulations and lies, which stays true to the original film, but fails a modern trans audience eager to see the story taken into the 21st century.

In all of this, the musical highlights tensions between intent and impact, between how something is written versus how it is received, and between laughing with someone and laughing at them. Crucially, the audience laughs at the costumes, the drag elements, and the various jokes about the characters not passing, making the show's comedic basis feel rooted in the same man-in-a-dress humor.
What is Daphne Coming Out As?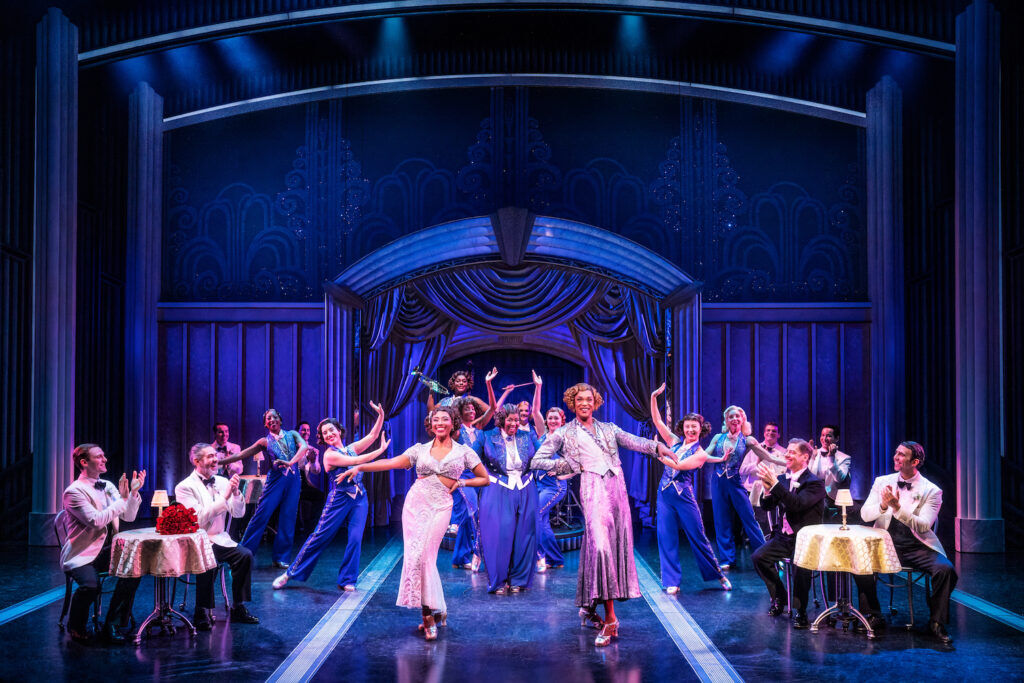 While Borle's/Joe's drag is steeped in transmisogyny, things are more complicated with Ghee/Daphne. In Act II, Daphne delivers a song about her gender euphoria, which acts as a coming out. 
The lyrics, though, display the writers' lack of understanding about gender. Daphne sings, "Well, I have tried to love many ladies / Back when I sang in a much lower key / Now you could knock me over with a feather 'cause Joe / The lady that I'm lovin' is me." The song thereby aligns gender and sexuality, proposing a lack of heterosexual feelings to explain trans identity. 
While the character arc and the majority of the text seem to point toward Daphne being a trans woman, several lines point in less clear directions. Daphne tells Joe, "I am, in fact both Daphne and Jerry." Confused, Joe later asks: 
Joe: So, what, you're gonna wear a dress for the rest of your life? 
Daphne: Today. Tomorrow might be a suit and tie. I like having options. 
Joe: Okay. Well, what do I call you, Jerry? Daphne? 
Daphne: Either is fine as long as you do it with love and respect. 
Instead of the transfeminine journey that the rest of the musical implies, here, Daphne articulates her gender in a way that many have described as nonbinary but, more accurately, is bigender. The character says she has two genders, wants to go by two names, and will have two clothing aesthetics; unlike many nonbinary people, the character's gender is not some meld between/beyond/combining "man" and "woman," but is both, separately. 
Though 'Some Like It Hot' has been dubbed a fun, flashy, old-fashioned musical, there's real harm being done under the sequins and tap shoes.  
If only this statement had cohered with the rest of the musical. After the initial donning of a dress and especially after the coming out, the character is exclusively in (increasingly flattering) gowns and called Daphne. The one time she is referred to as Jerry post-coming out is by Joe, and he corrects himself ("Jerry…I mean Daphne"), very much in line with misgendering someone by using their deadname. Nothing in the musical other than the lines above implies that Daphne will ever go by Jerry or wear a suit again. The lyrics in her song even state it outright: "tails and tuxes, fare thee well."
Another conflicted element is Daphne's romance with Osgood (Kevin Del Aguila). On the one hand, it is great to see a trans/nonbinary/bigender character have a positive, loving romantic plot. But the relationship reveals some potentially upsetting elements. 
Osgood is a gay-coded character and always has been. In his song to Daphne, he calls her "mariposa," which he explains means butterfly in Spanish (he is of mixed Mexican-American heritage). Butterflies are a now-cliche symbol for trans people, but in Spanish, "mariposa" is also a slur for gay men — feminine gay men in particular.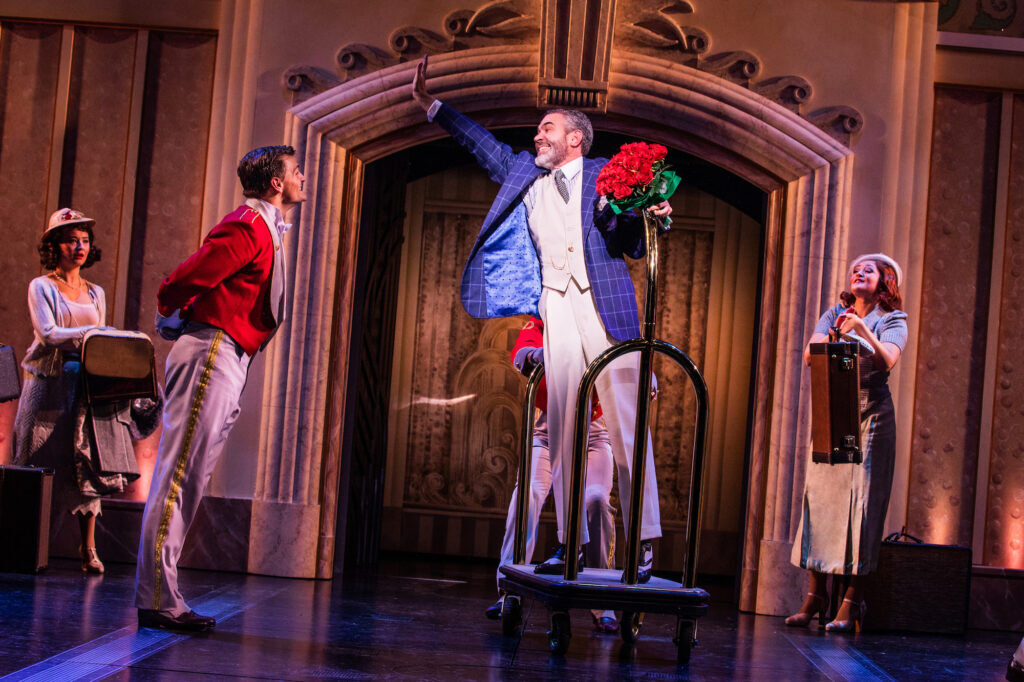 At the musical's conclusion, when Daphne attempts to come out to Osgood, he stops her, saying, "Daphne, my dear, I do understand. And I think you're perfect" (a play on the line from the film, "well, nobody's perfect"). Based on Osgood's line, are we to believe that he has always known Daphne is not a cis woman? If so, his usage of "mariposa" to describe her makes Osgood appear like a chaser (a man that fetishizes trans women), not really seeing Daphne as a woman but as a "sissy" gay man.
Onstage Tropes Have Real-Life Consequences
Art never happens in a vacuum. Though Some Like It Hot has been dubbed a fun, flashy, old-fashioned musical, there's real harm being done under the sequins and tap shoes.  
Director/choreographer Casey Nicholaw stages a big comedic chase sequence in Act II, full of expertly-timed farce and door-slamming as police and members of the mob chase down Joe and Daphne and other characters get accidentally entangled. In the end, the police chief dons comedically unflattering drag to catch the mob boss. While received with applause and laughter from the audience, to me, it was an uncanny and terrifying mirror of the real world. 
Hate crimes and hate speech against trans people are on the rise. Record-breaking amounts of anti-trans and anti-queer legislation have been proposed. According to GLAAD, drag events across the country in 2022 faced 141 significant threats or protests (many by armed protestors), including recently in New York City; there have been these types of attacks on average every 2.5 days. With this context, I cannot think of a worse moment for a man-in-a-dress comedy like Some Like It Hot to be on Broadway. As we see time and time again, there is a direct throughline from normalizing the treatment of trans people as a joke to violence against trans people.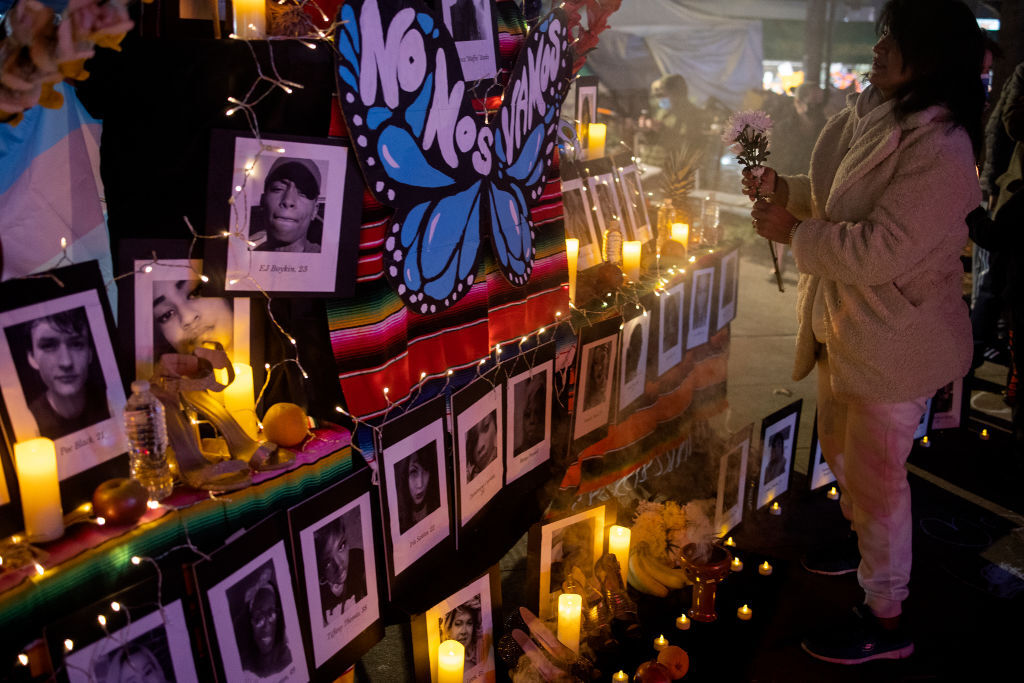 On the eve of Trans Day of Remembrance, a gunman opened fire at Club Q in Colorado Springs, killing five people (including two trans people). When initially reporting on the event, many outlets mistakenly referred to one trans woman (who helped attack the assailant) as a drag queen. While Some Like It Hot's chase scene is supposed to be comedic, I didn't view groups of armed men shooting at a man in drag and a trans-coded character as funny. 
In the musical's finale, the ensemble dances jubilantly in blue, white, and pink costumes, with lights to match. The leads enter wearing purple, black, white, and yellow. Are these colors a coincidence? These are the trans and nonbinary flags. The visual was so unbelievable to me; I could not believe they thought they earned the right to use such imagery.
The Future of Trans and Gender Expansive Representation on Broadway
My experience at Some Like It Hot was emotional. I was anxious about seeing the show as a trans audience member. Upon entering the theater, I was called "Sir" five times by security guards and ushers. When I arrived at my seat, the man next to me was willingly taking up an excessive amount of space, with his coat and entire arm over the armrest and in my seat. Instead of making room for me, any time I attempted to wiggle or readjust, he glared at me as if I was inconveniencing him. I was forced to make myself small, to take up less than my allotted space, and felt uncomfortable the entire show — a perfect encapsulation of my reaction to the musical and how it did not want me, as a trans person, to take up space. 
But other productions are reconsidering the theater experience both on and offstage. Earlier this season, a revival of 1776 opened, featuring a cast of all women, nonbinary, and trans-masculine performers; the production recently began including a Playbill insert to educate audience members about gender identity and pronouns, led by cast member Sav Sousa (they/them) and collaboratively executed with the help of other gender expansive folks in the company and Roundabout Theatre's education team.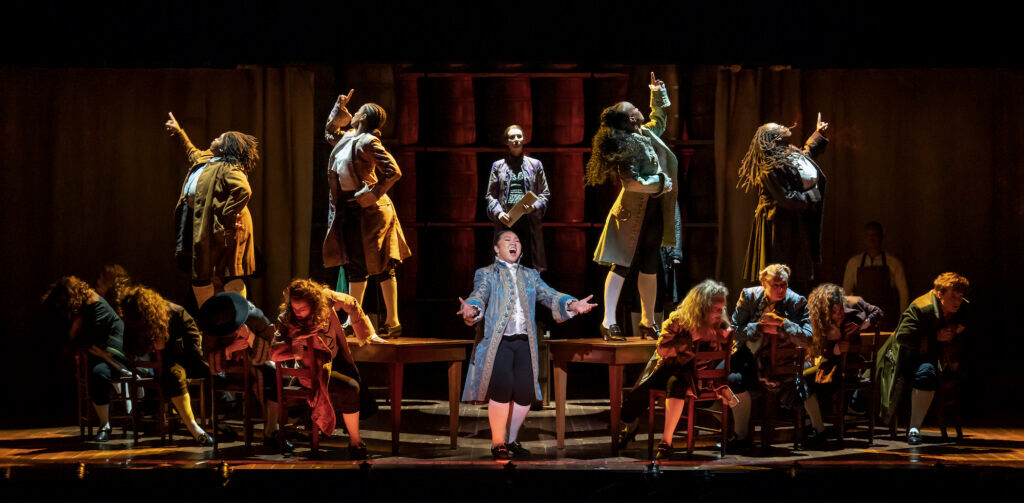 Another musical, & Juliet, showcases a lead character who is nonbinary and played by nonbinary actor (Justin David Sullivan, he/she/they), one of several nonbinary actors in the cast. Likewise, in the play Ain't No Mo', playwright Jordan E. Cooper performed in drag, showcasing how drag is not always inherently transphobic. In the play, Cooper references that he is in drag and uses the art form to further the play's exploration of the performative aspects of gender. 
But what are we to make of Some Like It Hot and the broader trend of remixing old properties for a new audience? The show's creation — particularly in the aftermath of Tootsie and Mrs. Doubtfire — displays the creative team and producers' lack of awareness. 
For me, Daphne's journey, while containing several good elements, is largely overshadowed by Joe's transphobic plot. In hearing the audience constantly laugh at Joe, I was so on edge that I was not able to enjoy the moments of trans joy and gender euphoria Daphne experiences. As one of the characters says to Joe, "You ruin everything." 

Some Like It Hot does little to help with trans literacy and strategically plays into the fact that the audience (like the creative team) may not know much about trans people, thereby delivering a deeply flawed education on gender and trans identity. In our current climate, this is not just artistically dissatisfying — it's also reckless.♦
---
Christian Lewis (they/them/theirs) is a queer trans nonbinary freelance theater critic with bylines in Variety, Did They Like It?, Playbill, Theatermania, Theatrely, American Theatre, and others. They are also a professor and have a Ph.D. from the CUNY Graduate Center. They are @clewisreviews on Twitter.
in Your Inbox

Subscribe to get a twice-weekly dose of queer news, updates, and insights from the INTO team.