Last week, Elizabeth Banks announced that she'd be directing the latest Charlie's Angels movie. Now in its fourth iteration—after the 1976 original TV show, the McG-directed 2000s movies, and the 2011 TV reboot—the franchise will be led by out queer actress Kristen Stewart, along with two British actresses, Naomi Scott and Ella Balinska.
From the homoerotic moments between Cameron Diaz and Demi Moore, to the wink-wink-nudge-nudge innuendo of girl-on-girl fight scenes, the Charlie's Angels franchise has always harbored queer undertones.
And with Kristen Stewart at the forefront of the upcoming 2019 movie, it's about to get much gayer. So, in an effort to record the characters' queerness for posterity, I decided to rank every past and current Angel by how gay they are—for science. Only the three leading, original Angels per iteration will be considered, except in the case of one extraordinarily gay circumstance.
14 – Ella Balinska
Balinska is brand-new to the Angel-verse, so we don't have much info on her—no character name, no storyline, no past gay productions.
However, I did check out Ella's Instagram, and found one picture of her wearing a beanie and a plaid shirt, another of her almost smooching another girl, and one more of the actress in a leather jacket—all of which feel like personal attacks.
13 – Naomi Scott
Naomi played the ever-adored Pink Power Ranger in the 2017 Power Rangers movie, and any female power ranger is inherently a little queer.
Like Ella, we don't have any info on her character yet. However, Scott did star in the 2011 Disney Channel original movie Lemonade Mouth about a five-part teen band of the same name. You know who else was one of the fab five? Hayley Kiyoko. Gay by association.
12 – Kate Prince (Annie Ilonzeh)
In the 2011 Charlie's Angels reboot, Kate Prince played a former detective turned dirty cop who was recruited by Charlie. She harbors a significant amount of romantic pain because her ex-fiancé left her just two weeks before the wedding. Queer women love to harbor resentment, so. Like her fellow 2011 Angels, Kate is almost totally devoid of traits—not much to work with here.
11 – Jill Munroe (Farrah Fawcett)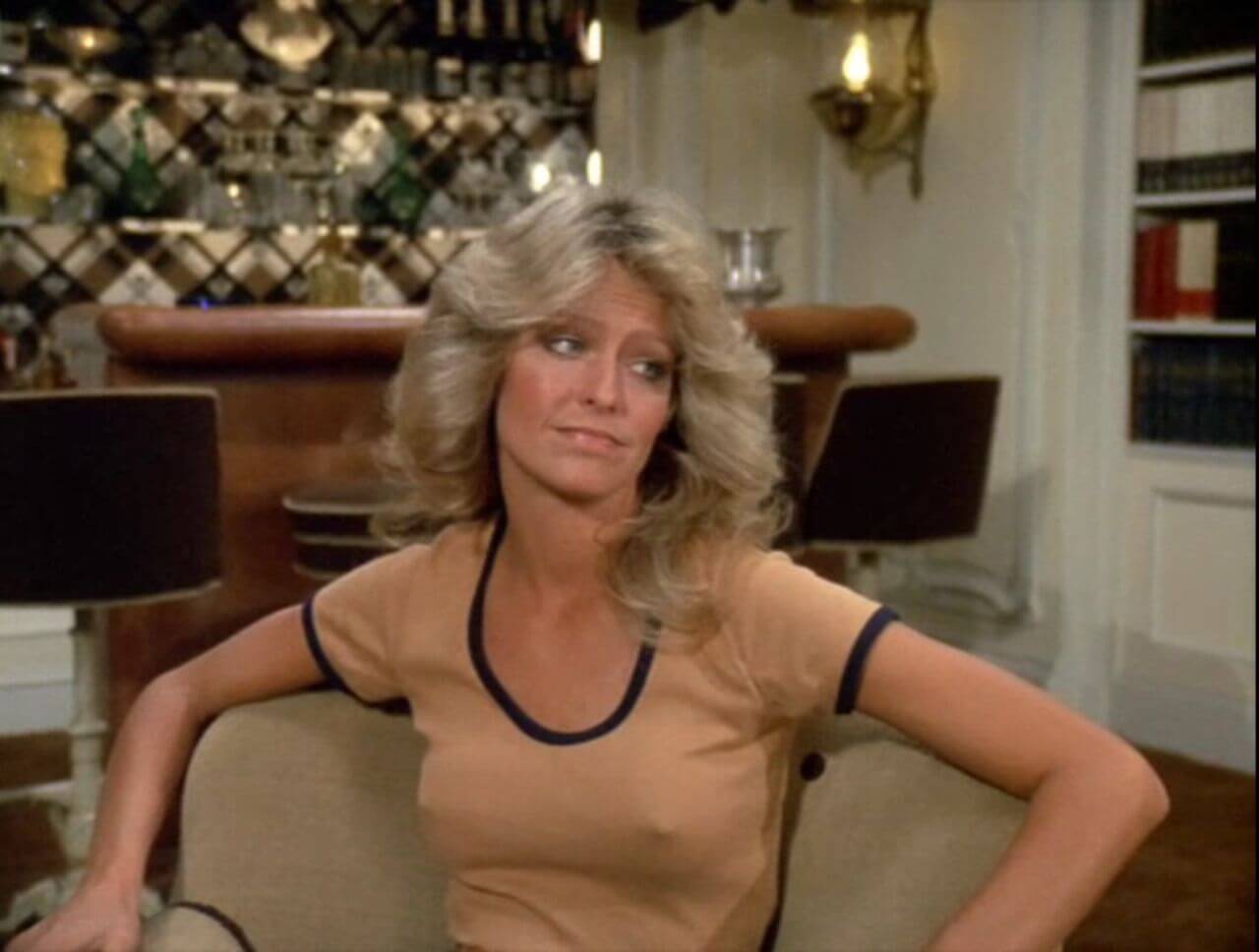 Farrah Fawcett is so heterosexual, it's hard for me to even talk about. She's very low on this list because she is superbly boring and superbly into men. Nonetheless, her character Jill was an inaugural Angel and a champion racecar driver who won the Grand Prix in 1979, after her time working with Charlie. Like her two cohorts, Kelly and Sabrina, she was a cop on the LAPD police force—gay—a skilled horseback rider—gayyy—and knew some shit about astrology—GAY.
10 – Kelly Garrett (Jaclyn Smith)
Kelly Garrett is an unbearably good-looking Angel from the original show. She loves a halter-top and scamming men, so that's good. She also makes a cameo in Charlie's Angels: Full Throttle when she descends upon Dylan (Drew Barrymore) as a literal angel, like an actual voice-of-reason dead person, to offer some maternal advice. The comforting mommy-vibes somehow did it for me, so here she is at #10. Look, maternal advice can be intimate, okay?
Also, Kelly can apparently start a fire using sticks, attended summer camp in her youth, and was obsessed with her doll named Lillibet—all of which scream "camp lesbian."
9 – Natalie Cook (Cameron Diaz) 
Natalie was, unfortunately, the least gay of the power trio in McG's 2000s films. She's boy crazy in a totally innocent way that makes me roll my tired gay eyes. Luckily, Natalie isn't devoid of lesbianism. She flirts with Demi Moore's character on the beach in Full Throttle, getting super weird and overly complimentary around Moore's rock-hard abs.
Natalie loves wearing Spider-Man tighty whities and she used to do roller derby, which is just about the gayest sport in history. In Full Throttle, she goes undercover as a mullet-donning, open mouth gum-chewing, CSI butch who just about masters the biting "I'm gay and judging you" grin.
8 – Sabrina Duncan (Kate Jackson) 
Kate Jackson's Angel was the most guileless of the trio from the original show, although she was the leader of their task force. She's an ex-cop and internationally ranked slalom skier, she sports an adorable 70s-style lob, knows how to drive a racecar, and most importantly, is subtly obsessed with herself.  Sabrina always wears something that says her name on it—a necklace, a T-shirt that says "Sabrina" in script. (All queer women are weirdly into themselves in ways we're not totally down to admit.)
The '70s Angels are written as unforgivingly heterosexual, but we'll always have this cropped tee and high-waisted denim-wearing goddess.
7 – Alex Munday (Lucy Liu) 
Lucy Liu brings some seriously queer vibes to her character Alex in the two Charlie's Angels movies. She was a competitive equestrian, which makes her a horse girl, which is pretty fucking gay. She also used to be an astronaut, meaning she probably stans Sally Ride, who was queer.
Alex is also a former gymnast and chess champion—I'm not sure if either of those things are hetero or not, but this Angel is an overachieving know-it-all who loves to be right—which accurately describes every queer woman I've ever met. She also drives the shit out of boats, and boats are canonically lesbian. Speedboats are the Subarus of the sea.
6 – Eve French (Minka Kelly)  
Unfortunately, the 2011 Charlie's Angels reboot barely made it through its first season before getting canceled. Only eight episodes of the show exist, and while they're brimming with post-aughts bangers like "S&M" by Rihanna and "On The Floor" by J. Lo and Pitbull, they're basically unwatchable. The three Angels are almost completely indistinguishable in their character traits and plotlines. They're basically three indiscriminate female voices brought to life by actresses who were amazing, but mere mortals who just couldn't save this heaping pile.
Technically, Minka Kelly and Rachael Taylor should be in the top two spots, as they're the only Angels in history to share a major lip-lock. However, the desperate grab at a would-be throwaway queer storyline never even aired because the show was shitcanned so quickly. But we'll always have the glorious paparazzi pictures to prove it actually happened.
5 – Abby Sampson (Rachael Taylor)
Abby is described in the show as a "Park Avenue princess" turned criminal, who was later recruited by Charlie. She reads as extremely, almost offensively straight. But again, she did make out with Minka Kelly, which would have been the first Angel-on-Angel make-out.
The only reason Rachael gets a higher ranking than Minka is because she currently plays Trish Walker on Jessica Jones, who has insane sexual tension with the show's titular character and is a major queer fave.
4 – Madison Lee (Demi Moore)
Madison is not an "original three" in any iteration of Charlie's Angels, however, I feel like Madison is canonically accepted as bisexual, without actually having said anything about being bisexual. She's an ex-Angel who became the scary-hot villain in Full Throttle. She exudes sexual energy and makes active attempts to seduce Natalie, one of her wide-eyed and bushy-tailed successors. Moore wears the 2000s-specific stereotype of a bisexual villain well—she dresses like a power lesbian, at one point donning a silky black button-up and matching trousers—and frightens me to the point of arousal and confusion.
Madison has a penchant for revenge and grudge-holding, which is extremely lesbian. And while she does try to kiss Natalie more than once, which is the closest to an on-screen girl-on-girl kiss in the Angelverse, I can't quite give her a Top 3 ranking—she wears a floor-length fur coat in her most villainous scene—and a queer woman would NEVER wear an animal product!!
3 – Kristen Stewart
Kristen Stewart is inarguably a lesbian icon. The only reason she's not #1 on this list is because we currently have zero information on her character in the upcoming Charlie's Angels film. It's unclear if she'll play queer, but sweet fuck, can you imagine if she does?
The first gay Angel might actually end me. Cause of death: an Adventureland-era Kristen beating men to a pulp and getting the girl.
2 – Dylan Sanders (Drew Barrymore)
Dylan is the kind of movie character queer women see when we're young, then look back on and think, "Wow, I felt seen." She's the most grungy, tomboyish and masc-leaning Angel in the 2000s movies, or in any iteration of the franchise. Dylan can always be seen in a baggy, worn out t-shirt, combat boots, and a snarl. In one scene, she even wears a fucking houndstooth Kangol hat. Her mom died when she was young, and all queer women have mommy issues. Her past occupations include: veteran, former competitive monster truck driver, and an ex-Lucha Libre-esque wrestler whose alter-ego was "Lady Insane." I mean.
Dylan is also the jealous best friend. In Full Throttle, she grows fearful that both Natalie and Alex will move on without her—Alex with Joey from Friends, and Natalie with Luke Wilson's thousand-watt smile—rendering her the sole remaining (single) angel. Every queer woman has at one point or another been the jealous best friend who wonders why the fuck her best friend cares more about sex with men than our beautiful, blossoming, emotional intimacy—not speaking from personal experience, just something I've heard from…others.
1 – Gloria (Nadine Velazquez)
Gloria was briefly seen in the first five minutes of the 2011 Charlie's Angels pilot, as a former decorated veteran who was court marshaled for a deadly incident and later became an Angel. She was promptly killed off to drive a revenge plot and replaced by Minka Kelly. Former veteran who gets killed in the first seven minutes of a show? Sorry, but that's gayest thing I've ever heard. Thanks, Bury Your Gays trope!
The new Charlie's Angels is set to be released Sept. 27 of 2019.
in Your Inbox

Subscribe to get a twice-weekly dose of queer news, updates, and insights from the INTO team.