*photo credit: Louie Banks
It isn't often that high end fashion is associated with Blackness or being LGBTQ+,  but Black trans model and DJ Memphis Murphy is showing that not only can the two coexist: they can be synonymous. Featured in the history-making Beyoncé x Balmain Renaissance Couture Vogue cover as the first ever wearable album, Murphy is creating history, breaking barriers, and proving to those coming after her that, despite their identities, they can make their dreams a reality too.
For the 22-year-old model, a career in fashion felt inevitable. Growing up in the official fashion capital of the United States, New York City, with her mother Sydney Oliver, a stylist representative, Murphy described her career in fashion as "bound to be." But even with her dream being seemingly destined, Murphy still recalls facing a learning curve when she entered modeling.
"When I first started modeling it was actually 'cause my friend at the time had been signed to this agency," she recalls, "but she was saying that I could get into it. So, I ended up signing with them…  it kind of did open up my horizons to other possibilities."
While trans models like Dominique Jackson, Indya Moore, and Isis King exist within the fashion industry today, Murphy states that the lack of relatable and inspirational trans models pushed her into wanting to be a face within the industry.
"There wasn't really anyone to look up to, especially being trans. Like there was no trans models, especially in 2017 or 2016 that I knew about [or] at least that inspired [me]," said Murphy. "Which is why I kind of wanted to start modeling in the first place, I just saw that there was a lack."
After some time of navigating through ill-fitted agencies, Murphy began to find her way. After signing with New York Models, appearing in Elle Magazine and SELF, and working with brands like Savage X Fenty, Murphy shared that the opportunity to work with Vogue on the Balmain x Beyoncé cover presented itself through a friend.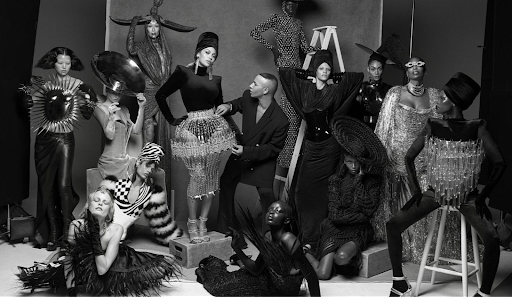 "I'm really close friends with Beyoncé's creative director, Andrew Makadsi…and in the past I had been up for the Balmain show that happened," shared Murphy "I feel like my friend really pushed me for that,"
Co-designed by Olivier Rousteing, the Balmain design team, stylist Marni Senofonte, and Beyoncé, the collection features couture looks inspired by all sixteen songs on the Renaissance album. Surrounded by industry friends while shooting, Murphy described the energy on set being filled with some nerves, but also reassuring faces.
Related:

Beyoncé's Renaissance World Tour is a win for queer people, whether you have tickets to it or not. 
"I had some friends on set, so it was really cool and fun because I had them there. Obviously it's such a big moment so of course there's nerves, but having friends on set and stuff made it easier," Murphy explains. 
With Vogue having a print readership of 11 million and a collective social media followership of 52.7 million, Murphy's exposure has managed to propel her to new heights and place her career into the spotlight. Consequently, she has gone on to work with more luxury brands like Mugler, but ascending further into the couture fashion space has proven to bring mixed emotions for the model.
"It's definitely cool to be making history and breaking barriers, but it can be a lot of pressure… people that I know and friends, they all look up to you so much when you get a certain booking or whatever. And I feel like there's this pressure to keep going or to keep being that representation. Not just for yourself, but for other people as well," said Murphy.
Even with the newfound weight that representation brings, Murphy still relies on her individuality to see her through, and advises aspiring models to do the same. 
"Even though it does seem like you have to be like one type of person, or look the same, or like there's a default type of model, people really do appreciate individuality," Murphy says. "And what sets you apart from being a regular model…[so] as long as you stick to who you are and not try to mold yourself, then you'll be more successful…at the end of the day, people want to book a real person."
These days, Murphy is defining herself as more than just a model. She's leaning into all sides of her creativity and love for joy and life, including her passion for music. DJing at parties for Gucci and Calvin Klein x I-D, Murphy is creating her joy and making friends on and off the runway.
"For me, it was just an outlet because it's something that I like to do. I just like music and I like to party 'cause I'm obviously still young, so yeah, that kind of relieves the stress – being able to let it out," shared Murphy. "I'm just glad I have a lot of other model friends cause we always give each other advice and kind of help each other keep going."♦