A transman named Batman is allegedly making prison life hell for one Ghislaine Maxwell, Jeffrey Epstein's long-term procuress. And honestly…she deserves.
Related:

'Our Flag Means Death' actor Vico Ortiz is polyamorous and proud.
In a hilariously-written and deeply-observed Daily Mail article, word comes to us that Maxwell, who is currently serving 20 years for her involvement in the Jeffrey Epstein scandal, is caught in a feud with her transmasc cellmate as the two struggle to share space in their 5 by 8 foot "cube."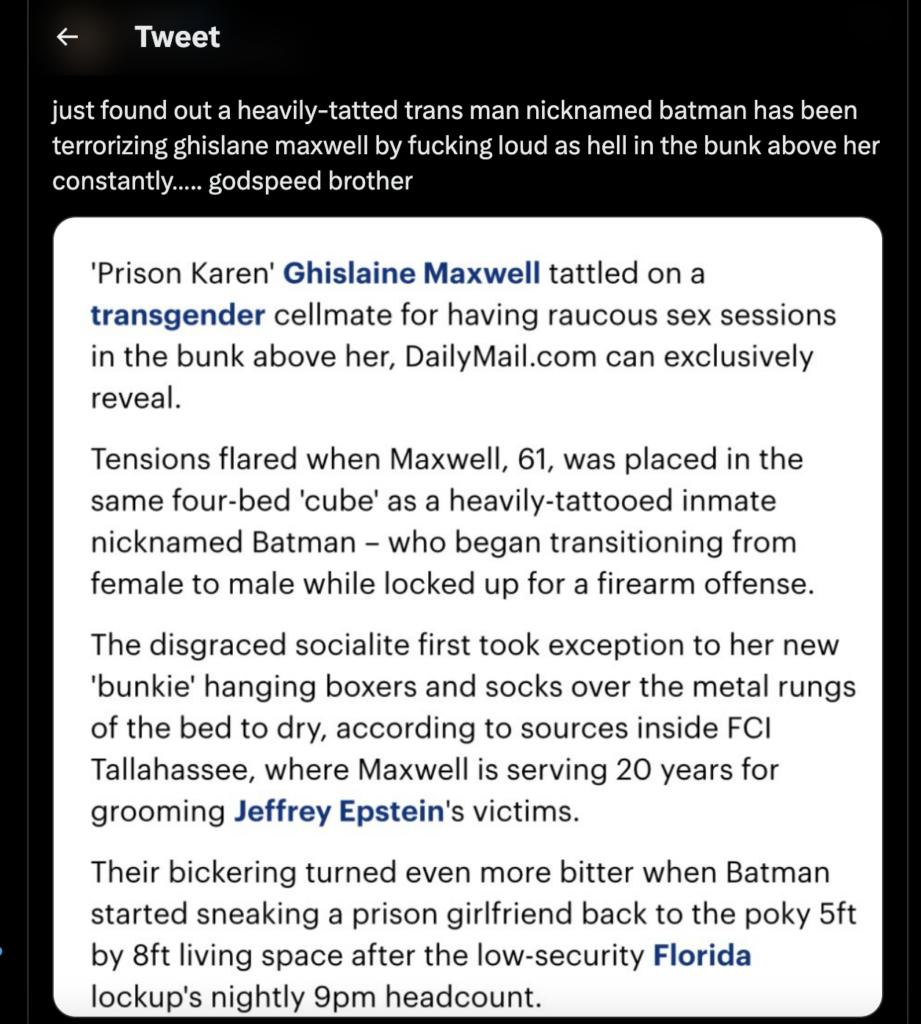 Described as a heavily-tatted "career criminal", Maxwell's bunkmate Batman seems, in a word, iconic. Insisting on drying his undergarments on the top bunk and loudly screwing his girlfriend after Maxwell complained to guards? Clearly we've all been stanning the wrong Batman.
This is seriously some "Orange is the New Black", season 3, Ruby Rose sh*t.
"'Max would hear every grunt and moan as she was trying to sleep just a few feet below. The beds aren't bolted down and they can rock from side to side and make a lot of noise," an "insider" explained to the Daily Mail. "Max and Batman weren't getting along because of the underwear thing so this was the final straw. Inmates aren't allowed to have sex so she went and reported Batman to the unit's case manager."
Max and Batman…it rolls off the tongue.
We'll be keeping close tabs on this situation.