The word transgender refers to someone whose gender identity is different from the one they were assigned at birth. Although we are traditionally assigned the genders of male or female at birth, not all people identify with their given gender assignment. The way transgender people express themselves vary from outfit choices to gender reassignment surgery. Gender expression is fluid and ever-changing, not everyone expresses their identity in the same way. Perhaps one of the most unifying things about the transgender community is their pride. One of the best ways to gain visibility and express oneself is through waving a pride flag. 
If you think you might identify with the transgender identity or want to learn more about this community read about what it means to be transgender here. 
The current transgender flag was designed by Monica Helms in 1999. The flag was first seen in the Phoenix, Arizona Pride parade in 2000. Since then the tri-colored flag has become a symbol of the transgender community and became increasingly popular. The flag is often seen flying on Transgender Remembrance day which is celebrated on November 20th and is also seen at various pride events and protests held throughout the world. 
 

View this post on Instagram

 
So what does this flag represent? As a whole, the unification of transgender individuals. Below is a breakdown of what the colors of this flag represent. 
Light Blue:

Traditional color for baby boys. 
Light Pink:

Traditional color for baby girls. 

White:

Those who are transitioning as well as those who have neutral, no gender and/or intersex individuals. 
Alternative versions of the transgender flag
Although the transgender flag designed by Monica Helms is the most popular and mainstream flag used, there are alternatives. Like most communities within the LGBTQ+ community there is fluidity which means certain flags are made to create a better representation for a niche group within the transgender umbrella. That being said, most of the alternative versions are only used on occasion and are not as recognized as the Helms flag. 
Michelle Lindsay Flag 
This flag was created by the Ottawa designer Michelle Lindsay in 2010. The Flag contains a pink and blue stripe with the transgender symbol in the middle. It was first used in Ottawa for Transgender Day of Remembrance events.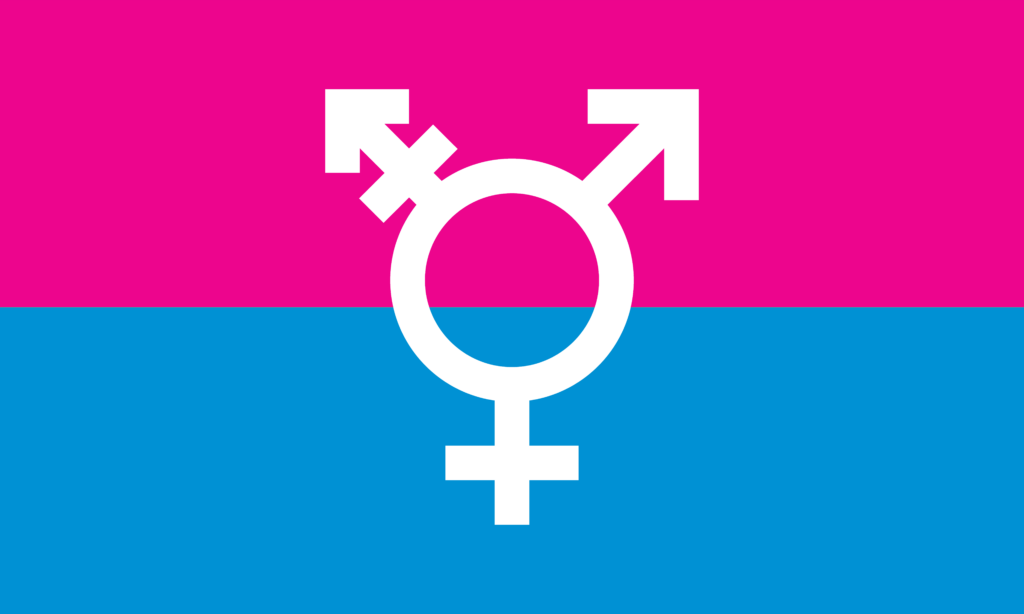 Progress Flag 
The progress flag was designed by graphic designer Daniel Quasar in 2018. The flag builds upon the iconic rainbow pride flag designed by Gilbert Baker in 1978. This flag adds on a chevron with five new colors to symbolize progression. This flag added black and brown stripes to bring light to the discrimination of POC within the community and pink, light blue, and white to represent transgender individuals. 
 

View this post on Instagram

 
Want to learn more about being transgender?
Being transgender doesn't have a single definition. While some might change their name and pronouns to fit their gender identity, others might go through with top surgery or take hormones to achieve the same effect. Being transgender is not black and white, there are a multitude of ways to express gender identity. Throughout history, the transgender community has continuously faced oppression and have fought fearlessly for equal rights and support. The transgender pride flag is evidence of a community that is unified and symbolizes visibility. 
With that being said transgender individuals can be asexual, bisexual, polyamorous, and more. There are endless ways to be transgender. If you resonate with these ideas or want to learn more click here.
Closing thoughts
The bottom line is representation matters. Flags are a necessary tool when it comes to representing a community, identity, or sexuality. Putting up a transgender flag or wearing it on a t-shirt shows appreciation and pride for the community. This is not only important for community members who want to feel unified, but also for visibility purposes. The colors and symbols on a flag show the world what it means to be a part of that community and give everyone a chance to show their pride. 
In addition, be sure to learn about the other identities that make up the LGBTQ+ community subscribe to the INTO newsletter to learn more.