In October 2014, Kesha filed a lawsuit against Dr. Luke for sexual assault and battery, sexual harassment, gender violence and emotional abuse. An injunction was later filed to release her from Kemosabe Records, the Dr. Luke-managed imprint under Sony Music. Support for Kesha swept the internet via the #FreeKesha campaign. Taylor Swift donated $250,000 to her legal funds. Artists Kelly Clarkson and Pink have publically spoken against Dr. Luke, while Lady Gaga, Miley Cyrus, and Lorde have been vocal about their solidarity with Kesha.
In February 2016,  after 18 months in court, Kesha lost her case due to "lack of evidence." The image of a sobbing Kesha, completely devastated by the verdict, is difficult to forget. In 2017, we collectively promised to support her new music, and furiously campaigned for "Praying," her anthem of forgiveness and healing, to be recognized by mainstream radio. At the 2018 Grammys, in the wake of the #MeToo movement — where women's personal narratives about sexual abuse and gendered violence were at the forefront of public attention — Kesha performed her prayer alongside notable female acts. It was a strident symbol of sisterhood and solidarity.
But have we, the queer community, been successful in our own solidarity with Kesha and the #MeToo movement?
It'd be silly to downplay the queer community's long-standing relationship with pop music. From Judy to Gaga, Ariana to Mariah, Beyonce, Madonna, Carly — oh my! A star is born for each generation of queers to adore and idolize. But this relationship becomes fraught when we consider the influence of figures like Dr. Luke — the behind-the-curtain producers whose faces we couldn't pick out from a lineup but whose names serve a generous dollop of buzz.
Having produced/written gay-loving bangers such as "Since U Been Gone" (Kelly Clarkson), "Teenage Dream" (Katy Perry), "Where Have You Been" (Rihanna), "Get On Your Knees" (Nicki Minaj), and "Circus" (Britney Spears) — his production discography is super upsetting to scroll through — the difficulty lies in finding pop faves who haven't worked with Dr. Luke.
How should we be negotiating Dr. Luke's importance to our current listening habits?
I understand that music often acts as a vehicle of liberation; escapism from the terror of the times. But music, as art, is fundamentally political. Who we choose to listen to reveals and reproduces the values we want pedestaled. While we can romantically speak about divorcing the art from the artist, we need to wise up to the reality that music is also business: Spotify streams and radio spins translate into revenue which pays rent, churns more music, and snowballs into power. It'd be impractical to start culling Dr. Luke's entire catalog prior to 2014 (I'm not sure I could say goodbye to Electra Heart or The Best Damn Thing) because we'd also be sanctioning a good chunk of our innocent idols. To willingly work with Dr. Luke in 2018, however, is to both normalize his behavior and be complacent about the pain he's associated with. It's a smear against the #BelieveWomen narrative feminists have been fighting for.
Scroll to the bottom of Dr. Luke's production discography timeline and you'll see two (maybe three? probably two) names that have been celebrated by the queer community. Azealia Banks' next single, "Treasure Island," is produced by Dr. Luke. After supporting Trump, pissing off Drag Race viewers, bad-mouthing Beyonce (the list really does go on), it's almost as if there isn't anything Azealia could do to stop the queers from loving her beats. Admittedly, she is surely talented.
The second name, Kim Petras, is known as Dr. Luke's protege. Kim shot to musical fame with candy-coated queer club bangers "Faded," "I Don't Want It At All," "Hillside Boys" and a fire feature on Charli XCX's Pop 2. But she first gained international attention in 2007 when, at 14, she advocated permission for early gender reassignment surgery through a German documentary and talk show. In November 2008, aged 16, Kim publicly announced that she had completed her much-anticipated surgery. Her first single, "Fade Away," was released in 2008 and her latest, "Can't Do Better," came this past June.
While Kim doesn't want to be singularly known as a "transgender artist" — "the ultimate goal for me is if a transgender person can be known for anything but being transgender" — many in the queer community look to her as hope for the future of trans representation in mainstream art. Yet… all her music is produced by Dr. Luke: support for Kim is support for Kesha's abuser.
This controversy hasn't escaped backlash. Troye Sivan was forced to issue a statement defending his decision for Kim to open his Bloom World Tour after an online uproar from concerned fans. Kim, too, posted an apology to anyone that she upset — but has yet to forgo her working relationship with the producer.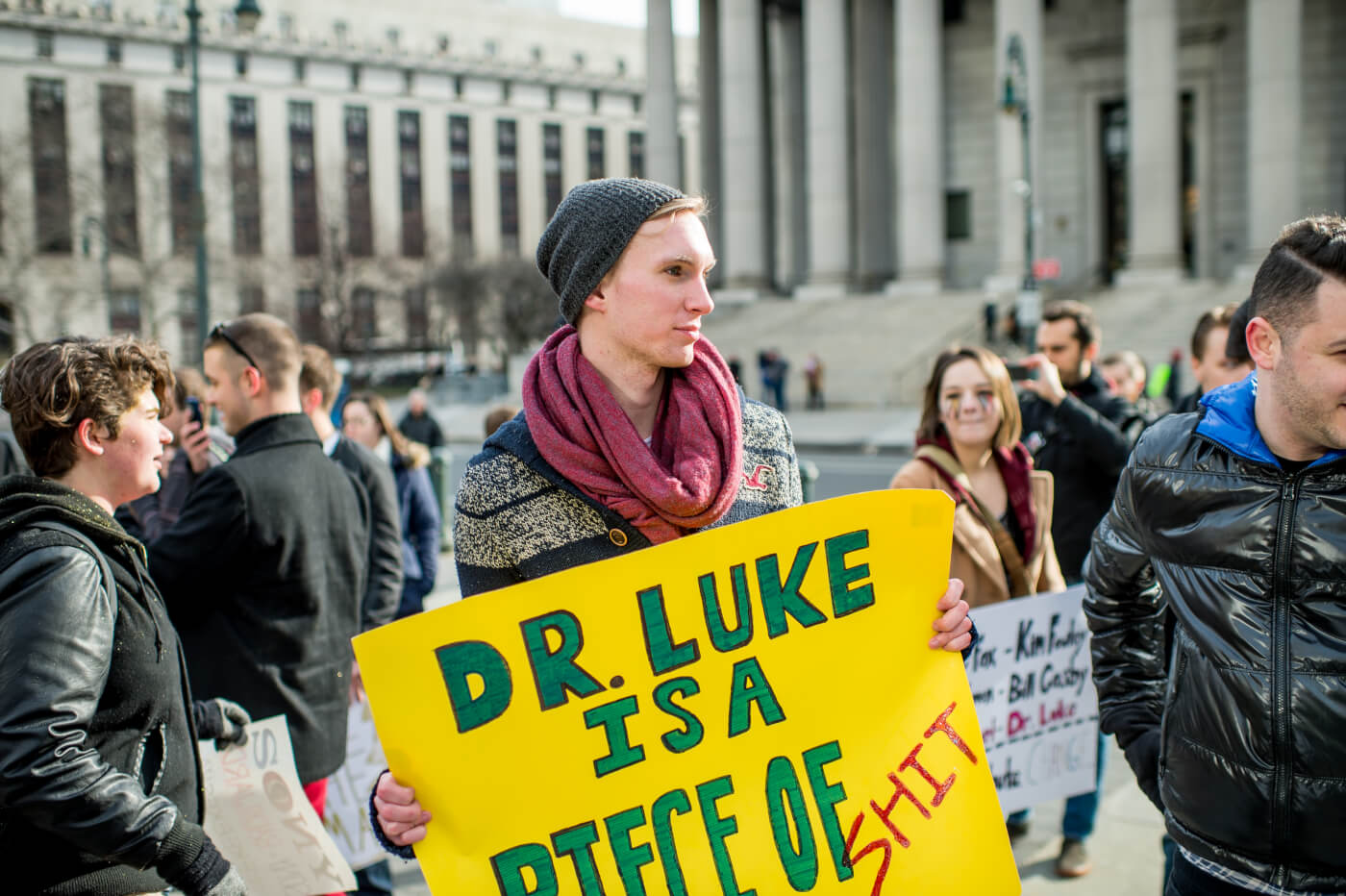 It seems curious that in 2018, the age of Trump and #MeToo, we'd be so lenient to these politics. But are we? Take, for example, Shania Twain. Shania made her dive back into popular culture in 2017 with the release of her fifth studio album, Now, a solid 15 years after, Up! She made a cameo on Broad City and the tenth season of RuPaul's Drag Race. For Shania, life was about to get good… until she exposed herself as a Trump apologist.
Shania was quickly canceled and stripped of "gay icon" status.
But it's interesting that Shania's hypothetical vote for Trump (she's Canadian) would have more political weight than the profoundly disturbing men our pop stars have chosen to work with. "Shania is canceled" does feel particularly performative — getting off on the opportunity to flex our pop-political pecs — when we're simultaneously singing along to "Heart to Break," or actively forgetting that Lady Gaga has worked with both R Kelly and Terry Richardson. It's interesting that we, as a queer community, get to pick and choose our politics of the day.
Perhaps this is a symptom of how we've come to fetishize our favorite pop icons: reducing them to an importance that stretches only to aesthetic and performance. It's a fetishization that dehumanizes: makes them easy targets for Twitter stan wars and the cascade of online bullying that follows. That strips any core ideology, allowing them to be picked up and dropped at the whim of our desire and disposal. It's the fetishization that makes us care so deeply for Kesha's struggle and then — unsurprisingly — savour the taste of a Dr. Luke-infused beat.
Or maybe it's part of a much larger issue — beyond the scope of queerness — of how we've come to consume music. The hype over Kanye's latest musical venture came so shortly after his "slavery was a choice" commentary (ft. MAGA hat + Trump) — it was almost comical despite being so disturbing. It speaks to our convenience in forgetting, a deficiency in our attention, and a willingness to wash our hands of any guilt from the last two years: "I didn't vote for him!" "I'm one of the good guys."
But our queerness shouldn't come at the expense of other people's pain, struggle, or solidarity. We need to become better at interrogating not just our own politics, but the politics of our consumption. Because if Judy's Dorothy taught us anything, it's the importance of always looking behind the curtain — it's just unfortunate that it might not always be full of rainbows.
Images via Getty