There are so many disgustingly talented queens who do not get the recognition that they deserve. They are redefining, recreating, and revolutionizing what drag entails. No longer is it about appearing as fishy as possible, (although who doesn't love being served some tuna from time to time?). It's about appearing bigger.
So here are 20 queens – or more specifically, some Lewk Queens – who are straight-up slaying:
Brooklyn-based queen Eggz Benedictt serves legs for days and a face beat for the gods. She currently hosts two parties in New York City, Gotham at Webster Hall and Code Red.
You could describe Penny Tentiary's drag brand as Four Loko. She's a Boston-based queen whose home bar is Club Café.
Only one word to describe this Chicago-based queen: Iconic.
Lucy is another Chicago-based queen. As she (correctly) describes herself, she is an "international black-bearded beauty."
This Australian queen isn't so much a lewk queen as much as she's a campy comedy queen, but her name is so hilarious that she deserves to be included.
James is a Seattle-based queen, and she's unbelievably gorgeous. Her face is flawless.
Pulp Friction is Providence's premiere glitter beard queen. Her home drag bar is EGO.
Los Angeles' Xochi Mochi is a "Killer Klown from Outer Space." Her looks evoke two parts terror and one part arousal.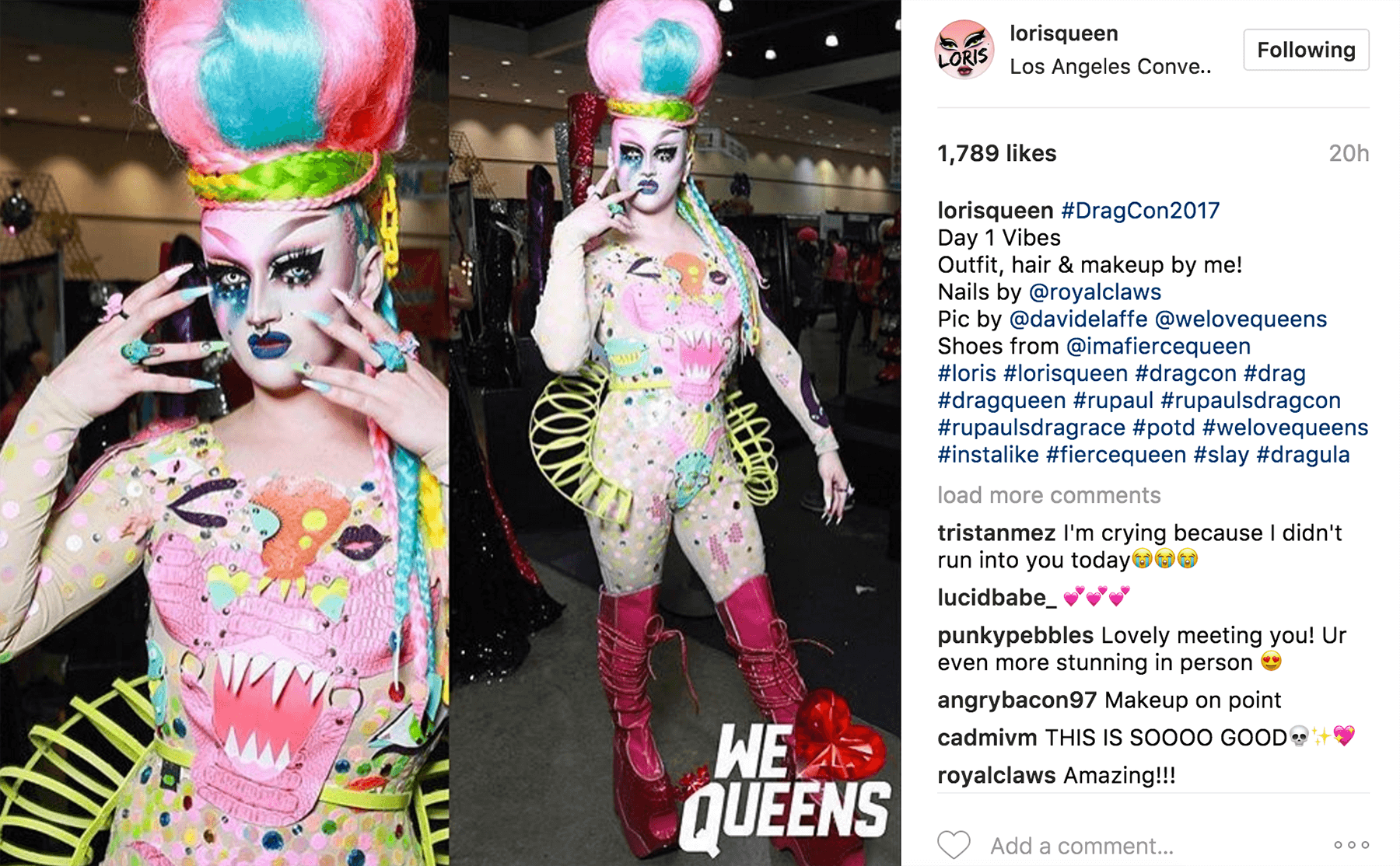 Loris was born in Zurich, Switzerland, but now is a local L.A. Queen. Her looks truly embody the intergalactic femme fatale.
10.Crème Fatale
Crème Fatale is a San Francisco queen who's makeup is always soft, yet powerful. She always looks gorjuuuus.
This Providence queen serves body-ody-ody.
12.Luke Harris
Luke is a London Club Kid. If looks could kill, we'd all be dead. Luke's looks are mind-blowingly creative.
13.Rify Royalty
Rify doesn't feel confined by gender. This NYC queen is both hyper-masculine and feminine serving you all the genders.
14.The Vixen
This Chicago queen not only serves face and body, but she also brings down the house when she performs.
Just look at this Atlanta queen's face. LOOK AT IT. She evenly rocks both long and short hair lewks.
The first thing you'll notice about this Boston-based queen is how tall she is. When she wears heels, Severity towers at nearly seven feet. She slays when it comes to goth lewks.
Ariel Versace is a Philadelphia-based queen who describes herself as, "Jersey's life-size Bratz Doll." She does big hair better than any queen currently out there.
18.Phallic Cunt
She lives in New York City, and her looks are fire; serving diverse concepts from greasy pizza to straight up monster.
Sarah is a New England lady queen who's a local in both the Boston and Providence scenes. She is actually paraplegic, and her wheelchair is not a prop. Her makeup is always, and I mean always, lit.
Ellis is the final queen on our list. She is a London queen whose lips you can't help but envy.