Scandal alum Paul William Davies has a new show on ABC and it's just given us a new bisexual lead to obsess over.
Shondaland's For The People is "set in the United States District Court for the Southern District of New York (a.k.a. 'The Mother Court')" and follows six talented young lawyers working on opposite sides of the law and handling the most high-profile and high-stakes federal cases in the country.
It's like Grey's Anatomy, but with legal jargon.
Series stars Britt Robertson and out actress Jasmin Savoy Brown have been setting off gaydars since the pilot, since they can't seem to stop professing their undying love and devotion to each other whilst staring deeply into each other's eyes.
They're your classic "best friends" with way too much chemistry to ignore that they could easily be gay for each other–and that's why they will never happen canonically, but I digress.
Kate Littlejohn (Susannah Flood) is a new Assistant U.S. Attorney. She's driven, focused, career-oriented, and completely oblivious to blatant advances from hot badass lady cops.
While working with a colleague in a recent episode, Kate meets ATF agent Anya Oms (out actress Caitlin Stasey), who is instantly charmed and clearly hitting on her. Anya gets Kate's number under the pretense of any work-related emergency that may come up and calls her soon thereafter, requesting her assistance in a legal matter, and reiterating that she will only work with Kate.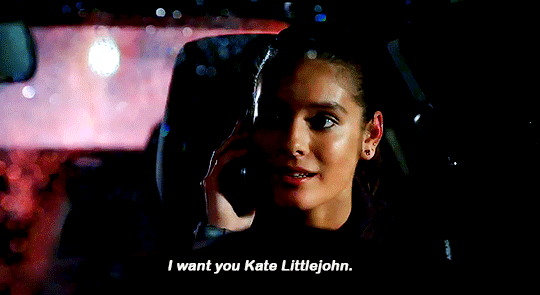 They spend some time together while working on their case, with some cute back and forth in which Anya tricks Kate into small talk after trying and failing to "take a break" with her so they can chat and get to know each other. Anya shares that she attended law school for all of two days before deciding it wasn't for her, and Kate reveals she knows a thing or two about criminology herself.
Once the case has wrapped, Kate receives yet another late evening call from Anya, who invites her to a shooting range. Kate agrees to meet her, and they have a super romantic gun date in which Anya kisses Kate, apologizes for being forward, but is quickly cut off by Kate who, obviously, doesn't think she was being forward.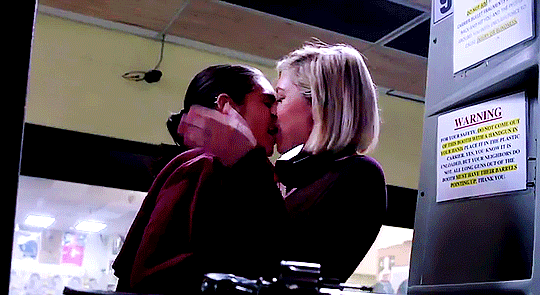 It's hard to tell whether or not this will turn into anything serious yet, as in the episode immediately following the kiss, all scenes with the pair, including one teased in the preview of them in bed together, were completely cut without so much as a mention of Anya.
Shonda Rhimes, who serves as Executive producer along with Betsy Beers, has been pretty constant in delivering queer characters ever since the bisexual evolution of Calliope Torres on Grey's Anatomy, and it looks like her predecessors may be following in her footsteps, so keep your fingers crossed for more Anya/Kate gun dates.
There hasn't been news of a For The People second season renewal as of yet, but for now, we have the remainder of its first season to look forward to.
For The People airs Tuesdays at 10 on ABC.