Back in August 2018, Stereogum posted about the existence of boygenius. You know, the group made up of indie rock darlings Lucy Dacus, Julien Baker, and Phoebe Bridgers. The group released three fire tracks and lapped up praise from Pitchfork and Vogue. 
It's earthquaking emotional indie rock that makes you start to tear up as you ponder your life.
Plus, two of the three women in boygenius identify as queer. Julien Baker has been an out lesbian her whole career, while Lucy Dacus came out as queer later on. (Phoebe Bridgers also came out as bisexual in 2022, after this article was originally published.)
Indie rock, punk, and being out of the closet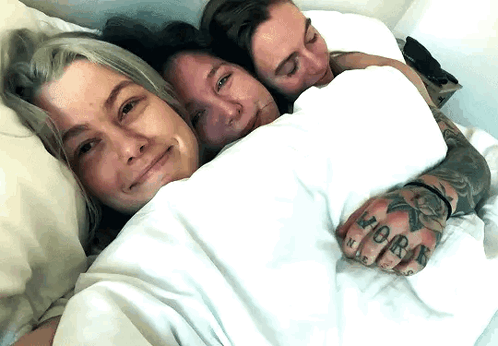 Anyone who's paying attention to the world where indie rock and punk combine is aware that queer people are at the forefront of the most buzzed about bands. boygenius' self-titled debut EP came out November 9th on Matador, an indie rock label that is home to many queer musicians. Their powerhouse labelmates include Baker and Dacus themselves, plus Jennifer O'Connor, Perfume Genius, and lesbian indie star Snail Mail.
Once the land of pretentious straight bros, indie rock's biggest bands are now full of queer people making moves. Perfume Genius is a critics' darling who performs swaggering pride songs about ruining the heterosexual family. Melina Duterte of Jay Som has songs inspired by messily waking up with her girlfriend. Lindsey Jordan, the then-teen genius behind Snail Mail, rejects being a token gay in the press. Annie Clark of St. Vincent dated supermodel-actress Cara Delevingne (plus Twilight's Kristen Stewart) and drives indie bros crazy with her guitar skills.
Why the buzz over boygenius?
These artists aren't getting buzz simply because they're queer. It's because their music is the best the genre has to offer. Each artist in boygenius brought a finished song and an unfinished idea to the boygenius session. This means the new band has traces of each individual artist's unique perspective that has gained them fans.
For example, "Stay Down" is the kind of dynamic song that breaks you open like only Julien Baker songs can. Then, Dacus and Bridges' harmonies sweeten the blow.  
Fans of Lucy Dacus will recognize her world-weary vibe on "Bite The Hand." These songs about heartbreak can also be applied to more political struggles. "Bite The Hand" is a song that rejects the idea of being grateful for getting a small slice of the (straight) world. "Who do you think you are? Who do you think I am?" the three singers harmonize, before continuing in a round, "I'll bite the hand that feeds me." 
Will boygenius be pigeonholed?
I suspect the women of boygenius didn't set out to write explicitly queer songs, and probably don't want to have their music pigeonholed as such. Dacus and Bridgers' identities are a subtext, not a primary talking point, of their work. Still, their status as out queer ladies is a beacon to people everywhere looking not just for mainstream representation, but figures in the alternative world as well.
Their identity is just a point of pride for me and it should be for all of us. Queer people aren't just taking over the pop charts and the dance clubs: we have a claim to the basement venues and punk bars as well.
---
Editors note: Whewwwww! boygenius sure blew up, didn't they? We've since edited this article slightly for context, but wanted to leave our original wonder and amazement over the announcement of this indie supergroup.)

Related:

Queer supergroup boygenius played a show in Nashville, the home of the nation's first attempt at a drag ban.

I've had people ask me, like, "How do you write queer songs?" Or, "How do you write queer music?" And when I write, I don't think to myself, "I'm gonna write a queer song right now."
Unearth the secrets of the boygenius behind indie rock and much more – subscribe to the IntoMore newsletter for your backstage pass to the scene!
in Your Inbox

Subscribe to get a twice-weekly dose of queer news, updates, and insights from the INTO team.