Sex work is work and plenty of people are navigating this industry in various ways, one of those being a dominatrix. These talented individuals work in BDSM role play, an umbrella acronym for bondage and discipline, dominance and submission, and sadism and masochism, to bring pleasure to their submissive clients by bringing the pain as the dominant professional, consensually and safely of course. But what happens when one of your clients is unknowingly your father? Enter the short film Daddy Issues.
Directed and produced by Matthew Campanella and Stephanie Chloé Hepner, and written and starring Campanella, Daddy Issues follows Oliver (Campanella), a young dominatrix who just wants to impress his boss, Mistress (Milan Anderson). And while he wants to put his best foot forward with her, he takes on more than he can chew when he realizes his next client is his father (David Kelsey). Needless to say, this would be a traumatic experience for most people, but it definitely makes for a great short film, one that received its premiere at this year's Tribeca Film Festival.
New York's preeminent film festival is pretty exclusive, but Campanella and Hepner's Daddy Issues is currently developing into a feature length film. So if you don't know Campanella and Hepner now, you will soon. A queer New Yorker and London Academy of Music & Dramatic Art actor, writer, and director, Campanella's acting credits include the Tubi Series Great Kills and the short films Priestly Aspirations, Kaleidoscope, and Bird Set Free. Hepner, an NYU Tisch-trained Latinx immigrant director, writer, and actress, whose credits include Law and Order, New Amsterdam, and The Equalizer.
INTO chatted with Campanella and Hepner about their film's Tribeca debut, their dive into BDSM research, and bringing new queer narratives to the acclaimed film festival. 
Related:

New York City's famed Tribeca Film Festival is here and there's plenty of queer content to check out.
How did the concept for Daddy Issues come to be?
Matt: The story concept came to me after participating in a film challenge in Los Angeles last year. I was tasked with creating a concept from a prompt, the theme being about fatherhood. I thought it would be funny to capture an estranged father- son relationship in a BDSM dungeon.
Stephanie Chloé: I remember when I first read the script Matt wrote, and am so glad we waited to shoot it outside of the challenge it originated from, so we could do it with the proper time and dedication it required. It was obvious there was something special here that deserved nurturing and care beyond a 24-hour turnaround.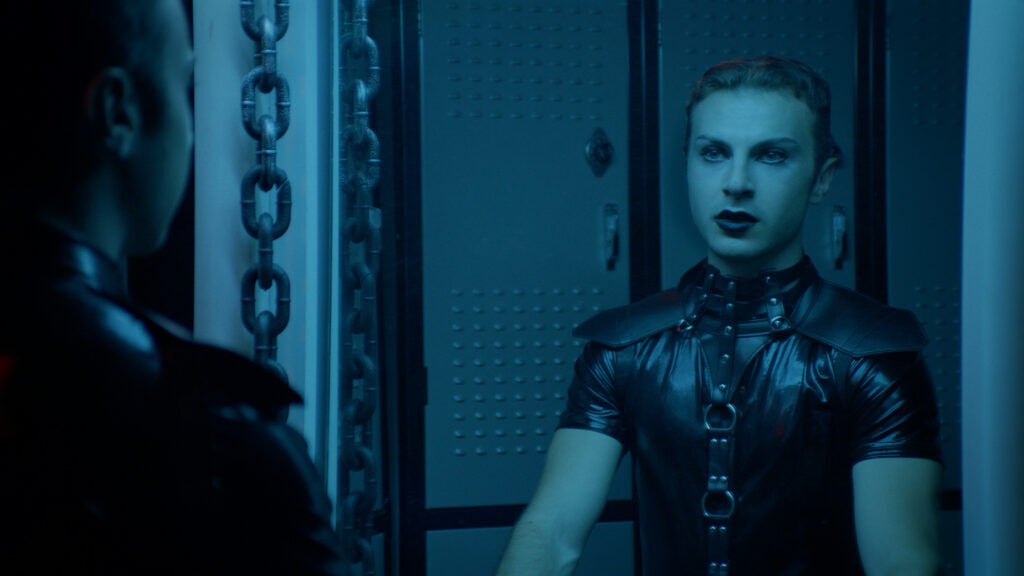 What BDSM/dominatrix research did you do for your film Daddy Issues?
M: From the get go, it was really important to me that we showcased the world of BDSM authentically. I spent about a month researching the world, connecting with friends who had experience with BDSM and reading articles and blogs about dominatrixes. It was a wonderful experience and very much opened my eyes to this world.
SC: I had experienced minimal interactivity with the BDSM world in the past, but nothing extensive. I had also watched other TV shows and films that touched upon the subject, but due to the themes and relationships of our story, we really wanted to make sure the tone and the jokes aligned with the world.
Interestingly, the film, while highlighting BDSM, is really about a relationship between a parent and a child. What inspired you to center your film this way?
M: I've always been interested in telling stories that involve familial dynamics. I was born and raised in a big, loud, and loving Italian family in Long Island, New York. As you can imagine, my childhood was filled with brutal honesty, strong opinions about everything, and endless homemade pasta. My first film, Kaleidoscope, which hit festivals in 2021, also explores familial dynamics. With Daddy Issues, I was really interested in covering the taboo topic of BDSM that the story centers around, following a confident queer lead, and exploring power dynamics between the two characters, both physically and emotionally.
SC: As a dark comedy fanatic, I am fascinated by placing a complex relationship in an unexpected context. I live for awkward moments both in TV/film and in real life, so these circumstances were immediately compelling to me, and I applaud Matt for coming up with it!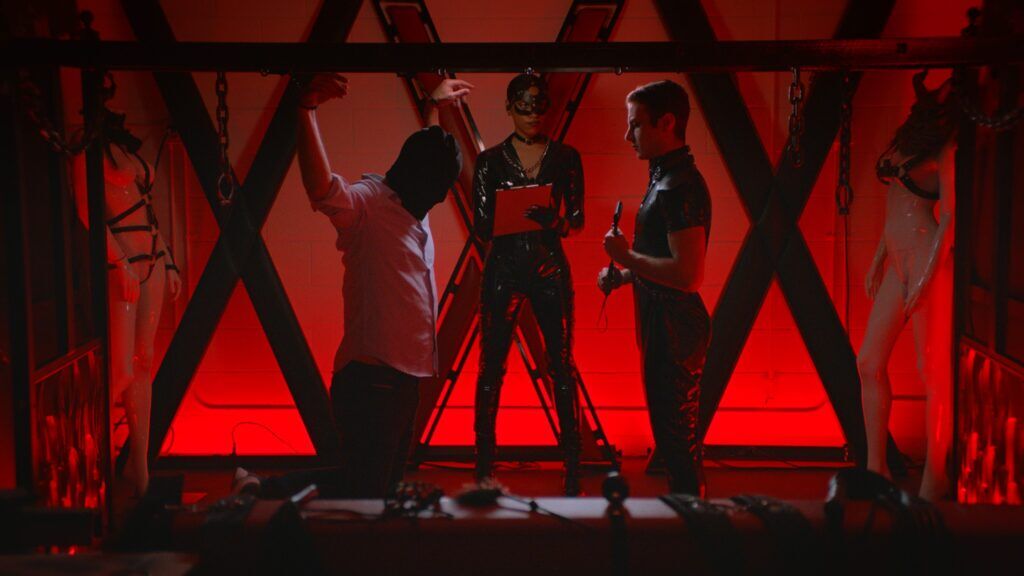 What was your favorite part of filming Daddy Issues?
M: I think my favorite part of the filming phase of Daddy Issues was getting to collaborate with our lighting and production design. I was very inspired by Sam Levinson's Euphoria, using harsh lighting to demonstrate character emotions. On the design side, we were able to convert a classroom into a full fledged dungeon, covered with chains and contraptions. It was truly a testament to how magical the filmmaking process is.
SC: As a first-time film director, my favorite part beyond working with the actors, was the immense amount of technical skills I learned from our incredible crew. I got to work with most of the departments and solve problems together. The camaraderie and team spirit of this set still makes me smile when I think about it a year later.
How does it feel to bring a different type of queer narrative to Tribeca?
M: It means the absolute world to be at Tribeca; to be included in a space of filmmakers that inspired me during my upbringing is awe inspiring and I'm very grateful. More specifically, I've really enjoyed meeting other queer filmmakers at Tribeca and learning about their unique artistic voices. It's been great hearing that our audiences are not only enjoying the story, but want to see more of our queer lead Oliver and what he does past the short. We're currently in the development phase for the feature length.
SC: This is a dream come true! Our shorts block at Tribeca is called Bat Sh*t Crazy, and I could not be more proud. As soon as I heard the name of the category, I was so curious to see what other films we are sharing this experience with! I believe comedy has to raise a mirror to our lives, to our absurdity, and make us realize it's still worth laughing [at]. And I think Daddy Issues brings a complicated, sometimes uncomfortable, narrative to the forefront and helps us laugh. I'm honored that the reception of the film feels universal and that diverse audiences are enjoying the story so much.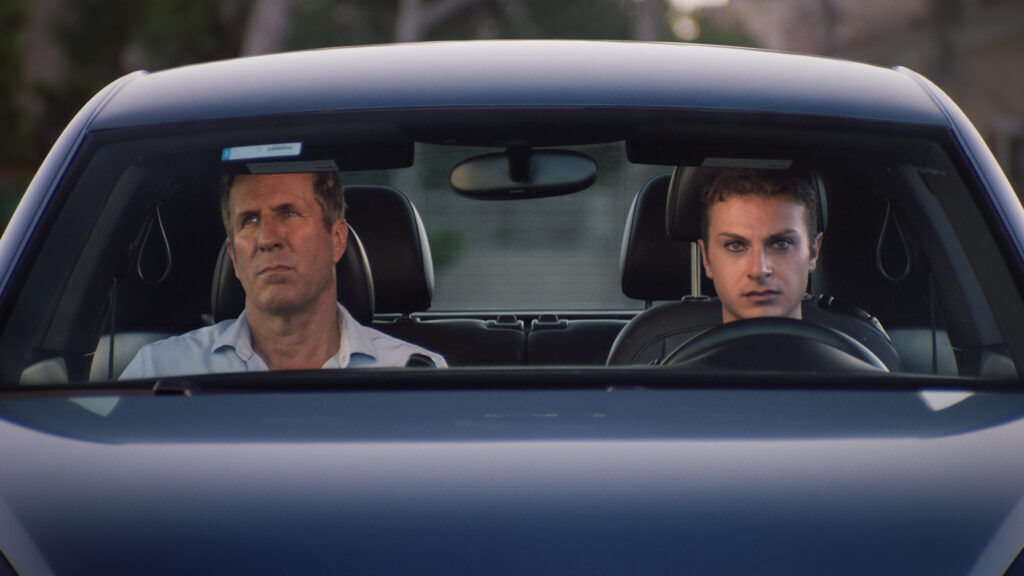 Related:

Her book Seductive Art of Japanese Bondage was groundbreaking for its time and gave much-needed insight into the unique, sensual world of shibari.
Read More in Entertainment