*Photo credit: Diego Quintanar
Some folks celebrate their birthday with cake, but New York City drag icon Jasmine Rice LaBeija is celebrating with a cabaret performance extravaganza.
An accomplished performer, drag artist Jasmine Rice LaBeija is making their presence known in their new show Birthday Presence taking place on their actual birthday, May 17. After premiering her show at the Guggenheim Museum's performing arts series Works & Process earlier in March, the International Godmother of the Royal House of LaBeija is bringing the birthday festivities to uptown Manhattan in her Lincoln Center debut. Taking place in the fabulous Stanley H. Kaplan Penthouse, the Juilliard-trained tenor is mixing her sharp wit, impeccable timing, and fierce vocals into a performance that is sure to be a legendary birthday kiki.
Drag artists are fabulous conduits of culture. From their performances to their presence alone, they channel the world as we see it and create bridges to other cultural connecting points. Now that over 400 anti-LGBTQ+ bills have appeared across the United States, many of which are targeted towards drag artists, these conduits of culture are under attack. Thankfully, drag artists, like Jasmine, are using their artistry to take stand against this legislation, while providing performances and art that brings joy to queer and straight audiences around the world.
Since becoming a full-time drag performer and artist in 2016, Jasmine's combination of drag, opera, and theatre has left a positive mark on New York City nightlife for years. Now she's taking her talents to Lincoln Center.
INTO chatted with Jasmine on the inspiration behind her show, her drag artistry, and the impact her drag has had on the queer Asian community.
What inspired your upcoming show Birthday Presence?
Well May 17th is my actual birthday. After surviving the pandemic in Manhattan and with all the things that are happening in our country right now, I wanted to celebrate my life. Especially since I am a queer, Asian, classically trained opera singer who does drag. Gracing the stage at Lincoln Center with my presence is the ultimate birthday story that needs to be told/shown everywhere right now.
How did you come to join the Royal House of LaBeija?
I was always fascinated with ballroom culture. I became a LaBeija member after walking my first ball. The LaBeija elders saw me and said, "Welcome to the house." It was such an honor as that was the only house I ever wanted to join. The Royal Iconic House of LaBeija is the blueprint of ballroom and the first original house ever to be created. I also loved the message of the house. We are also known as the Sunshine house a.k.a. La Sunshine. We exude the sunlight within as we are the source of light. I thought that message was so powerful and uplifting.
What's your favorite thing about drag?
I truly love every aspect of drag. I am my own designer, hair and makeup artist, producer, director, performer, security guard, assistant, and beyond. There are some performers who only like being on stage. Of course I love to entertain and boy do I love to talk on the mic. I love the fact that I am in control of my own artistic fantasy and that I could bring it to life.
As a Juilliard trained performer what has been the most prominent element of your drag artistry that was influenced by your training?
Juilliard really tries to make you a well rounded artist. We go through rigorous training to learn every aspect of our craft. I think that definitely influenced how I do drag and how I present myself. Trust me when I say that Juilliard will let you know real quick if you are meant to be a performer or not. The training there is very intense and the standards are very high.
With numerous anti-LGBTQ+ legislation popping up around the country, including anti-drag legislation, how have you been using your drag artistry to oppose this type of legislation?
Exactly what I am doing right now. Taking up space with my presence and celebrating the birth of my life. To show people that we have been and will continue to exist whether they like it or not. Throughout history there have been "drag" performers and queer people. Especially when you look at indigenous tribes and civilizations before Christianity and other religions were introduced. They were well respected and sought out as they were leaders with wisdom. I think that still applies now. Without queer people and drag performers where would our society even be? Everywhere I look, our culture has influenced so many aspects of people's lives. Fashion, beauty, music, science, and the list goes on and on.
Switching gears, you're also on Drag Me to Dinner, coming to Hulu on May 31. What was the experience of putting on the most fabulous dinner like for you?
It was a lot of fun. I just love being in front of a camera and showing how well this rice is cooked to be served. I hope people watch and enjoy it.
Lastly, you're a beloved drag artist who provides more Asian representation within the art form. What does that mean to you to be able to do so?
I never thought I would be in such a position. A lot of queer Asians come up to me or message me to say "Thank you for representing and taking up space." I guess I lived in my own creative bubble in a way that I didn't think of myself as such. They always say racism is taught and you are not born with it. I truly believe that as I am one of those people who never thought race was ever an issue or was part of the equation in my thought process. I remember watching Disney's musical movie Cinderella (1997) and not thinking anything of it. I didn't know at the time that having that kind of a diverse cast was anything different than other movies. Looking at it now, I see what a big splash it was and is still to this day.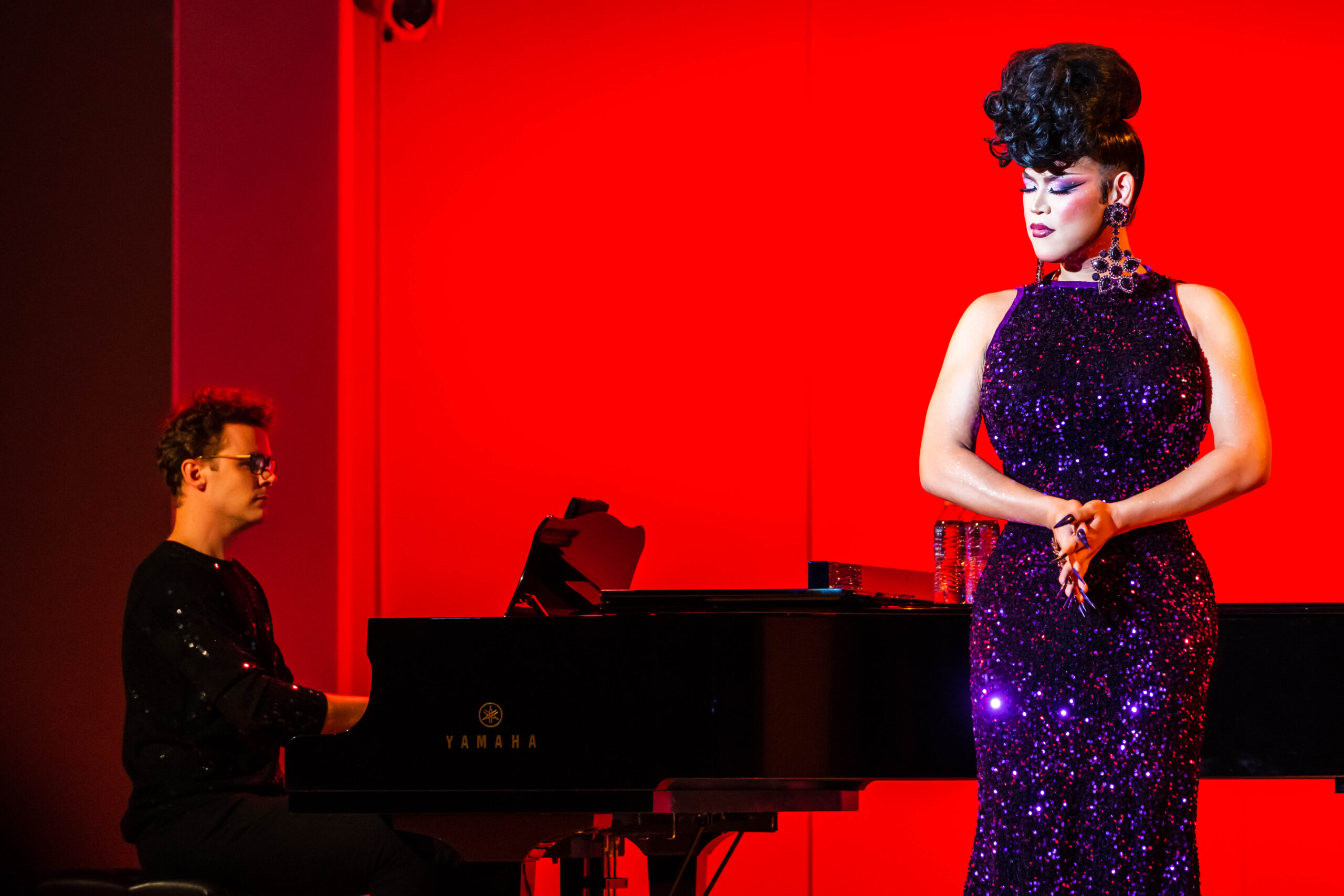 I am so happy and fortunate to be in such a position. Sometimes I wonder if I deserve such a platform. I am very grateful to my supporters and feel very blessed to do what I love to do and uplift all of my community at the same time.
Jasmine Rice LaBeija's Birthday Presence premieres at Lincoln Center on May 17.