You'd think most people in the U.S. would be sorry to hear about the women's national soccer team crashing out of the World Cup in Melbourne. However, when the side lost yesterday to Sweden, right-wing trolls and pundits appeared to revel in the defeat.
The reason? The women's soccer team is apparently too "woke", is not suitably patriotic enough, and—of course—currently includes queer icon Megan Rapinoe amongst its ranks.
The tight match against Sweden was level when the full-time whistle was blown, prompting a penalty shootout. Sweden won 5-4. Rapinoe lost her shot at the goal. Among those to mock her was former President Trump.
Writing on Truth Social, Trump said, "The 'shocking and totally unexpected' loss by the US Women's Soccer Team to Sweden is fully emblematic of what is happening to the [sic] our once great Nation under Crooked Joe Biden. Many of our players were openly hostile to America – No other country behaved in such a manner, or even close. WOKE EQUALS FAILURE. Nice shot Megan, the USA is going to Hell!!! MAGA."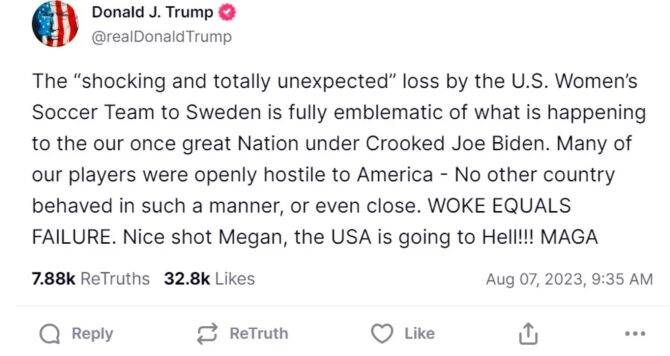 Rightwing YouTuber Benny Johnson was among those to share the sentiment, posting a video of Rapinoe's penalty.
Earlier in the competition, the U.S. Women's National Soccer Team (UNWNT) prompted the ire of MAGA diehards when some of the players chose not to sing the U.S. national anthem.
Back in 2016, Rapinoe went further and kneeled while "The Star-Spangled Banner" was played. She, and other players, said at the time they wanted to raise awareness around racial injustice and police violence in the U.S.
Rapinoe said at the time, "I can understand if you think that I'm disrespecting the flag by kneeling, but it is because of my utmost respect for the flag and the promise it represents that I have chosen to demonstrate in this way."
Trump's delight at U.S. team fail prompts reaction online
Online, Trump's glee at the women's team's loss prompted raised eyebrows.
MAGA loves that America lost because it suits their narrative and it's a great display of how trump pits America against itself. And they don't even know it. He's the antagonist making Americans hate other Americans more than they love America. He's Putin's weapon to split us up

— Luke Zaleski (@ZaleskiLuke) August 7, 2023
Man, Trump is really and truly off the rails now.

— Bill G (@Bill_Gro) August 6, 2023
Rapinoe, 38, who plays for NWSL team OL Reign, announced before the World Cup that she intends to retire at the end of the current women's league season. With Rapinoe as a player, the U.S. women's side won the World Cup in 2015 and 2019.
Related:

"Get a grip on reality and take a step back."
Read More in Entertainment