*photo credit: Jiji Lee
Watch out Mariah Carey! Drag artists BenDeLaCreme (she/her) and Jinkx Monsoon (she/her) are bringing the winter holiday spirit to summer with a new tour announcement. 
The "reigning queens of Christmas" are back together again for the latest installment of their The Jinkx & DeLa Holiday Show. The fabulous duo is hitting the road to bring some holiday cheer to around the globe with their 2023 tour. After the massive success of their four holiday tours past and a 2020 film, The Jinkx & DeLa Holiday Special, to capture all of their campy, holiday spirit, Jinkx and DeLa are bringing seasonal shenanigans to a venue near you. Fans can expect new songs paired with annual favorites, whip-smart comedy, and a fabulous spectacle brought to you by the sugary DeLa and the spicy Jinkx.
This tour is expected to be their biggest one yet. Jinkx and DeLa will travel to 30 cities across the US, UK, and Canada to bring the trifecta of comedy, drag, and holiday to fans and newcomers alike. The Jinkx & DeLa Holiday Show will start in Glasgow, Scotland on November 12 and end in Vancouver, British Columbia on December 30. Tickets can be purchased at JinkxandDeLa.com, with presales launching July 19 at 10 a.m. local time for the US & Canada and on July 26 at 10 a.m. BST for UK fans. Whereas general sale tickets go on sale July 21 at 10 a.m. ET for US & Canada and July 28 at 10 a.m. BST for the UK.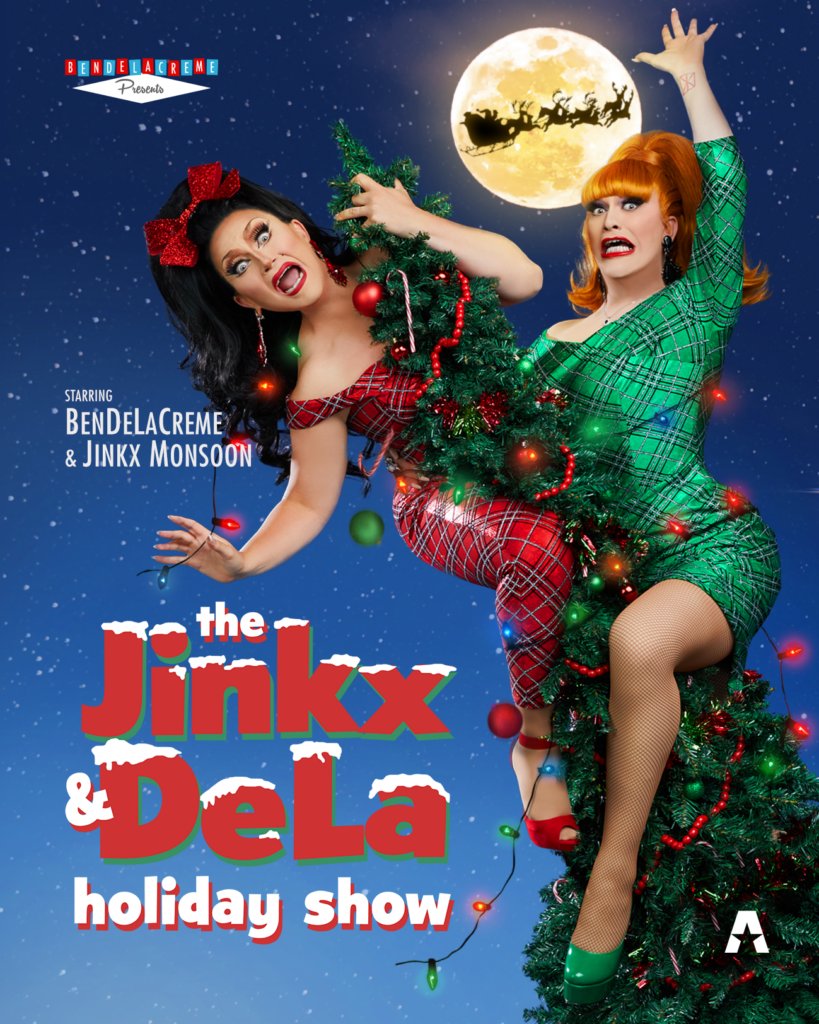 "It's been a wild year, so let's end it wildly. DeLa and I strive to entertain while we enlighten and enliven," said Jinkx in a statement. "The Jinkx & Dela Holiday Show is not only a moment of respite, but also of community, at a time where we need our chosen family and community most of all. So add us to your holiday plans, or let us BE your holiday plans— either way, you're welcome to join us."
Related:

For Jinkx Monsoon's next act, they're bringing all of the laughs with their new standup comedy special 'Red Head Redemption'. 
And if you choose Jinkx and DeLa to be a part of your holiday plans, you get a holiday treat written completely by drag artists. DeLa and Jinkx are the sole writers of their upcoming show, with DeLa also sitting in the director and producer's chair as her production company BeDeLaCreme Presents takes on the holiday extravaganza. With anti-LGBTQ+ sentiment seemingly increasing across the world, DeLa and Jinkx are looking to spread holiday cheer near and far.
"With all the hatred, darkness, and misinformation flying around our world today, it is an honor and a privilege to spend the holidays with tens of thousands of audience members each year, creating joyous community spaces where we can gather strength through laughter and celebration," said DeLa in a statement. "Whether you consider it the most wonderful time of year or the most troubling, we're here to tell you… you're right! So let's make it our own."
These two drag artists have been in the drag game for a while now and both shot to immense popularity from their stints on RuPaul's Drag Race. DeLa was featured on Drag Race season 7 and All Stars season 3, while Jinkx was the winner of both Drag Race season 5 and All Stars season 7. Since appearing on the famous drag reality TV franchise, DeLa has created several, critically acclaimed plays and variety shows, including Inferno A-Go-Go and Terminally Delightful, and has been featured on The Daily Show, MSNBC, NPR, and Out Magazine. Whereas Jinkx has dropped three albums, starred in Broadway's Chicago as Matron "Mama" Morton, and has appeared in several shows, including AJ and the Queen, Steven Universe, and she'll be starring in the latest season of Doctor Who.
Jinkx & DeLa are taking holiday cheer on the road this year. To see where they're stopping by next, check out their tour dates below.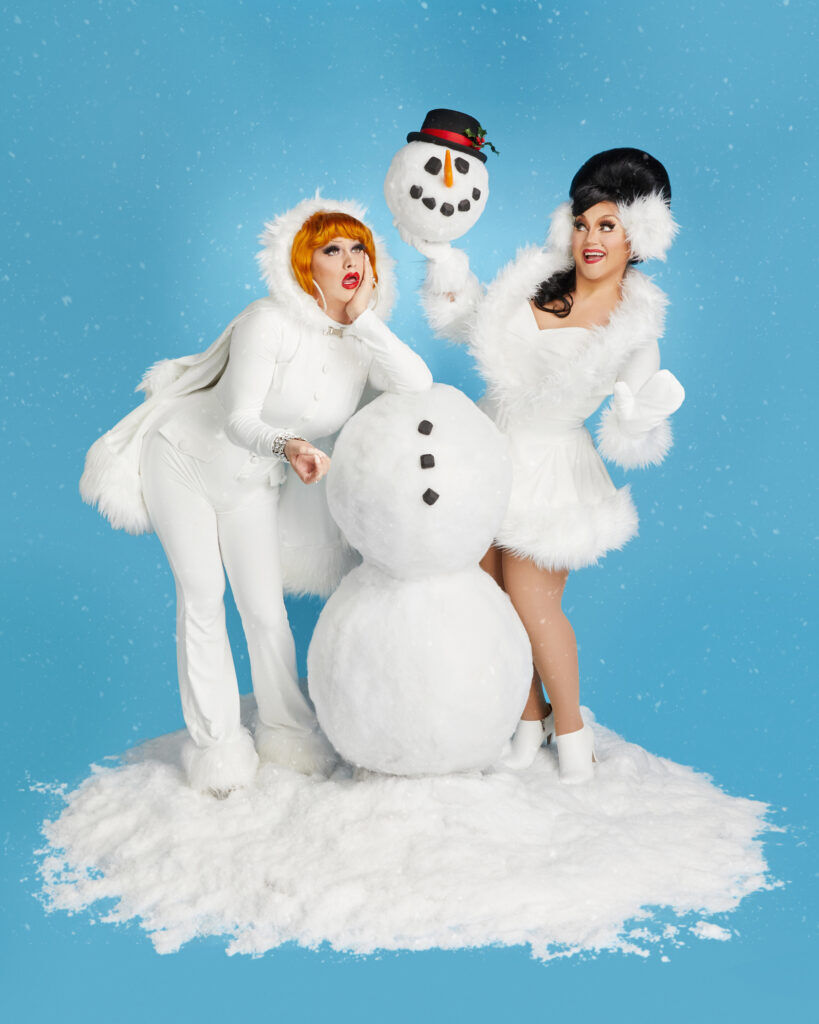 Tour Dates:
November 12 – Glasgow, UK (Theatre Royal Glasgow)
November 13 – London, UK (The London Palladium)
November 14 – Liverpool, UK (Liverpool Olympia)
November 19 – Indianapolis, IN (Clowes Memorial Hall)
November 20 – Cincinnati, OH (Taft Theatre)
November 21 – Toronto, ON (Meridian Hall)
November 23 – Montreal, QC (L'Olympia de Montreal)
November 24 – Montreal, QC (L'Olympia de Montreal)
November 25 – Hamilton, ON (FirstOntario Concert Hall)
November 26 – Buffalo, NY (Shea's Performing Arts Center)
November 28 – Boston, MA (Boch Center – Wang Theatre)
November 29 – New Haven, CT (College Street Music Hall)
December 1 – Brooklyn, NY (Kings Theatre)
December 2 – Richmond, VA (Dominion Energy Center – Carpenter Theatre)
December 3 – Durham, NC (Durham Performing Arts Center)
December 4 – Atlanta, GA (Atlanta Symphony Hall)
December 6 – Pittsburgh, PA (Heinz Hall)
December 7 – Tysons, VA / DC Metro (Capitol One Hall)
December 8 – Philadelphia, PA (Kimmel Cultural Campus – Miller Theater)
December 10 – Chicago, IL (Auditorium Theatre)
December 11 – Minneapolis, MN (Northrop Theatre)
December 12 – Kansas City, MO (The Midland Theatre)
December 13 – Grand Prairie, TX / Dallas Metro (Texas Trust CU Theatre)
December 14 – Austin, TX (Bass Concert Hall)
December 16 – Los Angeles, CA (Dolby Theatre)
December 17 – San Jose, CA (San Jose Civic)
December 18 – San Francisco, CA (The Warfield)
December 19 – San Francisco, CA (The Warfield)
December 21 – Seattle, WA (Moore Theatre)
December 22 – Seattle, WA (Moore Theatre)
December 23 – Seattle, WA (Moore Theatre)
December 24 – Seattle, WA (Moore Theatre) – MATINEE
December 27 – Portland, OR (Arlene Schnitzer Concert Hall)
December 29 – Edmonton, AB (Northern Alberta Jubilee Auditorium)
December 30 – Vancouver, BC (The Orpheum)
Read More in Entertainment