Portraying a range of characters from Jack Donaghy's romantically obsessed assistant Jonathan on 30 Rock to an online hook-up opposite Michael Urie in the Tony-nominated Grand Horizons, Maulik Pancholy is used to getting the last laugh. This spring is no exception as Pancholy joins the cast of JC Lee's To My Girls. 
Playing Off-Broadway at Second Stage through April 24, To My Girls is a tribute to the survival of queer friendships as a group of longtime besties converge on a Palm Springs Airbnb for a post-pandemic (if there is such a thing) reunion where tempers flare and glitter-dusted cobwebs reveal that old emotional wounds run deep.
Related: Alexandra Grey Turns Trauma Into Triumph in The Life
Pancholy plays Castor, a joke-cracking writer eking out a living as a shift supervisor at an LA coffeehouse. Though packed with plenty of one-liners, Lee's script also delivers a certain amount of gravitas as racial insensitivities, old crushes, and the impact of social media simmer to the surface. Amid sheer kaftans and Arnulfo Maldonado's colorful, mid-century-inspired scenic design, the battle scars of friendship emerge, with Pancholy delivering perhaps the play's most poignant moment — a memory monologue that harkens back to the day same-sex marriage was legalized in New York state.
INTO chatted with Pancholy by phone while the production was in previews before its April 12 opening night.
INTO: To My Girls explores the dynamics of our families of choice. What was your coming out experience like, and how did you start to build your queer community? 
Maulik Pancholy: It took me a while to actually come out. For me, it was after college and I was living in Los Angeles. Much like my character talks about gay chat rooms, I met my first boyfriend in a chat room. Even though I knew way, way, way before that, I feel like that's what precipitated me finally opening up to friends and family because I was like, this is not just a thing about sexuality. It's about, "I want to hang out with this person. And I'm gonna be able to do that with my friends. And I don't want it to be secret or shameful or hidden anymore." So that was kind of like the beginning.
I was surrounded by so many LGBTQ-identifying people, having been in the theater, studying theater in college, and my friend circle in LA, but certainly, it opened up a whole world for me. And then when I moved — I ended up leaving LA for grad school at Yale Drama and then moving to New York right after that. It opened up a whole new world I think this play speaks about. So much of the club scene in New York doesn't even exist anymore. And finding community through going-out culture. I also did summer shares on Fire Island, and those housemates are still some of my closest friends. There's a lot of stuff I think this character speaks to in the play that also feels really similar to my own experience.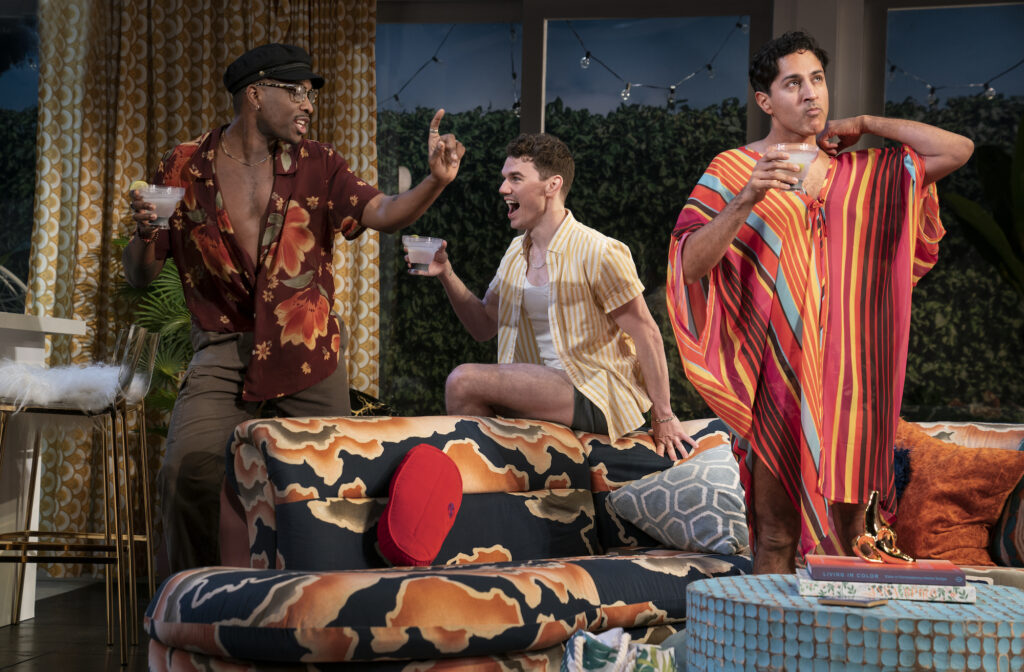 INTO: What was your first reaction to JC Lee's script?
MP: My first response when I read the script was that it was really, really funny. It's a new play, so a lot of stuff has shifted since day one of rehearsal. But for me, there were certain things that [Castor] got to say that I really identified with. What's interesting to me about Castor is that there's a performance around him that he's somewhat aware of at the beginning of the play, and his awareness of it only grows over the course of the play, but there's also a really strong center.
And I think that center for him is rooted in these kinds of pure beliefs around love and what it means to be gay, and the fact that there's a pain in being gay that creates joy. He believes in gay marriage wholeheartedly and longs for that. I think he's a really good friend, that even though he might read his friends and find ways to get under their skin, he's genuinely shocked when he finds out that his friends could betray him. Because I don't think that's a world he wants to believe in. That pure moral center felt really interesting to me.
I'd also like to speak about race in this play, like, that feels very familiar to me. JC, in a very beautiful way, is writing about it — not only from this very particular perspective of these friends who've known each other for a long time but also from the larger community. And Castro gets to speak about that in a way that I actually found opened things up for myself. It allowed me to put language in my mouth that I've certainly considered or said but not necessarily got to voice in this way.
INTO: The play is a comedy, but it's also packed with tension. The characters' struggles are similar to what we see in the broader context of issues around race and cultural and economic disparities. How do you think the language evolves based on their lived experiences?
MP: These characters, who haven't seen each other for a while, have each gone through their own versions of change. Castor has had some of his own racial and social reckonings and also, what isolation means, and what does it mean through that isolation to actually have real friends who show up for you? And not just friends you banter with. How do you have meaningful discussions about who you are as a person?
As a community, living in New York, and watching the discourse around the Pride parade and policing, and the way that shook out within our own culture with certain groups and, you know, certainly seemingly more groups of color being on one side versus the other. Those discussions are happening now in pretty profound ways. This friend group within the play, in its own way, is also grappling with that: We actually don't see each other exactly the same. And do you see me for who I am? And can you meet me where I'm at?
INTO: You deliver a beautiful monologue toward the end of the show. It's a memory but also a kind of manifesto. What is Castor's message? And how would Malik hear it as a listener?
MP: Castor says, "I'll write this to read in the future; to remind me out of a certain kind of pain can come a special kind of joy that can't be replaced or replicated." I don't think Castor is saying, "Hold on to the fight," but I think he's saying, hold on to that thing that made you fight for who you are.
Even as we gain ground, there are costs down the line, you know, we will lose parts of our culture that only existed in secret places and what that meant — that sense of community that we had in spaces that only existed for us.
And the interesting thing to me in that speech is that he caps off that thing by saying, "My girls, we will keep scaring them because they will, for years and years to come, still cling to their tired notion of what it means to be a man."
My first novel, The Best At It, came out in 2019, about a gay Indian American kid coming into his own, and I still do school visits. There's always a kid out there who needs that story. Part of what Castor is saying is don't let go of that; keep fighting the good fight because there will be people who need you along the way.
Maulik Pancholy appears in Two My Girls at Second Stage Theater through April 24. His new book, Nikhil Out Loud, is available for pre-order with October 11, 2022, release date.