All good things must come to an end, and it seems that Reneé Rapp's time on The Sex Lives of College Girls is one of those things.
On Monday, Deadline reported that Rapp would be leaving the Max original series The Sex Lives of College Girls in their upcoming third season. Rapp plays the role of Leighton Murray, a freshman legacy of the illustrious (and fictional) Essex College who struggles to live up to her mother's expectations and gives fans some juicy sapphic storylines. The 23-year-old rose to fame after taking over the role of Regina George in Broadway's Mean Girls: The Musical and made her television debut on The Sex Lives of College Girls. Now, she'll finish out the third season with a handful of episodes and shift out of her series regular status.
Rapp took to social media to announce the news in a heartfelt post on Instagram Stories.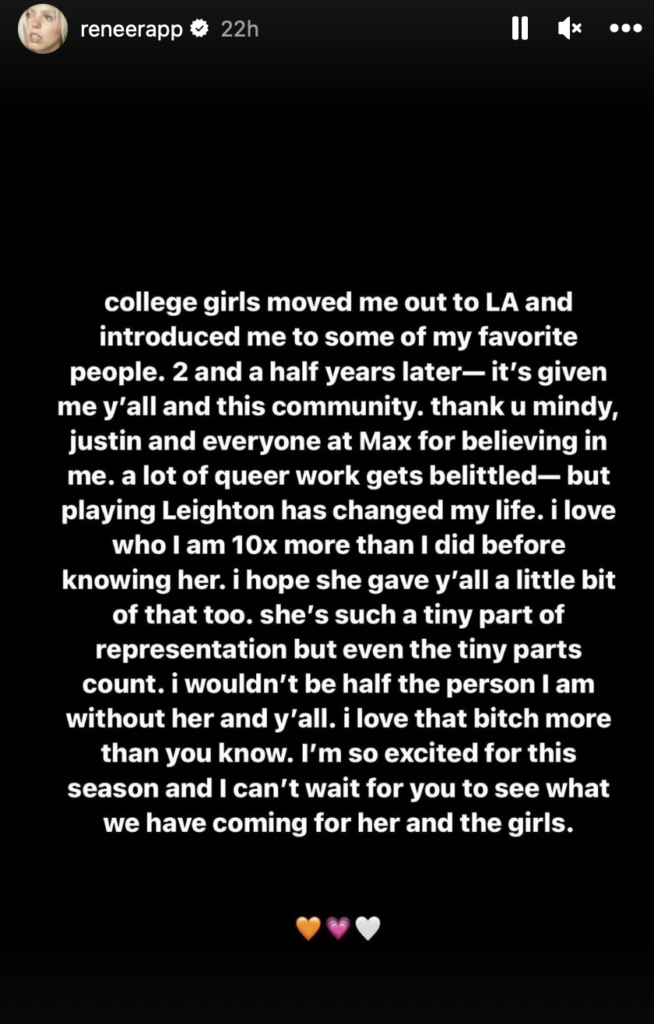 "College Girls moved me out to LA and introduced me to some of my favorite people. 2 and a half years later — it's given me y'all and this community. Thank u Mindy, Justin and everyone at Max for believing in me. A lot of queer work gets belittled but playing Leighton has changed my life," shared Rapp. 
The singer and actress added that the role of Leighton made her love herself more and that her queer representation, albeit small, still made an impact.
"I love who I am 10x more than I did before knowing her. I hope she gave y'all a little bit of that too. She's such a tiny part of representation but even the tiny parts count. I wouldn't be half the person I am without her and y'all. I love that bitch more than you know."
Rapp finished her post by hyping fans up on what's next for her and her castmates, which include Pauline Chalamet, Amrit Kaur, and Alyah Chanelle Scott.
"I'm so excited for this season and I can't wait for you to see what we have coming for her and the girls."
Mindy Kaling, the creator of The Sex Lives of College Girls, gave Rapp her blessing on her own Instagram stories. Kaling wrote, "We love @reneerapp so much and of course will be so sad to say goodbye Leighton Murray. But we can't wait to see our friend on tour."
Rapp's artistic endeavors extend beyond her stellar acting ability. The North Carolina native released her debut EP Everything to Everyone while filming the second season of The Sex Lives of College Girls. After dishing a string of singles from her EP, like "Don't Tell My Mom" and "Too Well", Rapp is back with her first single "Snow Angel" off her upcoming debut album of the same name. And Kaling, as well as the rest of Rapp's fans, will get to see her live when she embarks on her Snow Hard Feelings tour this year, starting in September.
Looks like Rapp will be following in the footsteps of fellow singer and actress Olivia Rodrigo, who went from starring on High School Music: The Musical: The Series to popstar overnight. With Rapp's sky high range, emotive lyrics, and electric performances, her star status in the music industry might skyrocket just as high.  
Related:

Rapp initially wrested with her bisexual identity.
Read More in Entertainment