Sex Education is finishing off its coming-of-age series with season 4 and the show's latest teaser trailer is pretty cheeky.
In season 3 of Netflix's popular show, the students of Moordale Secondary lost their school to developers, which means Otis (Asa Butterfield), Eric (Ncuti Gatwa), Maeve (Emma Mackey), and the students of Moordale have to find a new school to attend. Also, Otis, Moordale's resident sex therapist, has to close up shop, but thankfully, Otis and the gang find a new place to finish their secondary education. Season 4 brings them to Cavendish Sixth Form College, but their next school ushers in a whole new set of problems for the Moordale Secondary transfers.
To put it straight, Cavendish is far from what Moordale is. With daily yoga, a communal garden, and a group of kids who are popular for simply being kind, Cavendish takes what the Moordale students thought was progressive to another level. The strong sustainability vibe might not be a match for all of the Moordale transfers, but no harm in trying to figure it all out. So, the Moordale students strive to find their footing in a new environment.
Otis is anxious about opening up his new clinic, while Eric is more concerned about their social status at Cavendish. Viv (Chinenye Ezeudu) is thrown off by Cavendish's non-competitive approach and star athlete Jackson (Kedar Williams-Sterling) can't get his mind off of Cal (Dua Selah). Aimee (Aimee-Lou Wood) tries out an Art A-Level course and Adam (Connor Swindelis) wonders if mainstream education is even for him. But Cavendish is missing out on Maeve, who, at the convincing of Aimee, is in the states studying with cult author Thomas Molloy (Dan Levy), while Otis pines after her across the pond.
Also returning for these teenage shenanigans are Gillian Anderson, Mimi Keene, George Robinson, Alistair Petrie, Samantha Spiro, Jim Howick, Rakhee Thakrar and Daniel Ings. Whereas newcomers include Schitt's Creek star, Dan Levy, Thaddea Graham, Lisa McGrillis, Marie Reuther, Jodie Turner Smith, Eshaan Akbar, Felix Mufti, Anthony Lexa, Alexandra James, Reda Elazouar, Bella Maclean, and Imani Yahshua.
Related:

The gays continue to claim territory in the Wild West.
Sex Education has been a top hit on Netflix since it premiered on the streaming giant in 2019, but like all good things, the show is coming to an end. Maybe because majority of the cast is moving onward and upward to new projects. Simone Ashley, who played Olivia on Sex Education, led Bridgerton's season 2, Gatwa is the new Doctor Who, and somehow Gatwa, Mackey, and Swindelis are a Sex Education threesome in Greta Gerwig's upcoming Barbie flick. Or maybe the stories within the hit show have simply run their course. Either way, Sex Education creator Laurie Nunn understands the impact the show has had on its fans.
"When I hear people saying that they've seen something of themselves reflected in some of these characters, I still find it really overwhelming," said Nunn in an interview with Netflix's Tudum. "It very much was at the core of why I wanted to write the show in the first place — just to make something that would've made me feel less alone when I was 17, because I found being a teenager very, very difficult as a lot of people do. When I hear that people are connecting with [the show] in that way, it makes the writing process feel really worth it because it can definitely be a challenge at times."
Fans will get to connect with the characters of Sex Education one last time when season 4 premieres on September 2. In the meantime, you can check out the letter that Nunn penned to fans of the series below.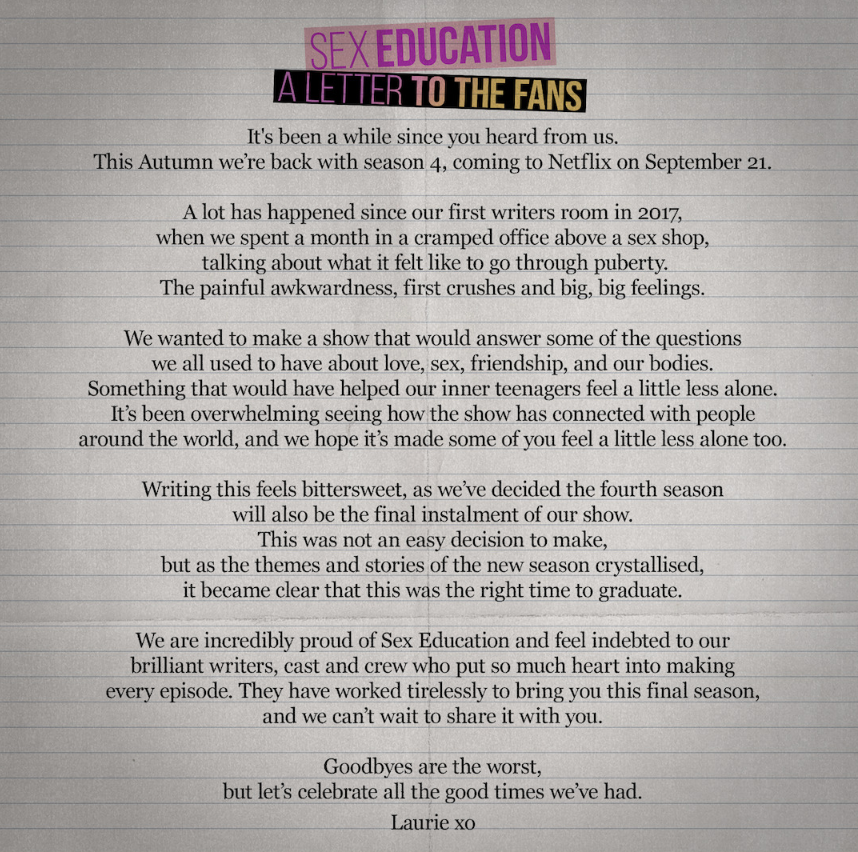 Related:

We have photos of Ncuti Gatwa's Doctor in 'Doctor Who' and he has a few 'assets' that other Doctors didn't bring to the table. 
Read More in Entertainment