Following a number of community consultations, the Auckland Pride Board released a statement addressing their position on police uniforms for the 2019 Pride Parade: "Whilst there is goodwill towards the NZ Police, as an institution, they do not currently meet the degree of safety and awareness of intersectionality required by our rainbow communities." Instead, the Board invited police officers to join the march "in plain or fancy clothes."
"Police fought really hard to be included in Pride, and to march in uniform. We're not prepared to go backward," Inspector Tracy Phillips, self-appointed coordinator of the police force's diversity liaison officer service, told Stuff.
The uniform ban moved the NZ Police to officially withdraw their attendance from the event. In solidarity with the police, a number of corporate sponsors have also withdrawn public support and funding, including Westpac Bank, ANZ Bank, SkyCity Auckland, Vodafone, the Bank of New Zealand, the Defense Force, in addition to the Rainbow NZ Charitable Trust.
Maintaining their original decision, Auckland Pride Board Chair, Cissy Rock, released the following statement: "[W]e have always welcomed business groups and institutions who wish to participate in a way that works for the safety of all members of our Rainbow community… The Pride Parade is so much more than its corporate sponsors or Government institutions. It is about our Rainbow community coming together to both celebrate and fight for a future where everyone is free from systemic discrimination."
The uniform ban created cracks in the NZ queer community as public debate has intensified over whether the Board was acting in accordance to community values. A Special General Meeting has been called for early December to potentially replace the Board after four Pride members expressed "lack of confidence" in their decision. Most unfortunately, the ban has become a hotbed for bigotry and disillusionment, with right-wing commentators weaponizing debates in attempts to destabilize Pride entirely.
Auckland Pride isn't alone in its uniform ban. Police floats were banned around Canada in solidarity with the Black Lives Movement in 2017. London Pride 2018 also saw a ban on police uniforms.
"I can admit I'm a bit disappointed that we won't be allowed to wear our uniforms, but I also look at what Pride stands for – it's about inclusivity," London police Chief John Pare told The London Free Press. Police officers in Minneapolis, Wisconsin, and North Carolina were also asked to attend in civilian attire.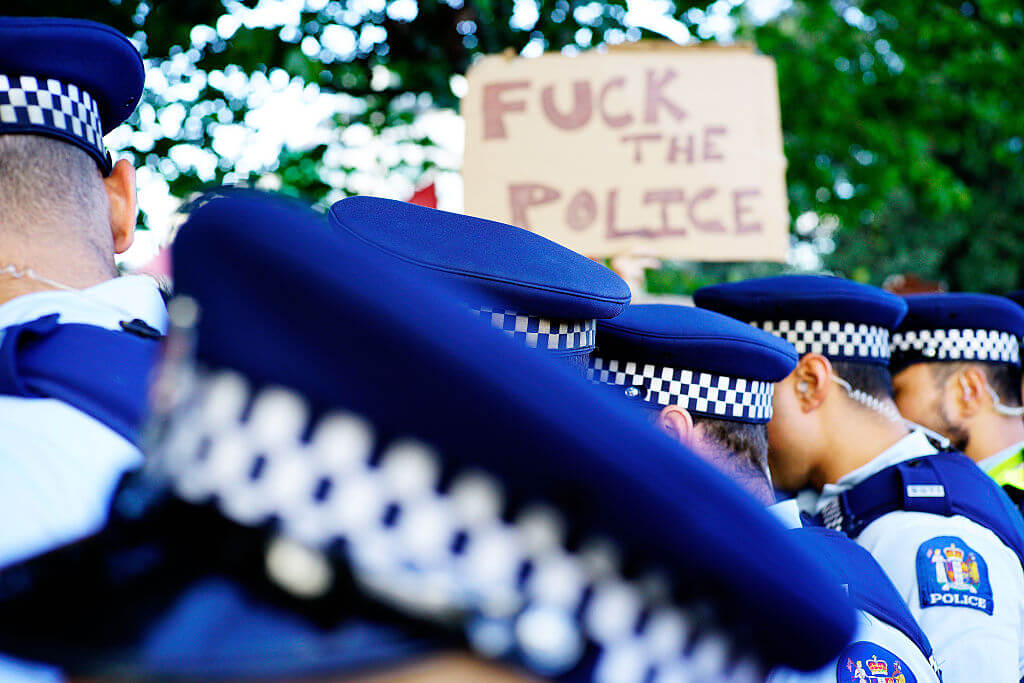 Yet to understand the Auckland Pride Board's decision we need to situate it within both a global and local context: what this debate ultimately signals is a loss of history and lack of solidarity within our community.
We can't talk Pride without Stonewall. In the early hours of June 28th, 1969 New York police raided the Stonewall Inn, a Greenwich Village bar known for housing the city's most marginalized: drag queens, transgender people, sex workers, homeless youth, gays and lesbians. The raid subsequently instigated a series of spontaneous uprisings, popularly referred to as the Stonewall riots. "You've been treating us like shit all these years? Uh-uh. Now it's our turn!" remembers Sylvia Rivera, who alongside Marsha P. Johnson and Stormé DeLarverie has been famously mythologized as having thrown that very first brick.
While I don't think mythologizing individuals is particularly useful, I think it's incredibly important to understand the collection of identities that paved the foundations for Pride.
Johnson self-identified as gay, a transvestite, a drag queen, an activist, and a sex worker who, alongside Rivera founded the Street Transvestite Action Revolutionaries (STAR), a group dedicated to aiding homeless drag queens and trans women of color. DeLarverie, a biracial butch lesbian and drag king, was known for her work protecting and supporting the lesbians of the Village.
On June 28, 1970, a march was organized in New York to commemorate the Stonewall riots, with parallel events kicking off in LA and Chicago. In 1971 the marches grew to Boston, Dallas, Milwaukee, London, Stockholm, Paris, and West Berlin. Closer to home, the reverberations of Stonewall could be felt in Sydney's first 1978 Mardi Gras, which became victim to its own police brutality. Pride, at its very foundations, grew as an act of resistance against institutionalized forms of power and control. It's a history we can't afford to ignore.
I'll be the first to express concern/hesitance at primarily centering global queer identities through an American hegemony. But it's useful to understand how and why our global queer networks continue to function; we often find solidarity internationally because we share the same sites of trauma, pain, and oppression. These sites are maintained through legislation, politics and the pathologization of our bodies that all nation-states have history with. They're enforced by institutionalized forms of power; governments, medical practitioners, and largely, the police.
Through a local context, the Auckland Pride Board's decision to ban police uniforms (not police officers) came as a function of solidarity with its most marginalized members: Māori, Pasifika, trans people. It recognized — through five separate community huis (social assemblies) — that the uniform was a pervasive symbol of threat. Those defending the ban have used statistics that spotlight the disproportionate levels of physical force used against Māori; "as of 2017, Māori are 7.7x more likely than Pākehā to be victims of police brutality." Those defending the Police have anchored their arguments to the language of inclusion: Pride shouldn't be a site of exclusion.
What this circles back to is the question of who is Pride for? In talking about "inclusion," what the Pro-Police camp fail to consider is who this inclusion will invariably exclude. What does it say about our community when someone's pride comes at the expense of another's fear? When privileged voices are made more salient than the most marginalized? When we grant greater access to institutionalized forms of power over the concerns and welfare of those at the very fringe?
We need to understand that racism is a queer issue, poverty is a queer issue, gender presentation is a queer issue. There are members of our broad and diverse community who have very divergent and uncomfortable experiences with institutional power solely because of skin color, gender presentation, class. Some of us are Maori. Some of us are homeless. Some of us are trans. Our queer identities don't exist as silos, independent of one another. Look back at who might've thrown that first brick at Stonewall. Recognizing these intersections and adjusting our protocols and procedures to ensure net safety and inclusion, that is the basis of queer solidarity.
It's wonderful if you've only had positive experiences with the police — truly. But you need to respect that this is a privileged reality, certainly not a universal one. It's also wonderful if you're a queer police officer happy within your working conditions, but you need to understand the history, power, and symbolism your uniform holds against your other identity. Because if a uniform means more to you than feelings of safety and inclusion from your own community's often most marginalized members, then maybe you need to rethink why you're marching in the first place.
We march in Pride to honor our collective history: to commemorate our queer ancestors (Marsha, Sylvia, Stormé et al.) who paved the way for transformations in legislation, politics, and medicine. But to march on behalf of "look how far we've come" is to ignore the tragedies and trauma that permeate the community at the margins. To focus on "look how far we've come" is to paint a rainbow using a single broad stroke. We need to march in response to our history, forwards in strident solidarity.
If there's one thing our queer community is absolutely fabulous at it's finding opportunity in our oppression. As corporate sponsors continue to chisel themselves out from under Auckland Pride's rainbow (interesting how fragile their support really was), over $20,000 has already been raised in response through grassroots community-based fundraising. While I'm not entirely sure how many logo-emboldened floats that'll buy us, I do know it's enough bricks to pave a pretty colorful road ahead.
Images via Getty