Lis Regula's biggest supporter was also his smallest.
While shaking hands with constituents at this year's Garrettsville Summerfest in northeast Ohio, a woman he'd never met before came up and gave him a hug. She explained she was the mother of an eight-year-old trans girl who learned about his campaign for auditor of Portage County — a rural district outside Cleveland — on Facebook.
If elected on Nov. 6, Regula would be the first openly transgender person to win public office in the state of Ohio. He's already its first out trans political candidate.
Amid the bustle of street fair vendors and '80s pop music, the woman told Regula how much it meant to her daughter that someone like her could potentially hold a seat in local government. "Do you know how excited my kid is?" she asked.
In fact, her daughter was so excited about Regula's campaign that she asked to volunteer.
"It's crazy to think of kids being so excited about local government," he told INTO over the phone in August. "We're starting canvassing in earnest tomorrow with regularly scheduled shifts every week leading up to the general election, and her kid is going to be there with us."
"She's already got her campaign T-shirt," Regula added. "We had to order one special in a children's size."
On Tuesday, the 37-year-old candidate will take on Republican Janet Esposito in an election that's shaping up to be historic for the Buckeye State. He is one of at least 10 LGBTQ Ohioans running in the midterms, including openly gay U.S. House candidate Rick Neal and lesbian State Senate hopeful Nickie Antonio.
One of the most frequent questions Regula has gotten on the campaign trail is what a county auditor does. He admits the answer is not all that "sexy."
The auditor's office is in charge of balancing the budget for Portage County, which is facing a $3.5 million deficit over the next four years. The holder of the position is also responsible for issuing licenses for businesses and cigarette vendors, as well as maintaining county records and databases.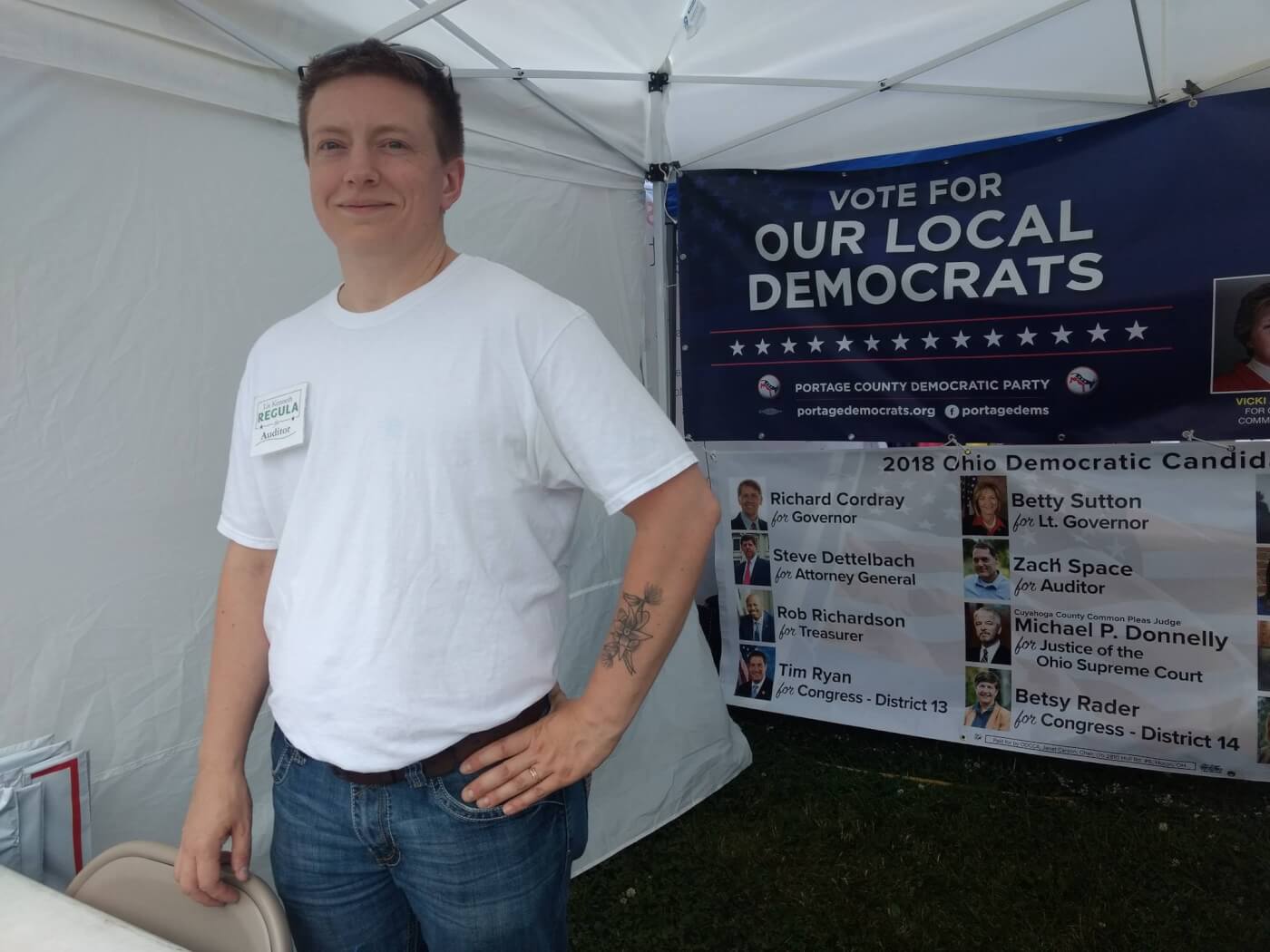 A victory would make Regula not only the first-ever trans person elected as auditor of Portage County, but its first Democrat in more than two decades. Esposito has held the title for 24 years.
In the face of a looming budget crisis and an opioid epidemic in the county, Regula said it's time to bring new perspectives into the fold.
"We have some issues that need attention — and quickly," he claimed. "This has been one of the big refrains of our campaign: We need fresh faces. We need to be able to step up to these challenges, and that may mean new leadership so that we can bring in some new ideas to help solve these problems."
Although conservative-leaning Portage County went for Trump in 2016 by 10 points, early signs show his message has been resonating both on a local and a national level.
In addition to being backed by the Cleveland Stonewall Democrats, Regula was endorsed by nationwide advocacy groups. These included People for the American Way's "Next Up Victory Fund" and the LGBTQ Victory Fund, the latter of which supports queer and trans people seeking elected office.
Annise Parker, CEO and president of the Victory Fund, cited Regula as an example of "authentic candidates with positive and inclusive agendas."
Regula said fostering inclusion at the local level is critical because it shows the next generation of young leaders— particularly queer and trans youth — that there's a place for them in their own community.
A biology professor at Kent State University, Regula works as a mentor to offer support to LGBTQ students through the college's queer resource center. Since he announced his candidacy earlier this year, Regula said he's never seen his students be so engaged and active in local politics.
"The students at the center have been interested in county government for the first time," he claimed. "Thinking back to when I was their age, I did not really care at all who was in county government."
For the kids he works with, Regula believes his candidacy helps counteract the "rainbow flight" narrative of "It Gets Better." Founded in September 2010 to offer a message of hope to bullied LGBTQ youth, videos associated with the campaign often told young people that it would get better when they grew up and moved to a big city.
That message is well-intentioned, but according to Regula, it's not everyone's story. It's certainly not his.
"Personally, I have a lot of fear that as more of us flee to the cities — because that's where we're accepted — that's just going to create more backlash from the rural areas," he said, "because they're not seeing LGBTQ people in their community doing day-to-day stuff."
"That's not the way we foster community," Regula added. "That's not the way we change hearts and minds."
Although Regula described Ohio as a fairly welcoming place, the Buckeye State has a lot of changing left to do. Currently, Ohio is one of four states that does not allow trans people to update their birth certificates to reflect their lived gender identity. It also lacks an LGBTQ-inclusive nondiscrimination ordinance at the state level.
As a longtime resident, Regula helped push for a law in the city of Kent to protect LGBTQ people in public accommodations, including housing and employment.
Passed in 2017, that ordinance was a major step forward for Portage County. However, more than 130,000 county residents still live in areas where they can be fired from their job, denied a rental application, or refused access to a public bathroom because of who they are or who they love.
In fact, of the 20 cities in Ohio with inclusive public accommodations laws, Kent is the only one in Portage County.
As the county's auditor, Regula wouldn't have the power to address that issue. He's not a lawmaker. Instead he sees his contribution as being someone that his local community — many of whom may not know someone who is openly trans — can look to as an example of a transgender person doing their job and succeeding at it.
But despite the attention on his gender identity, Regula wants what every candidate wants: to be judged by what he has to offer. Before running for office, he founded two nonprofits. He also helped work on a climate change resolution in the city of Kent.  
"Being trans is a part of my identity, but it doesn't change the way I do statistics," Regula said. "It doesn't change the way I do my job."
Images via Facebook