Uganda made headlines earlier this month when its Pride festival was shut down, but advocates say it wasn't the parade being canceled that hurt the most. It's that organizers weren't even allowed to come together for a drink.
On Thursday, Aug. 17, it was announced that Pride events would be pulled for the second year in a row. Last year's cancellation of Pride coincided with the arrest of 15 individuals during a raid of the Mr. and Mrs. Pride Pageant; at least one person was hospitalized. But activists say that as this year's festivities were being planned, Ethics and Integrity Minister Simon Lokodo began to personally harass them.
These threats were made extremely public. The minister stated in a press conference that if a parade were to be held, he would gather mobs of vigilantes to attack anyone in attendance.
The pressure on LGBTQ groups intensified after Lokodo forced Kampala's Sheraton Hotel to nix the opening gala for Pride, scheduled for Wednesday. Organizers learned of its cancellation just hours before guests were expected to arrive. The gala would have brought together 300 people, an unprecedented number. Attendees traveled from all across the world to be there.
But Matt Beard, executive director of the LGBTQ advocacy group All Out, tells INTO that the real "low point" wouldn't hit until the following day.
After the gala was blocked, organizers made the decision to disband the rest of its weeklong program of events. They were concerned about reliving the horrors of the year prior. In place of an official Pride event, 30 volunteers from the group decided to meet for drinks at a local bar. The gathering was informal and in no way related to its programming, Beard claims. The bar was even open to the public.
But word quickly leaked to Lokodo, who began to send group members threatening text messages. The minister warned that he knew where they were meeting.
"I got the sense that the movement had really hit rock bottom that day," says Beard, who was on the ground in Uganda during the incident. "This is a movement of people who are brave and defiant. They have an incredible hunger for the justice and equality they deserve. But by Thursday evening, things had really deteriorated."
LGBTQ people have effectively been forced to go back to the drawing boardyet againin one of the world's most difficult countries to be a sexual or gender minority. But even in the face of unimaginable challenges, the community remains resilient.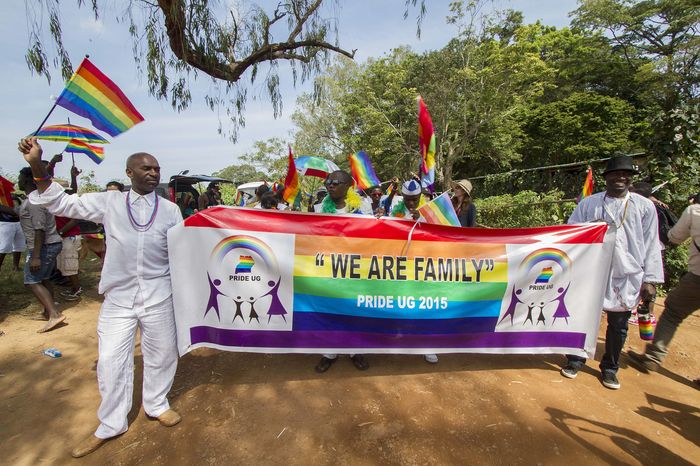 •••
The 2015 Gay Happiness Index (GHI) survey showed that Uganda has the poorest quality of life for LGBTQ people. The country tied with Sudan for this dubious honor. It's not hard to see why. Although the Anti-Homosexuality Act was struck down on a constitutional challenge in 2014, Uganda is one of 34 countries in Africa where homosexuality remains illegal. Persons arrested for engaging in same-sex activity can serve up to a maximum of life in prison.
That law, an unfortunate holdover from the colonial era, has had a profound impact on public opinion in the majority Christian country: 96 percent of Ugandans claimed that society should not accept LGBTQ people in a 2013 poll from the Pew Research Center.
Many queer and trans people, fearing persecution, stay in the closet. Being out can come with severe and brutal consequences. Megan Nankabirwa, a lesbian sports star, was forced to flee Uganda earlier this year when her sexual orientation was discovered. The 30-year-old was chased through the streets by an angry mob. Nankabirwa and her partner have since applied for asylum in the United Kingdom.
But Isaac Mugisha, an organizer with Pride, tells INTO that something happened when the Anti-Homosexuality Act was nullified three years ago: People began to come out in unprecedented numbers.
"The visibility of the LGBTQ community in Uganda has increased since 2014," says Mugisha, who believes the public bravery of queer and trans people has triggered panic among state officials. "The movement has grownthat is why the government is not sleeping. They are scared. As much as it has come at a huge cost, it is very positive."
The ongoing challenge for that growing community will be finding meeting spaces and ways to organize that aren't threatened by the prejudice of ministers with an animus toward the LGBTQ community. Frederick, a Ugandan activist who asked to use a pseudonym for this story, says that queer and trans people often find ways to meet in secret. But there's always the looming danger of someone discovering the gathering and reporting it to Lokodo.
"We have to behave carefully," Frederick says in an email. "We always have to take precautions."
A closed-door event held in place of this year's Pride gala shows just how absurdly laborious it can be for LGBTQ people to assemble peacefully in Uganda. Beard says that attendees had to be picked up by a driver who took them to an undisclosed location. When they arrived at the venue, guests had to be taken through an underground parking garage to get to a private meeting room.
"For the small number of people who were able to get to this event, it was a really wonderful evening," says Beard of the Aug. 19 event, which was thrown by the Swedish LGBTQ group Rainbow Riots. Around 40 people were in attendance.
Whether a public parade will be possible in the future, though, remains uncertain. Advocates say that LGBTQ people have a right to organize under the country's constitutional codes, and the government stated in 2015 that it would begin allowing Pride events to be held. But Beard says that Lokodo has a "big problem" with the word "Pride." The minister has claimed that these this term is synonymous with the recruitment and promotion of homosexuality.
"No gay gathering and promotion can be allowed in Uganda," Lokodo told The Guardian. "This is totally unacceptable."
What LGBTQ activists will have to do, Mugisha says, is figure out "how to have Pride the Ugandan way." Following the cancellation of this year's events, organizers have been meeting to figure out what to call the festival. That discussion, thus far, has left the community with more questions than answers. If you don't call it Pride, does it lose its meaning? What if next year's event is canceled againno matter what they call it?
But Mugisha claims that Uganda's LGBTQ community won't be waiting until next August to move forward from its devastating month. Pride is too important.
"Pride is one of the few moments where the LGBTQ community can come out, socialize, and feel safe," he says. "It's important for community building that we're able to come together. If it's taken away, we will lose a big part of our movement."