Everything is fine in Massachusetts.
Yesterday, the New York Times reported that the Trump administration wanted to legally erase transgender people. In New York, hundreds took to the street to protest. Boston, which will vote on the first-ever statewide anti-trans measure in just two weeks, stayed home.
Ultra-progressive Jamaica Plain held its annual lantern parade, with decorated liter bottles and kids in costumes. It's possible to walk end-to-end through the neighborhood and not see a sign urging you to vote "Yes on 3" to uphold transgender rights. There is one sign along the main strip on the door at Boomerang's, which sells second-hand clothes to fund the AIDS Action Committee of MA.
Today, two ACLU canvassers stand on Centre Street, trying to recruit new members. They're talking about immigration. Do they ever talk about trans rights and the upcoming vote? Neither of them know what Question 3 is, they admit.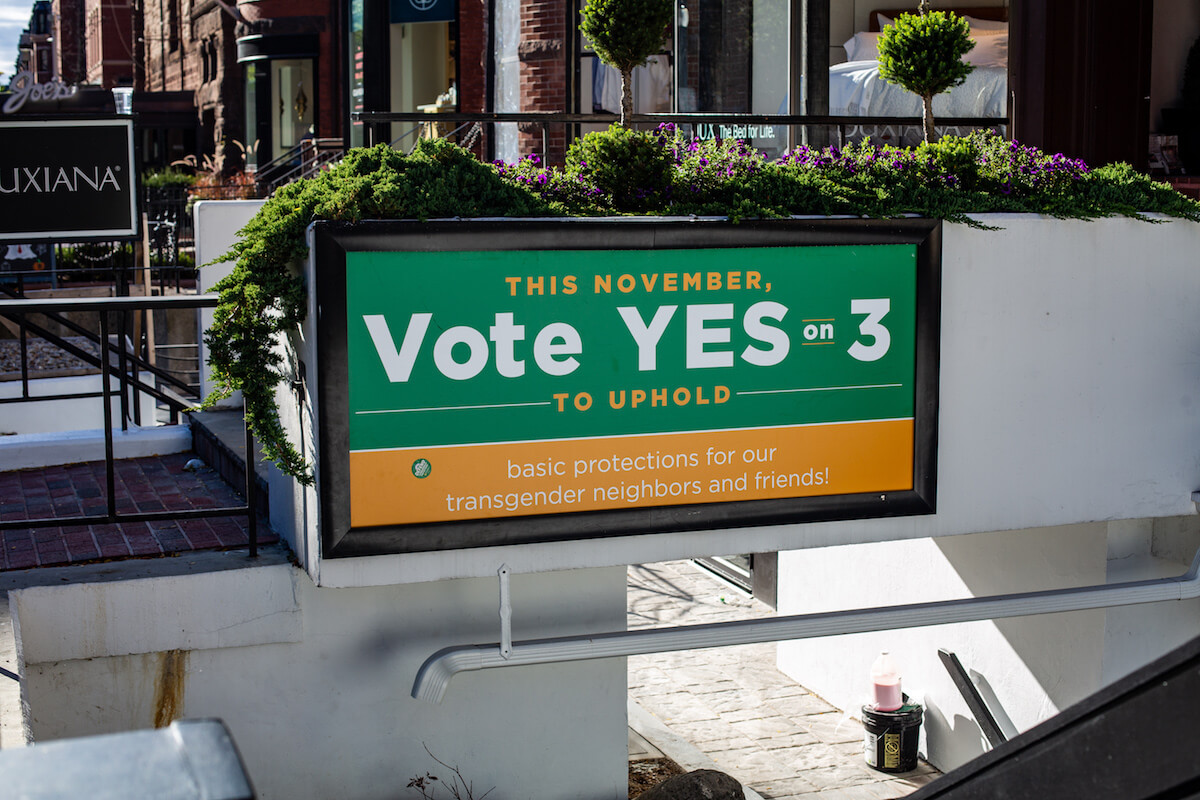 You can also walk through the historically gay South End without seeing a Yes on 3 sign. Club Café, the city's most recognizable gay bar, has a "Yes on 3" sign and pamphlets. But ask a server if she knows what Question 3 is and you get a "no."
"Are you going to tell me?" she asks. She didn't know trans rights were on the ballot.
Voters will decide in November if they want to repeal protections that let trans people use restrooms and locker rooms that align with their gender identity. The vote is considered a bellwether for the country, and a loss in Mass. is expected to spell doom for trans rights throughout the nation.
Next month, Massachusetts will celebrate the 15-year anniversary of the court decision that gave it marriage equality. It's a point of pride in deep blue Massachusetts that it was the first state to allow same-sex couples to wed.
Mike Horgan and Ed Balmelli, original plaintiffs in the case that won marriage equality, are still politically active. But there hasn't been much to do in the way of LGBTQ issues in Massachusetts since marriage, said Horgan.
"It's almost like fold your tents up and go home, we won," he said. No one called them to volunteer for the Yes on 3 campaign, and they haven't.
Horgan says he's heard radio ads for the campaign to repeal trans protections. He hasn't heard ads from the Yes on 3 campaign yet, though Yes on 3 has released commercials.
Bostonians are certain they will soundly defeat the effort to roll back trans rights. One voter proudly proclaims that Massachusetts is the only state with gender identity protections in public accommodations. In actuality, there are 19, plus Washington D.C.  
A WBUR poll in September found that 71 percent said they would vote yes to uphold trans protections. The same poll reported that voters were not confused about the fact that they needed to vote "yes" to reject the anti-trans measure.
That's a marked difference from June, when just 49 percent said they would vote to keep anti-discrimination protections, according to The Boston Globe. It's also a far cry from early reports from the Yes on 3 campaign which predicted that a repeal had a 50/50 shot. Outside of the campaign, the overall feeling on the ground is a mix of apathy and confusion.
Mason Dunn, co-chair for Yes on 3, says he believes voters will uphold protections, but is leaving nothing to chance.
"We're not taking for granted that a Massachusetts has this reputation of being inclusive for LGBTQ people, and that's why we are working every day," Dunn said. "We are phone banking, we are canvassing, we are raising awareness as much as possible in as many avenues as possible."
Dunn says the campaign is fully focused on that work. That's why it didn't plan a rally on Sunday, after news broke that the Trump administration wanted to legally erase transgender people, said Dunn, adding that other community members might in the future.
The campaign is working feverishly to cover a lot of ground.
Many LGBTQ people don't even know that trans rights are on the ballot. At Dbar, the gay bar in the working class neighborhood of Dorchester, more than half say they haven't heard of Question 3. They're surprised their state has an anti-trans question on the ballot.
Dbar doesn't have a sign for Yes on 3 or relevant literature. Most people are talking about Question 1, which caps the number of patients assigned to nurses at a time.
Michael Perry knows about the measure, but thought it was to put anti-discrimination protections in place, not to repeal them.
"Early reports are that it's widely supported," said Perry. "I don't know if that's true. That won't sway me. I always vote."
At Club Café, Philip Wright, a gay man, knows about the measure and planned to vote no.
"I was going to vote no because I didn't understand it," Wright says, over brunch. "Everyone I know is going to vote no because of the way it's written."
In April, Anchorage defeated a similar anti-trans measure, Proposition 1. The trans community received a groundswell of support from LGBQ community members and allies. Businesses across the city displayed "No Prop. 1" signs, and people wore buttons that said the same. The local gay bar hosted nightly canvassing. The leather competition donated its proceeds to the cause. Support for trans people in Anchorage was everywhere.
Dunn says many Provincetown and Northampton business are displaying signs.
"This is a major vote, and store owners and community members know it," said Dunn. "I think I've seen a lot of really great support from the full LGBTQ community."  
Dunn points to a broad coalition of LGBTQ groups backing the Yes campaign.
Even outside the LGBTQ community, responses to the measure vary widely.
In Braintree, Mass., Katherine O'Connor, a non-binary Brazilian 15-year-old, goes door-to-door for the Yes campaign. Many there haven't heard of Question 3. Some slam the door in O'Connor's face. Others don't speak much English, and there is awkward back-and-forth about voting for trans equality before both sides give up.
One woman, a teacher, explains for five minutes that she will vote no because she wants to protect children. O'Connor deftly untangles the conversation and figures out that the woman supports trans students. The woman finally learns she needs to vote yes.
Another voter tells O'Connor flat out that she will vote no because she wants to keep sexual predators out of women's bathrooms. O'Connor spends several minutes detailing the anguish of navigating high school as a non-binary student. By the time the conversation is done, the woman moves to the "maybe" column.
"It's a lot," O'Connor says afterward. "I'm a small person. It's a little dehumanizing."
Even if voters uphold trans rights, there is a deep psychological consequence, says Linda Fingerson, a demigender (an umbrella term for non-binary) volunteer with the campaign.
"The messaging is damaging in and of itself. I think it's hate speech," she says. "The thing that worries me is if we don't squash this like the bug that it is."
Update: There is a rally being held Sunday night in Boston to support transgender rights.