As Maxim Neverov awaits appeal over his prosecution under Russia's anti-gay propaganda laws, he has already taken one major step toward justice.
Last week the 16-year-old learned an appeals court in Altai Krai — a district in southern Russia bordering on Kazakhstan — struck down an earlier decision preventing Neverov from organizing LGBTQ-related events in the town of Biysk.
Earlier this year Neverov staged a performance he called "Gays or Putin." The high school student filed petitions to hold 12 separate events, one of which included staging the city's first-ever Pride parade. In a phone conversation, he told INTO the action was intended as a demonstration of the "political climate" in Russia.
"I wanted to see how many of my applications would be approved," Neverov said through the use of a translator.
Neverov, who doesn't identify as LGBTQ, always knew the proposals would be rejected. He claimed the idea came about while he was walking down the hallway with his girlfriend at school. When Neverov joked they should organize a Pride event in Biysk, she immediately recoiled.
"You're crazy," she told him. "No one would give us permission."  
The performance was, thus, intended to troll the local government in order to illustrate that none of his ideas would be approved. One of his applications concerned holding an event in favor of opposition leader Alexei Navalny, who was recently sentenced to 30 days in jail following a protest of President Vladimir Putin. Another referred to Navalny as "an agent of the United States."
After government leaders, as expected, denied the applications, Neverov fought their rejection in court. The Biysk City Court initially upheld the decision.
But following an appeal to the Altay Regional Court, Neverov claimed the earlier decision was overturned. Last week appeals judges found that the Biysk City Court verdict "should be canceled."
Neverov said the regional court ruling reflects that the prosecution didn't "have any evidence to present" as reason to deny his applications. Initially, attorneys representing the Biysk government claimed there were no available time slots to hold public events — but that wasn't true. When he first proposed the events, the town's schedule had plenty of openings.
"During the court hearings, it was clear the local administration and authorities didn't have good lawyers," he said. "They would ask the judge to give them 30 minutes for a break because they didn't have any proof. They would come back with new evidence."
At one point during the trial, Neverov claimed the prosecution stood up and said: "I don't have anything to say because I wasn't prepared for today."
While the ruling from Altay Regional Court is welcome news, one caveat is that judges didn't declare which portions of the earlier decision were struck down. Given that LGBTQ Pride events are widely banned in Russia under 2013 laws forbidding the spread of information on "non-traditional sexual relationships," the court will likely have to deliberate with authorities on how to proceed.
For the time being, though, Neverov isn't sure if he will be allowed to hold all 12 of his events or just a select few. He claimed the court's decision has the potential to "set a precedent" for a nation that's historically less than friendly to LGBTQ rights.
"It's not just about LGBTQ issues but freedom of assembly and the freedom to protest," Neverov said. "It will be interesting to see how the court rules."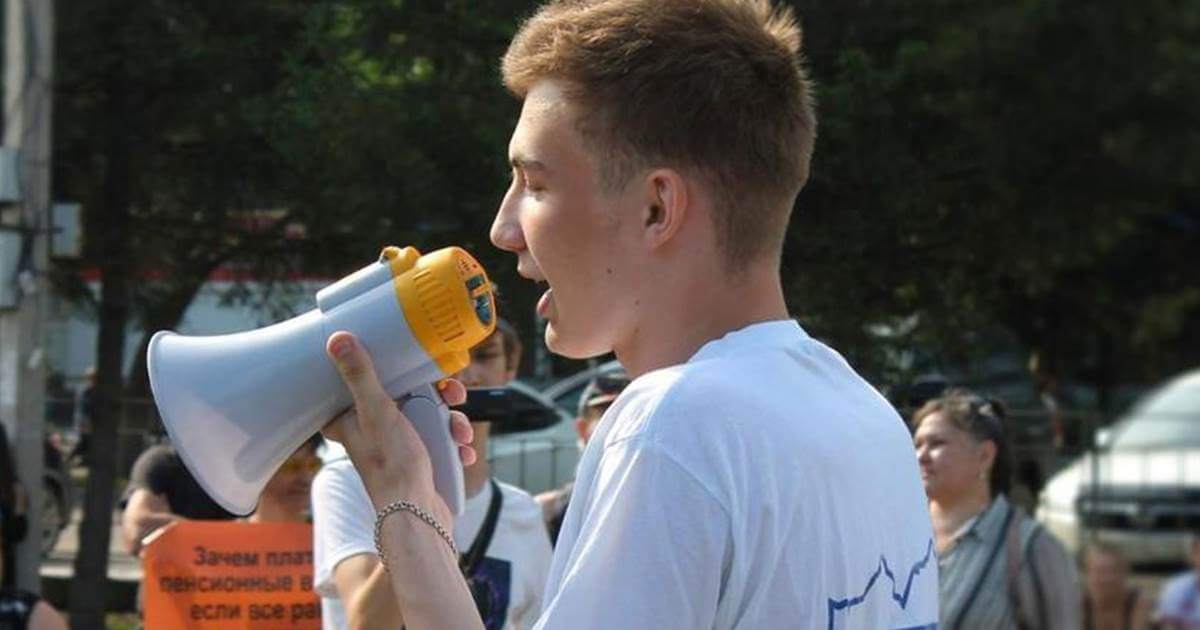 But for the teenage activist, the pending decision from Altay Regional Court is just one of several rulings headed down the pipeline. Neverov made international news earlier this month when he became the first minor prosecuted under the country's propaganda laws for posting photos of shirtless men on the social network Vkontakte, the Russian equivalent of Facebook.
On July 24, Neverov was woken up by his stepfather after police officers came to his door at 8 am. After giving his family a warrant that was "filled out incorrectly," the high schooler went down to the Biysk police station.
Although he deleted the photos — which he says were placed in an unpublished album — Neverov was fined more than $700 on Aug. 7.
Neverov subsequently filed yet another appeal to overturn the penalty — which is equal to a week's wages for an average family in Biysk. His attorney, Artem Lapov, told INTO in a series of email correspondences that he believes his client is being targeted "due to his political activities."
"This case is very important from the standpoint of freedom of expression and human rights," he claimed. "These freedoms are being taken away from us."
As in the case of "Gays or Putin," Neverov's legal team is confident the earlier ruling will be thrown out for procedural reasons. For one thing, Lapov claimed that local authorities never proved "it was Maxim who committed the offense."
"The necessary legal procedures were not observed," he said.
If Neverov is successful in the second appeal, it could represent history in Russia. No one involved with the case has ever heard of an individual targeted under the propaganda law who has successfully fought their prosection. After HIV/AIDS activist Evdokia Romanova was charged with posting links to LGBTQ-related news articles on Facebook, she was fined $870 by a Samsara court in October 2017.
The ruling was upheld, even despite calls from the global advocacy organization Amnesty International to dismiss the case.
Since the Russian Duma unanimously passed the propaganda law five years ago, it has been used to shut down Pride events and arrest LGBTQ activists. After 60 queer and trans people gathered for an August rally in St. Petersburg, police arrested at least 25 people.
Organizers told the Agence France Presse authorities targeted individuals with the "most colorful flags and clothes."
While LGBTQ advocates have had extremely little success in working with the Russian government, the case of Biysk could be different. Because his case has attracted attention from news outlets around the globe, Neverov claimed local authorities "are afraid to do something."
"It's a small town," he said. "They're more careful with what they do."
In fact, Neverov claimed that following international coverage of his case, local leaders in Biysk had given LGBTQ activists permission to hold meetings in town.
But despite his role in pushing forward equality in Russia, Neverov clarified that he doesn't view himself as an LGBTQ rights advocate. Instead, he called himself a human rights activist.
"The human rights of all people are all people are in jeopardy by the government," Neverov said. "Before we start talking about the legalization same-sex marriage or other issues, we have to deal with the real issues Russians are facing right now—abuse of authority and corruption."
"Of course, I believe in LGBTQ rights," he added. "But the basic principle of LGBTQ rights is a fight for all human rights."