Former Smallville actress Allison Mack appeared in federal court Friday after her arrest earlier this month on charges she recruited women into sex slavery. But the proceedings also shed light on yet another set of allegations: that Mack married another female cult leader to keep her from being deported.
Last month the online publication Art Voice claimed the 35-year-old wed actress Nicki Clyne, best known for her role in TV's Battlestar Galactica. In addition to being alums of long-running sci-fi shows, the two women were reportedly members of NXIVM, an Albany, N.Y.-based cult which masqueraded as a series of "female empowerment seminars" to lure women into a sex trafficking ring.
Neither actress has spoken publicly about their sexuality, but the union was alleged to be for purposes of immigration.
"Clyne is a Canadian citizen and was having difficulties fulfilling visa obligations," the website claimed, citing unnamed sources within the cult. "Sources said India Oxenbergdaughter of Dynasty star Catherine Oxenbergwitnessed the nuptials."
The pair reportedly lived with NXIVM leader (pronounced "Nexium") Keith Raniere in his Albany townhouse.
Although the anonymous allegations were picked up by publications like Toronto Sun and The Cut, they have been difficult to substantiate. Marriage records in New York, where the two lived at the time of the alleged nuptials, are sealed. Copies may only be requested by the couple or family members acting on their behalf.
But last week's court hearing confirmed the two are indeed married, as documents exclusively obtained by INTO verify.
Pretrial Services Officer Ramon Moore of the U.S. District Court for the Eastern District of New York interviewed Mack prior to her arraignment. He told the Brooklyn courtroom on Friday the defendant told him she "has been living in New York since December of 2017 at an apartment with her wife, who is Nicole Klein [sic]."
"She stated that she has been married to Ms. Klein [sic] since February of 2017 and that she's a green card holder," Moore continued.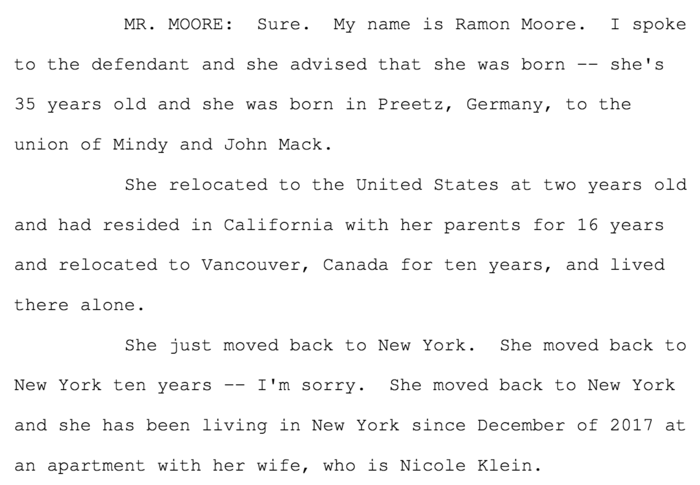 The officer did not discuss allegations the nuptials were conducted under fraudulent pretenses, which is a federal crime. According to the U.S. Immigration and Customs Enforcement (ICE), marrying an individual solely for non-romantic reasons (e.g., to obtain a green card) may result in up to five years in prison or a fine of up to $250,000.
On its website, ICE refers to marriage fraud as "a threat to U.S. national security, financial institutions, and the integrity of the immigration system."
"Marriage fraud investigations conducted by U.S. Immigration and Customs Enforcement's (ICE) Homeland Security Investigations (HSI) have revealed massive schemes that involve complex criminal organizations," the federal agency continues on its website.
Clyne, who was born in Vancouver, has yet to be arrested and is rumored to be hiding out in Mexicowhere Raniere was apprehended in March.The Daily Mail, however, alleges Clyne has been secretly working at a farmer's market in New York City.
Accusations of defrauding U.S. immigration, though, won't be the worst charges she faces if taken into custody. Raniere and Mack have been accused of sex trafficking and conspiracy to commit forced labor, allegations which carry a minimum sentence of 15 years behind bars.
Survivors of NXIVM say Raniere would threaten to release damaging information about them if they left the cult. His followers were ritually humiliated, branded with the NXIVM logo, and forced to starve themselves.
During the Friday hearing, Mack reportedly appeared skeletal under her denim jacket as she pled "not guilty" to all charges.
The actress is believed to be Raniere's second-in-command.
Update: Since this story was originally published, Mack was released after posting bail. The bond was set at $5 million.