Sam Smith's most recent union gives "unholy" a new meaning. The nonbinary artist, who recorded a historic chart-topping hit with Kim Petras, is facing heated criticism for posing in a photo with cops at Pride.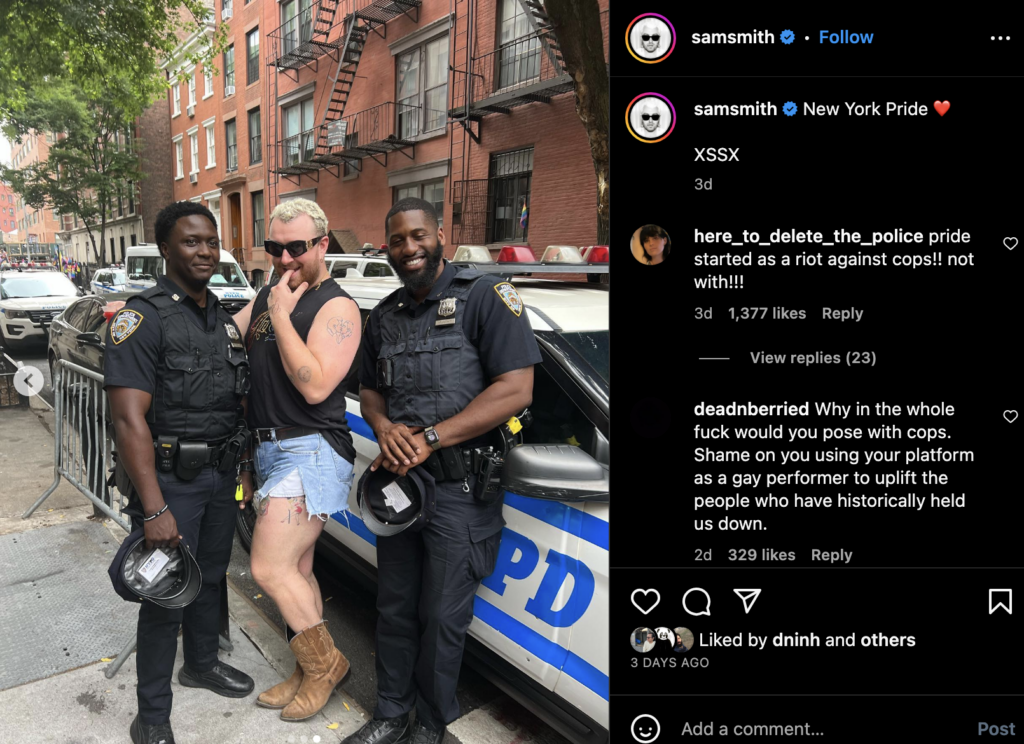 On Monday, Smith shared an NYC Pride photo dump to Instagram, but it was the last photo that grabbed everyone's attention.
"pride started as a riot against cops!! not with!!!" said one commenter. "i'm sorry but the cops? white people need to start engaging in praxis otherwise its just a bunch of words," added another.
Related:

Is a rainbow-colored nightstick any solace to the beaten?
But Drag Race winner Aquaria best summed up the collective mood: "Oh hell no baby."
As many users pointed out, the whole impetus for the original Pride was a riot against police violence. And while some might want to resign that to the distant past, it's not as though the NYPD's conduct at Pride events has gotten much better in recent years.
In 2021, NYPD officers arrested and pepper sprayed Pride celebrants in Washington Square Park for "disorderly conduct." Witnesses said the event was peaceful until the cops showed up.
"Basically there was nothing going on," technology journalist Janus Rose told Gothamist. "The park was packed and people were just hanging out and having a good time after the Queer Liberation March. Then all of a sudden we started seeing dozens of police vans circle around the park with their sirens and lights flashing, pedal to the metal."
Citing the NYPD's failure to address and course correct its treatment of the LGBTQ+ community (especially Black and trans folks), organizers of NYC Pride have banned cops until at least 2025, focusing instead on community-based safety teams. Cops are required to keep at least one block away from the event unless otherwise mandated by the city. "The sense of safety that law enforcement is meant to provide can instead be threatening, and at times dangerous, to those in our community who are most often targeted with excessive force and/or without reason," the organizers said.
All of which is to say that picking Pride for a photo-op with cops is not the best look, to say the least. At the time of writing, Smith has yet to comment on the criticism around the photo.
Read More in The Internet