The transgender mayor of a small town in Texas lost her bid for reelection on Saturday.
New Hope Mayor Jess Herbst made history by coming out as trans in January 2017, making her just the second transgender person in the U.S. to hold the title. A former aldermen for the town of 600 people, Herbst succeeded to the mayor's office after the death of her predecessor, Johnny Hamm, in March 2016 from a heart attack.
Despite his passing, New Hope residents would reelect Hamm mayor two months later. Herbst was appointed mayor pro-tem before assuming the full duties of the position.
But just 10 months after becoming mayor, Herbst opened up about her gender identity in an open letter to constituents. The 59-year-old wrote that she had identified as a woman "since [her] earliest memories" but finally began transitioning with the support of her wife and children in 2015.
"At the time, I did not imagine I would hold the mayor's position, but here I am," Herbst wrote.
"Society finally has a chance to see and learn about who we are," she continued in the message posted to New Hope's website. "I love my wife, and she loves me, we have no intention of change. My daughters have been adamant supporters of me and are proud to tell people their father [sic] is transgender."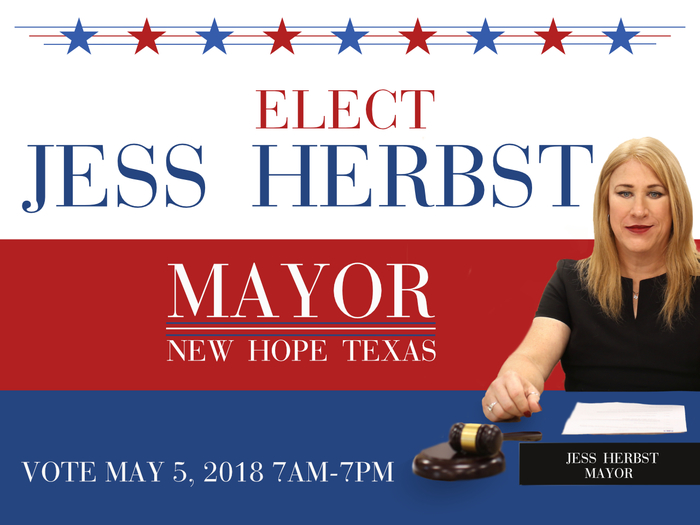 Herbst informed residents that she would "continue as mayor," adding that she hoped "to do the very best for the town."
At the time, the announcement made Herbst one of the few transgender people to ever hold public office in the United States. Only one other openly trans individualStu Rasmussen of Silverton, Ore.has ever served as mayor. Rasmussen, a former city councilor, stepped down from the position in 2015.
But after this weekend's elections, no openly trans person in the U.S. will hold the title of mayor.
On Saturday, Herbst was defeated by Angel Hamm, widow of the former mayor. Hamm, a 42-year-old office manager at Bewley Electric in neighboring McKinney, campaigned on balancing New Hope's budget. Following high turnout among registered voters, she finished with 95 of overall ballots cast.
The incumbent actually came in third, however.
Herbst also finished behind 42-year-old Melissa Brown, a local accounts manager whose platform included preparing the town for infrastructure expansion. Residents of the tiny hamlet fear incorporation by the much larger McKinney as it continues to build up its highways, airports, and job sector. Brown earned 76 votes.
Meanwhile, Herbst finished with 53 of the ballots countedor 23 percent of the vote.
Although the Dallas Morning News (which broke reports of Herbst's ouster) says the incumbent's gender identity was not brought up by her opponents in the race, it was the subject of an anonymous mailer sent out in the weeks leading up to the election. The mailers featured transcripts of posts Herbst made to Facebook.
"Residents argued on websites like Nextdoor.com over the mailer and the media attention Herbst's transition brought to town," the outlet reported.
Herbst has yet to comment publicly on the defeat. But her opponent sent out a statement to New Hope residents on Saturday celebrating the upset victory, claiming that she's "honored and blessed" to assume the position.
"I want to express my heartfelt thank you to the voters of New Hope for electing me as your mayor," Hamm said in a press release. "I am honored and blessed that you have placed your trust in me. […] I will work on your behalf to help address challenges, and to secure lasting and meaningful improvements to our quality of life in New Hope."
But other trans political hopefuls in Texas thanked Herbst for helping inspire a historic wave of LGBTQ candidates running for office. More than 40 queer and trans people announced their intention to run in 2018.
Finnigan Jones, the Democratic nominee in Texas House District 94, said that wouldn't have been possible without her bravery.
"You have inspired me in so many ways," Jones, who is a trans man, wrote on Facebook. "You gave me the courage to run for the Texas House of Representatives to represent all of us. You are an inspiration to so many, young and old. I know that you are going to accomplish so much more. It is inevitable."
"You are a winner regardless of what the polls said," he added. "I love you so much my sister."
Although a recordsix trans candidates announced they would be campaigning for office in Texas this year, this landmark pool has experienced mixed results. Four faced defeat in the March primary races: Jenifer Pool, Dylan Wilde Forbis, Vanessa Foster, and Madeline Eden.
Pool, a candidate for the Texas House of Representatives District 138, ran the most competitive race. She finished within 14 points of Democratic opponent Adam Milasincic.
Only Jones will advance to the November general election.
Photos via Jess Herbst; Torba K. Hopper/Flickr