Asia O'Hara brought the laughter, the looks and the love to Season 10 of RuPaul's Drag Race. The top 4 queen, who unfortunately lost a lip sync to Kameron Michaels during the finale, may not have snatched the crown, but she certainly snatched America's hearts.
INTO caught up with Asia O'Hara to talk about her drag daughter's Drag Race future, what would have happened had her reveal gone off without a hitch and what it was like to compete alongside Season 10's Black queens.
What was it like for you to walk into the room and see so many black queens alongside you?
I wasn't surprised. I didn't really look at it like that until after we finished and people were commenting on how many Black queens there were. I don't normally go into situations and that's the first thing I notice. But obviously there were more than normal, but I didn't look at it that way until people started to bring it up.
In my and many people's opinions, you were the looks AND comedy queen of the season. You won both comedic acting challenges and always stunned on the runway. But many queens of color aren't considered looks girls or comedy girls. Do you think you queens of color are given the same chance when it comes to being seen that way?
I don't think it's a matter of being given a chance. I think we're all given an equal chance. It's just when it comes to looks, it's just what people prefer to see. It's not just queens of color, it's also queens of different body types. You can take a lot of garments and put them on a certain girl and they'd not be as well received as they would be if they were on someone else. It's not that they aren't given a chance, it's a matter of what people prefer to see.  
During the ball challenge, you definitely approached drag like you would back home — like a communal, family-based art. But Drag Race is obviously a competition and you and the girls spoke about that. Do you think there should be more avenues for representation of drag culture beyond Drag Race?
Um, I can't say exactly that. I do feel like drag deserves just as much recognition and opportunity and outlets as any other form and luckily if you're a singer you can be a recording artist and go on tour, you can sing on Broadway — there's multiple avenues to success. And so drag deserves the same. And the fact about drag is there are — I come from the pageant world and there are a lot of drag queens that will not be successful in pageants, but that doesn't make their drag less successful. Same with Drag Race. There are great queens that have not been successful in that competition, but it doesn't mean their drag is any less valuable. Any opportunity for someone to shine when it comes to drag or any art form is a great idea.
For many fans, you were a highlight of the reunion, especially because you stood up for The Vixen when so many queens did not. Were you disappointed that you were the only one who spoke up or do you understand why they stayed silent?
No, that's not everyone's specific derivative. Everyone has different strengths and weaknesses and different ways of supporting people. I might have been the only one that sat there and said something, but I'm not the only one who went to the room to speak to her. Everybody, for the most part, that was affected by it, did something in their own way to show their support. Not everyone is that type of advocate and with every conversation about change or about perceptions, there are certain people on the forefront and there are people who march behind them but they don't have the tools necessary to speak out.
What did you think of your emotional back and forth with RuPaul?
I didn't expect any of it to happen. But the nature of conversations — I understood that she was raising her voice because she felt strongly about what she was saying and she understood I was emotional because I felt very strongly about what I was saying. I think it was very respectful between the both of us and we both wanted to be heard. It's a natural communication style when two people are talking about something they're passionate about.
I want to talk a little bit about the finale. Obviously, you gave an interview about your reveal already, but I was wondering first: if the reveal had gone as planned, what would your plan have been to gather all the butterflies from the theatre? Were there professionals there with you?
No, they aren't meant to — once released, they're not meant to be captured. They were meant to fly away. So had things gone according to plan, that would've been the endpoint of it.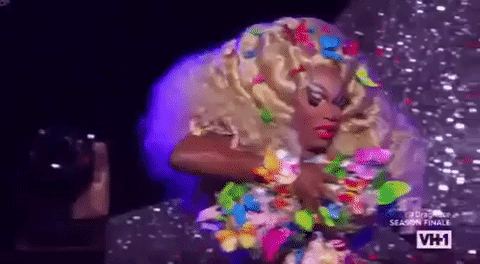 And what did you have planned for the "Bang Bang" lip sync?
I don't want to say what I had planned, because I don't want to take away from the girls on stage and I don't want to turn this into a "This is what you missed out on" moment and it's something I spent twice as much energy on and I'm excited to showcase it at some point. But I don't feel like now is the appropriate time. I'd rather spend time celebrating the great performance the girls did for the song.
Since the show's aired, you've been very vocal about the way being a black queen has made fan reception to you different. What do you think is the main difference between how you are treated now and how you would be treated if you were a white queen with the same skill set?
Um, you know, people love and like what they love and like. And you know, perception unchallenged is reality. A lot of people perceive a certain aesthetic as perfection. Luckily in Drag Race and drag as a whole, I get to challenge that perception and show I'm just as viable as any other person, but it's getting over that hump. It would be a different road or path for me if I didn't have to work as hard to get people just to, you know, take a look at what I was doing. One of my favorite quotes is from John Mayer: You have to work twice as hard just to get them back to knowing nothing about you from thinking they know something about you.
You brought your drag daughter to the competition. Knowing what you know about Drag Race now — how it can offer a platform but subject you to so much — do you want that for her? Does she want to go on?
I do want that for her and I do think she would audition. The thing about Drag Race that I tell a lot of people is that that's something you wanna do when you're ready. I auditioned three times and I know the first two times I auditioned, if I got on, I wouldn't have made it to the top four. I didn't have the skill set or resources. It's important you go into that when it's the right time for you. I definitely think she'd be a great competitor. Right now probably not, but a couple seasons down the road, she'd be fabulous.
Would you come back for an All-Stars season?
Um, you know, it kinda depends. I'm taking things day by day. If I got the call today, my answer would be different than it would be a month from now or six months or a year for me. I'm not opposed to All-Stars, but I'm not gung-ho about it right now. If and when I get an invitation, I'll look at my life then and see if it's something I can do effectively at that time.