Almost three years ago, Pedro Nehemias told his mother he was traveling from their rural town in Guatemala to the country's capital to visit friends and buy some clothes. In reality, he was  going to meet a Honduran boy he met on Facebook.

At first, he had his doubts — he thought it was strange that someone he had never met had traveled all the way from San Pedro Sula, Honduras to meet him, but he went. And on Saturday, in Tijuana, Mexico, he married that same boy.

After having walked, hitchhiked and bussed nearly 2,500 miles from Guatemala as part of the migrant caravan that has drawn the ire of President Trump and became a focal point of the 2018 United States midterm elections, Pedro Nehemias and Erick Dubon were the first of eight couples to be married on Saturday. They were followed by two gay couples, three lesbian couples, two pairs of trans women and cis men, and one heterosexual couple.
One-by-one they stood on the steps of Enclave Caracol, an LGBTQ-friendly community space in central Tijuana serving as a shelter for LGBTQ members of the caravan, to say their "I Do's," as the crowd of journalists, Tijuana residents, and their travel companions cheered, threw rice and screamed, "kiss!"
The three officiants were from a Unitarian Universalist Church delegation who had traveled down to Tijuana from Northern California to bear witness at the border. The trip had been planned for months. But when they happened to pass by community space that morning to see how they could support the bunch, they were pleasantly caught off guard to learn they would be marrying 16  people.

"This is an act of justice," said Hugo Cordoba, one of the pastors. "The dream of marrying is an illusion for most of them. We are helping them make this a reality. They are fleeing persecution, violence, a number of really heavy things. Queer migrants always get left aside, but they have a unique experience, and we want to honor that, even though many churches do not. Love doesn't have a gender, sexual orientation, gender identity."
"Love is about the connection and today is about love," Cordoba told INTO.

Before the ceremony, Erick spoke with his aunt on FaceTime to tell her he would soon have a husband. "It's really happening — Look!" he said as he spun around and showed her the altar adorned with white flowers, blue ribbons and a massive rainbow flag.


The ceremony started, and without breaking eye contact Pedro and Erick switched between smiles and laughter. But the smiles eventually gave way to tears, as Pedro pulled away after saying his vows to wipe his eyes and Erick blinked as he choked up. There was heaviness behind the joy.
Just the previous week, before they had even thought about a wedding, both Erick and Pedro said they feared losing each other at the border. They are hopeful that being married will prevent them from being forcibly separated in the U.S. — but even though they aren't sure of how it works on the other side, for now they are happy just to have the option of legal marriage.

"We've made a new life for ourselves and I need him. I wake up and he's there. I go to bed and I can say good night," Pedro said. "He's made life bearable and I really cannot imagine them sending one of us back or splitting us up."
Their arrival in Tijuana presented a unique opportunity for the caravan couples. In 2015 the Mexican Supreme Court ruled that state bans on same-sex marriage were unconstitutional, although some states still banned the practice. In November 2017, same-sex marriage became legal in Baja California, where Tijuana is located.

Like the majority of the group, Pedro and Erick plan to apply for asylum in the United States, citing discrimination and assaults. Pedro said he had been kicked out of his home at 15 and forced into prostitution before reluctantly moving back in. Erick said they decided to leave after gang members attacked him and smashed his mouth with a rock, knocking out four of his teeth. Neither one of their immediate families accepts their sexual identity.

But their stories are not uncommon ones to hear from members of the LGBTQ community in Central America. Guatemala, Honduras and El Salvador, where the bulk of the migrants in the caravan, do not recognize same-sex marriage or legally recognize trans people based on their gender identity. The countries already have some of the highest rates of violence in the world, and the threats are particularly acute for members of the LGBTQ community.

Honduras, for instance, is one of the most dangerous countries for LGBTQ people. From 2012 to 2017, there were 196 murders of LGBTQ people in the country, according to Cattrachas, a Honduran lesbian rights organization. During that time in the U.S., there were 167 individual reports of anti-LGBTQ homicides—216 when including the Pulse nightclub shooting, according to the National Coalition of Anti-Violence Programs.
The U.S. has roughly 326 million people. Honduras has around nine million.

In El Salvador, "while engaged in law enforcement, members of the police and military have raped, beaten, stalked, arbitrarily searched, arbitrarily detained, extorted, intimidated, and threatened LGBTQ people," the Georgetown Law Human Rights Institute found. At least 145 LGBTQ people have been killed in the country in the past three years, according to local Salvadoran organizations.

"I feel so happy for this opportunity. We've always wanted this, but in our country, you cannot," said Erick. "The only thing in my mind when we were up there in front of everyone was, 'I'm doing this with the person I love most in the world.'"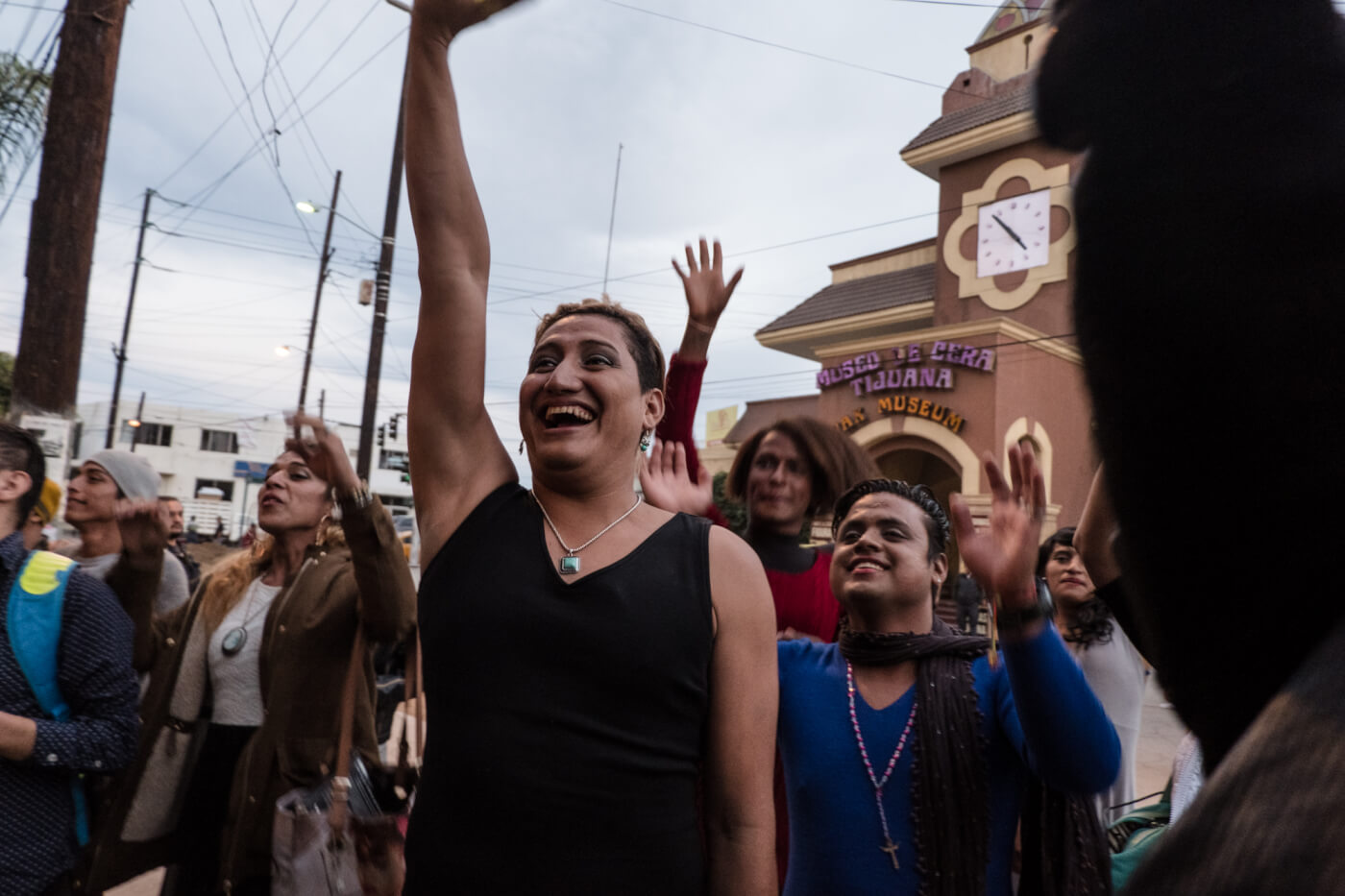 The group of 80 LGBTQ-identifying migrants were the first part of the caravan to reach Tijuana, arriving last Sunday. They initially stayed at a home in the upscale neighborhood of Playas de Tijuana rented on Airbnb by a group of lawyers, before being moved to the LGBTQ-friendly community center downtown. Amid concerns for the group's safety, Saturday night they were split up and sent to different homes around the city.

These worries are not without precedent. When LGBTQ members of a previous caravan were waiting in Tijuana last May, their shelter was robbed and burned. And the worries do not stop at this side of the border — while in detention in May, Roxsana Hernandez, an HIV-positive 33-year-old transgender woman from Honduras, died after failing to receive proper medical attention.
If caravan members are taken into ICE custody after applying for asylum at the border, trans women will likely be sent to the same facility where Hernadez died. The Cibola County Correctional Center in New Mexico is the only ICE detention center with special housing just for trans women.

With the newlywed couples standing on the platform before him, Pastor Cordoba grabbed the microphone, smiled at the group, and said, "You all have faced violence, prejudice and discrimination. What you did here today was prophetic and brave. No one can take that away from you. Now kiss!"

Blue and white balloons then drifted up into the clouds and the crowds headed inside for Reggaeton, pasta and vanilla cake before they had to pack up their possessions and move yet again to avoid attacks and threats.
Unlike his partner, Pedro is nervous about telling any members of his family that he now has a husband. Although the couple lived in a one-room dirt floor home on Pedro's parent's property in rural Guatemala, his parents had told everyone that they were friends and roommates.

"At some point, I have to tell my family. Some way," he said as he watched Erick adjust his top bun as he primped for photos. "But they are not going to like it. At all. I'm super anxious to tell them. I would love for it to be different, for them to be happy for me and this love, but it's not going to be like that."
"Now I celebrate with my new family."
Photos by Fred Ramos