Last Friday, I joined the organizers of the Women's March for a protest of the National Rifle Association (NRA) at their Virginia headquarters, which was followed by an 18 mile march to the Department of Justice.
Like the original Women's March on Washington last month, this march was not about one single issue, rather it pushed much more broadly. Topics included gun violence in the US and the NRA's reticence to defend a licenced black gun owner, Philando Castille. Perhaps most importantly, it was a reminder of the beauty of peaceful protest.
The march demanded three things: the removal of recent videos narrated by conservative talk radio host Dana Loesch, an apology for the videos, and an indictment by the Justice Department of the officer involved in Castile's death.
Photographer Hunter Abrams captured the day's action in all its glory.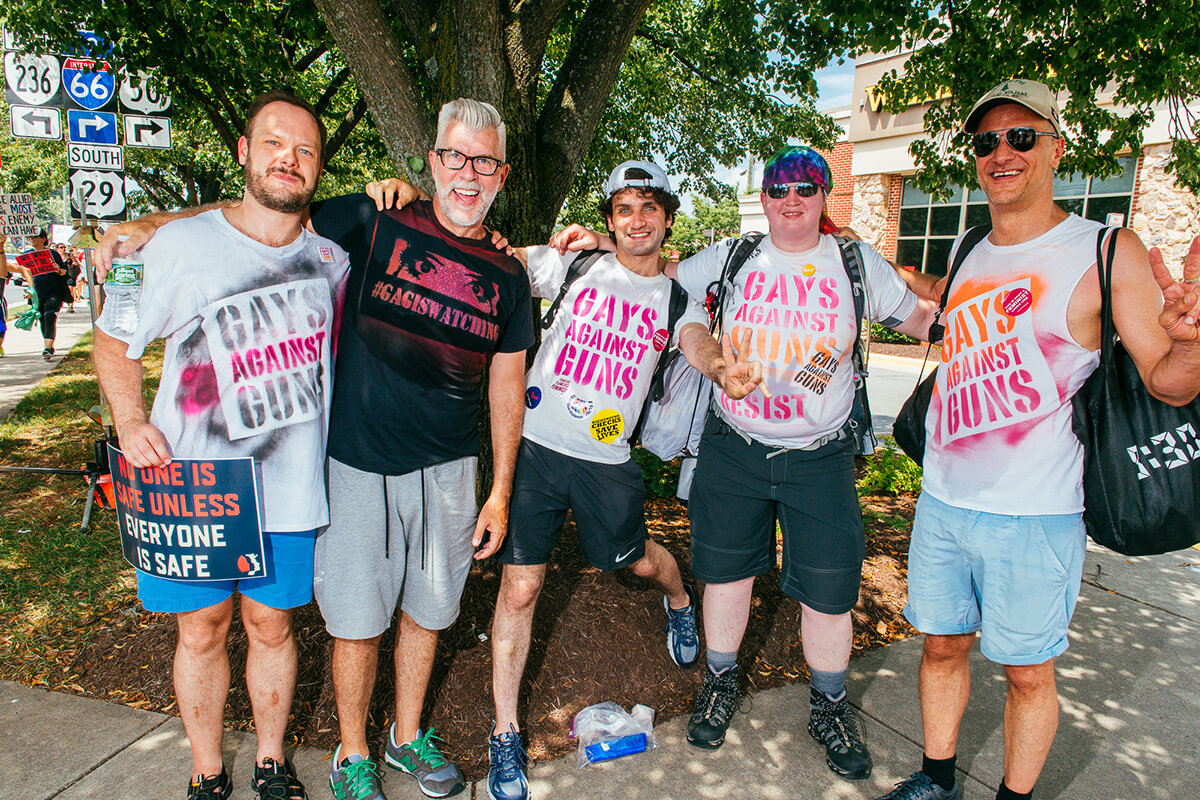 Above, members from both the New York and D.C chapters of Gays Against Guns (GAG) meet for the first time. People often ask GAG why gun violence is an LGBTQ issue—a question that highlights just how many people don't realize that gun violence disproportionately affects LGBTQ people.
The leading cause of gun deaths in the U.S is suicide, and the LGBTQ community has unusually high suicide rates. According to the The Trevor Project, lesbian, gay and bisexual youth are four times more likely to attempt suicide than straight youth, and 92% of transgender adults have attempted suicide by age 25.
LGBTQ people are also the most likely minority to be victims of a hate crime (The New York Times), a statistic that was tragically reflected in the Pulse nightclub shooting—the deadliest mass shooting in modern American history.
"Hands up, don't shoot" has become a widely used slogan and hand gesture birthed as a response to Michael Brown being fatally shot by a police officer on August 9th, 2014. It continues to be used during incidences of police brutality. Here, a protester playfully combined the phrase with the 'pussy' hat that has become the unofficial symbol of the Women's March and Trump resistance.
This sign, like the march itself, embodies the spirit of collective minority resistance that has arisen in the past few years.
Thanks to a crew of incredible teenage girls, orange has become the official color of the fight against gun violence.
After Hadiya Pendleton was shot in the back by a police officer who mistook her for a gang member from afar, people have begun using orange to honor her and others who have died under similar circumstances. The color is a reference to the gear worn by hunters in the woods to avoid being shot or harmed.
Now every year on June 2nd, thousands of Americans wear orange to draw attention to gun violence on Gun Violence Awareness Day.
As a social media coordinator at Gays Against Guns, I am constantly posting from rallies, marches and actions. People often tell me to "get off my phone and be present," a narrative that I reject entirely.
The definition of a direct action is "any action seeking to achieve an immediate or direct result, especially an action against an established authority or powerful institution, as a strike or picketing." How can we achieve a "direct or immediate result" if nobody knows what we're doing? The power to broadcast our own actions without the the media's filter—to tell our own stories—must never be underestimated.
So stop telling me to "get off my phone" :).
We have too often seen religion used as pretext for oppression, but at this march there was a liberal religious presence that was quite the opposite of oppressive and instead found power in using faith as a tool for social justice.
While the 95-degree weather required me to wear a hat, you can bet I would have worn my hot pink Kippah if weather had permitted!
I marched for a while with a pastor from Connecticut. He expressed his anger at those whose use the bible as an excuse for bigotry. Here, a women who marched besides us reiterated those words.
The pastor told me, "How they twist and turn the words, I will never understand. It is all right there…thou shalt not kill, thou shalt love thy neighbor. I believe the religious left has a place in the resistance and I will continue to show up.
National co-chair of the Women's March on Washington, Tamika D. Mallory, spoke at the rally outside of the NRA headquarters before we marched. Mallory, who wrote an open letter to the NRA, said "We can't be afraid. We are already dying."
"There's nothing more to lose, because we are already in danger every day," she told the crowd.
The fight to obtain reasonable gun control and end gun violence can feel like a never-ending uphill battle. However, people still have tremendous power—even "superpower"—in their ability to vote. Here is a helpful guide to every member of congress and their stance on gun control.
Find out where your representative stands on gun issues — and fight back.