There was no ribbon to cut at the opening of Los Angeles' Trans Wellness Center, but yesterday's launch was as celebratory as it was intimate.
Around 50 people packed into a single room on the third floor of 3055 Wilshire Blvd., an art-deco inspired office building in Koreatown also home to a Bank of America and a credit union. The crowd was a mixture of advocates who had been working on the first-of-its-kind project for close to a decade and community members who had waited their whole lives for a space dedicated exclusively to their needs.
Mariana Marroquin, who will serve as the program manager for the Trans Wellness Center, says when she came to the United States 20 years ago after seeking asylum from Guatemala, she hadn't heard the word "transgender" before.
"All I knew was that I needed to survive but I didn't know how," she told the jubilant audience on Tuesday.
Marroquin was lucky enough to get connected to the resources she needed to thrive in a new country after making the acquaintance a group of LGBTQ advocates passing out condoms at a club in West Hollywood. She was able to find a community, get a job, and get access to care.
But as Marroquin argued in a powerful address, the health and well-being of trans people "goes beyond learning how to use a condom and get tested."
"How are you going to get tested if you are hungry?" she asked. "How are you not going to engage in survival sex work if you cannot get a job where you are respected for who you are? How are you going to take medication if you feel your life doesn't matter? How are you going to leave that abusive relationship if you're going to end up homeless?"
The trans community faces extreme health disparities and discrimination in nearly every aspect of their lives.
Data from the National Center for Trans Equality (NCTE) shows that transgender people experience pervasive workplace discriminationthree times more likely than the average person to be unemployed. One in six respondents to a 2015 survey claims to have been fired from a job due to their gender identity.
Because of the difficulty in finding and keeping employment, 30 percent of trans people say they've been homeless at some point in their lives. Additionally, one in eight individuals says they lacked stable housing in the past year.
Marroquin told INTO that the Trans Wellness Center hopes to address the myriad challenges trans people face through its programming.
"One of our core programs will be working with trans women sex workers coming out of incarceration to support them in establishing a resume and getting engaged in gainful employment," she said in an email. "It will also include housing vouchers and intensive case management while the individual is enrolled in the program."
"Additionally, we will be offering individual and group mental health counseling by specially-trained clinicians to establish a supportive space that helps to increase self-esteem and support community building," she continued. "Trans individuals are at particularly high risk for HIV, and all of our services will include connecting those at risk to HIV testing, HIV care, PrEP and other support services."
The Trans Wellness Center will also provide mental health programs and legal aid services, as well as hormones and gender-affirming transition care.
Although the project will be supervised by the Los Angeles LGBT Center, it represents a collaboration between several community organizations and health centers: the Asian Pacific AIDS Intervention Team (APAIT), Bienestar, Children's Hospital Los Angeles, Friends Community Center, and the Trans Latin@ Coalition.
"This has been a coalition effort every step of the way," said Lorri L. Jean, CEO of the Los Angeles LGBT Center, who adds that the partnership is "truly historic."
"This center's opening is the culmination of thousands of days of visioning, deliberating, debating, planning, and negotiatinga lot of negotiating," added Mario Perez, director of the Division of HIV and STD Programs at the County of Los Angeles Public Health."
"For our county and some of our most impacted communities, this is a moment for renewed optimismtempered by still uneven progress across many health, economic, and social indicators," he said. "This is an era of unprecedented HIV prevention, care, and treatment opportunity checked by an increasingly volatile and unpredictable political and funding environment that threatens health care systems and access patterns."
The remark was eerily prescient: Just as the Trans Wellness Center opened its doors Tuesday, the Trump administration announced its intention to rollback Section 1557, a set of anti-discrimination protections intended to prevent bias against LGBTQ people in health centers.
This decision could have a grave impact on the ability of queer and trans individuals to access care, especially considering that these populations already report disproportionate discrimination in medical settings.
According to NCTE, one in three trans people have been harassed by a healthcare provider, while 55 percent were denied transition-related surgery.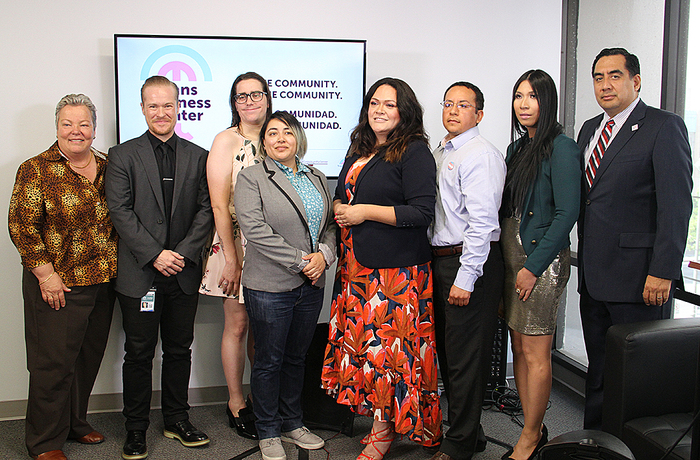 Perez claimed these continued obstacles are a call to action.
"This is no time for apathy and complacency," he told the crowd. "This is a time for vigorous and positive action. Today let us renew our work to address the stigma, social injustices, and discrimination that continue to create health disparities."
But for Marroquin, the milestone health center is a sign of the progress the community is already makingeven in the face of overwhelming odds.
The program manager recalled a story in which she was walking to the hospital and a little girl came up to her and asked Marroquin if she's transgender. Before Marroquin could even open her mouth to respond, the youngster exclaimed, "I'm like you."
To girls like that young woman, Marroquin responded: "We see you."
"We have been telling our stories, educating ourselves, and marching along with others fighting for our rights," Marroquin said. "It was about time to have our own center."