Some of the cinema's most unforgettable characters have been the ones we love to hate, making our jaws drop and our eyes widen in disbelief. From the cunning and conniving to the delightfully deranged, these characters have left an iconic mark on the film world. In this article, we look closely at some of the most iconic, conniving, and unapologetically bold female characters who've graced the silver screen.
So, let's grab some popcorn and on the journey to compile the ultimate list of movie bitches:
Kathryn – Cruel Intentions
Our high school idol, coked-up Kathryn (Sarah Michelle Gellar) snorts her nose candy through a crucifix and tries to shag her hot step-brother, all while making her schoolgirl uniform look high-end. Plus, we love a girl who knows what she wants: TO GET LAID. Trust blonde bimbo Reese Witherspoon to screw it all up.
Debbie – Addams Family Values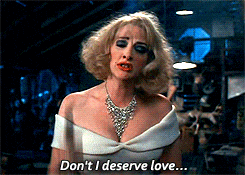 Poor Debs (Joan Cusack). She just wanted a few nice things. And love. What did she get for her troubles? A marriage to that potato, Uncle Fester, a MAL-I-BU BAR-BIE from her parents and, in the end, electrocuted. WHAT ABOUT DEBBIE?
Nancy – The Craft
Another misunderstood angel, Nancy (Fairuza Balk), just wanted to get out of her trailer trash hell and have a little magical fun. What happened? Bloody goody-two-shoes Sarah shit all over her plans and got her locked up in the booby hatch. Oh well, at least you look fierce, Nancy.
Rebecca & Gladys Leeman – Drop Dead Gorgeous
All Becky (Denise Richards) and Gladys (Kirstie Alley) wanted to do was win a little beauty pageant. Is that so bad? Even if it did mean bumping off the competition to do so. Good news: Becky DID win. Bad news: she got torched inside the belly of giant swan, while murderous mastermind Gladys is now some big Bertha's bitch in the state pen.
Regina George – Mean Girls
Regina (Rachel McAdams) worked out before any of us that Lindsay Lohan is nothing but trouble. The bitch got her mowed down by a bus, and she ended up attending her prom in a spinal halo. But don't cry for our bitchy queen and Mean Girls royalty Regina: a quick trip to TMZ now will tell you which of the two ended up on top. Sorry, Linds.
Amber – Clueless
Cher didn't even do her assignment! How was Amber (Elisa Donovan) supposed to do hers?
Miranda Priestly – Devil Wears Prada
Miranda (Meryl Streep) pretty much redefined Head Bitch in Charge. That is all.
Courtney Shayne – Jawbreaker
"Satan in Heels" Shayne (Rose McGowan) wasn't going to let something like an accidental murder fuck up her life. I mean, what about prom?
Shelley the Barracuda – First Wives Club
Though we loved "Princess Pelvis" Shelley (Sarah Jessica Parker), she made the fatal error of crossing Bette Midler. Sorry Shellz, you mess with the Bette, you get the horns.
Regina – Beethoven's 2nd
So basically snappy dresser and Jersey girl Regina (Debi Mazar) was supposed to put her life on hold because two dogs wanted to fuck? Ridiculous. Debbie, we're so sorry your beautiful jumpsuit got ruined in the name of dog sex.
Christy Masters – Romy & Michele's High School Reunion
No sympathy for this one. Christy Masters (Julie Campbell) made our spirit animals Romy Michele sad while they were dressed in their amazing Madonna outfits. We hope your baby DID look like a monkey.
Gail Weathers – Scream
Journalist witch Gail (Courtney Cox) wrote the book on exploiting other people's misery for your own fabulous gain. She'll send you a copy!
Ultimate movie bitches wrap-up
From Regina George's take-no-prisoners attitude to Miranda Priestly's icy elegance, these movie bitches left us shocked and entertained. Our appetite for more of these iconic characters and their stories remains insatiable.
For a regular dose of entertainment and insights into the fascinating world of pop culture, don't forget to subscribe to the IntoMore newsletter!
Related:

Wish we could say we were surprised.

In the upcoming mystery thriller "Femme," drag queen Aphrodite gets even with her attacker.