Movie bitches: we love them and simply can't get enough. What's better than a woman who will read you for filth and then just leave you hanging there gasping for breath as you admire her rings? Nothing. There's nothing better.
We all know Disney (cursed be thy name) may not be able to do some things right, like, you know, supporting gay people, but if there's one thing they know how to do, it's create an amazingly heinous bitch who will reign supreme over all over bitches. The Evil Queen? Maleficient? Yzma, anyone? Iconic.
But there are a few who are less iconic than they should be, and we're here to remedy that. Because lord knows someone has to. 
1.  Madame Mimm
First up is Disney's answer to the powerful S&M witch Morgana La Fey: Madame Mimm from 1963's The Sword in the Stone. This woman is everything: her hair is always a mess, she's purple, and she's sometimes known as the "mad" Madame Mimm because she's got a few screws loose. But riddle me this: if you were a strong forest witch living in Arthurian England, wouldn't you feel mad, too? I know I would.
Mimm is a colorful, shape-shifting imp with a penchant for driving big daddy Merlin mad. The best thing about her, however, is surely the fact that although—much like my bitch Ursula—she can change into a conventionally hot woman at the drop of a hat, she doesn't want to waste her time doing that. Instead, she wants to run around cackling and tormenting people just to get back at the male-dominated world of 5th-century wizardry. Stick it to the man, bitch!
Catchphrase: "Hee hee hee hee hee" 
Power level: High: she can transform into whatever she wants. 
Best line: "Looks like someone's sick. I hope it's serious!"
2. Madame Medusa
Look, you don't get to be called "Madame" unless you know what the fuck is up. Just ask my good bitch Madame Mimm, who worked hard to earn the "Madame" title. Madame Medusa, from the 1977 film The Rescuers, is a fiery-headed lover of JEW-ELLLLS and hater of children. So basically Miss Hannigan but slightly more relatable. I'll be honest: I love everything about this woman, from her bright red halter gown to her pet alligators to her utter refusal to wear a bra to her henchman of choice, a stammering simp who she most definitely pegs on the reg. Basically this woman is living my dream lifestyle and I'm very burned up about it. 
Catchphrase: "My precious pets!"
Power level: Fairly low, but she could kill you with a look. 
Best line: "I want that diamond. I've got to have The Devil's Eye."
You and me both, babe. 
---
3. Lady Tremaine
Here she is: the top to end all tops, the dominatrix du jour, the woman of every simp's dreams. She rocks a bold lip, has the best hair ever, and delights in delivering the most withering stare known to man. Not only does Lady Tremaine make Cinderella's life a living hell just because she's hotter than her own daughters (huge mood), she takes matters into her own hands every time these bitches step out of line. And by bitches I'm of course referring to the King and his bitch-in-chief, the Grand Duke. Lady Tremaine is a force to be reckoned with, and if you have any kind of mommy issues whatsoever, you definitely see her in your dreams, armed with a riding crop and poised to step on your face. 
Catchphrase: "Cinderel-LA!"
Power level: More powerful than any enchanted seductress.
Best line: "HOLD YA TONGUE." 
---
4.  Mary Poppins (Julie Andrews version)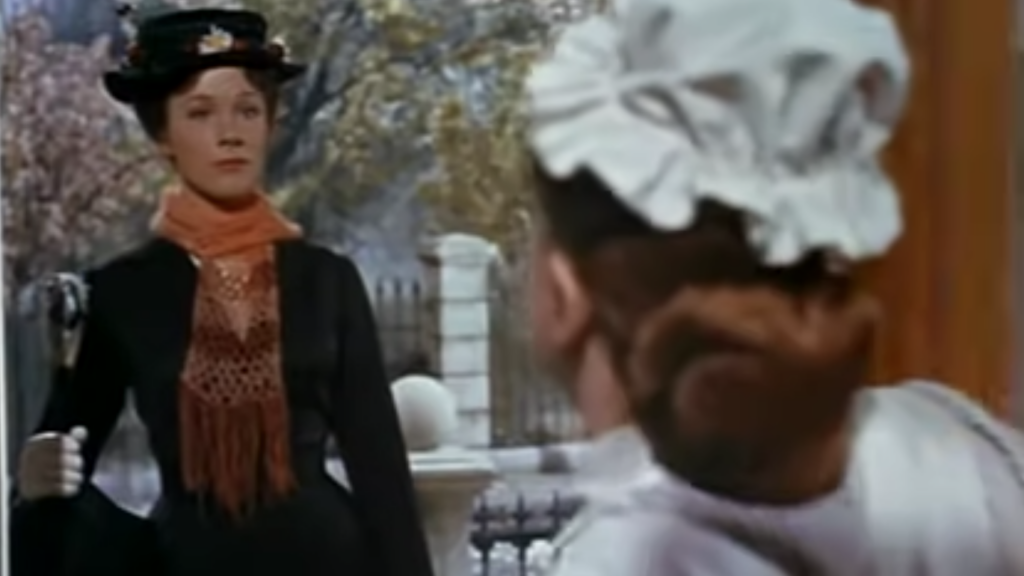 Everybody's favorite nanny is surprisingly cruel when it comes right down to it. Sure, she can pull shit out of her bag and whisk you off to an animated paradise with Dick Van Dyke (who she may or may not be fucking?) but let's not forget that the defining detail of Mary Poppins is that she leaves you flat after "fixing" your broken family or whatever. Rude! She will also never hesitate to bite you with that parrot umbrella. 
Catchphrase: "Practically perfect in every way." 
Power level: Very powerful, controls the weather, seemingly does not age. 
Best line: "I am kind, but extremely firm."
---
5.  Mary Poppins (Emily Blunt version)
When Mary Poppins returned to the spotlight in 2019's Mary Poppins Returns, no one was prepared for the 2-hour acid trip that followed. Not only is Emily Blunt's Mary Poppins fully obsessed with how hot she is (good for you!) she makes it a point to lie about absolutely every fantastical adventure she drags those kids though, including the point where they visit Meryl Streep who for some inexplicable reason has a Russian accent. Gaslighting kids into thinking they DIDN'T just swirl down the bathtub drain and into the sea? How dare this bitch! I love her. 
Catchphrase: "Close your mouth, Michael, we are still not a codfish." 
Power level: Again, very powerful. 
Best line: The life-ending stare she gives to that cartoon penguin.