Last night's "Space, the Final Frontier" episode of The Other Two showcased some very familiar names in tweets, following Cary Dubek's buzzworthy fictional casting as Globby in Disney's Haunted Buddies 4—their "first unapologetically gay character."
Now, we won't spill any major tea about the episode here, but we simply must dish about a little Easter egg that we spotted.
The scenes we're fixated on are part of a montage showcasing Cary's press circuit after the groundbreaking news sends the internet into a frenzy. And naturally, gloriously gay Cary made headlines on all your favorite LGBTQ+ media sites!
The Other Two Easter egg in "Space, the Final Frontier"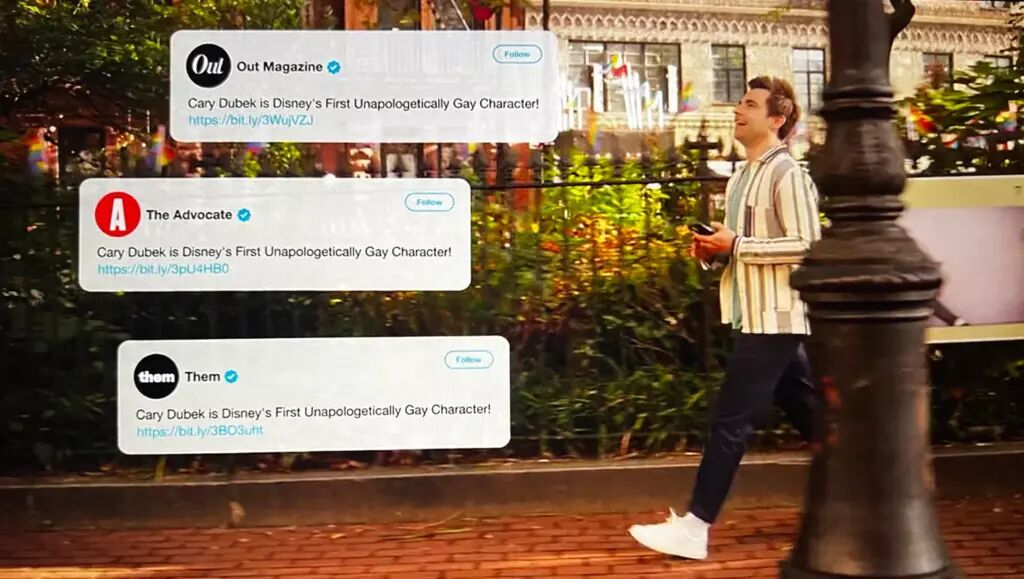 "Cary Dubek is Disney's First Unapologetically Gay Character!" each of the tweets that flash on the screen reads. But it's the mysterious Bitlinks trailing behind each headline that have us gagging…
Being the curious and marketing-savvy queen that I am, I naturally paused the scene, whipped out my phone, and worked my way through each link to see what happened.
And honey, brace yourself, because each of those short-links led to different Wikipedia pages related to The Other Two!
But what about Chase Dubek?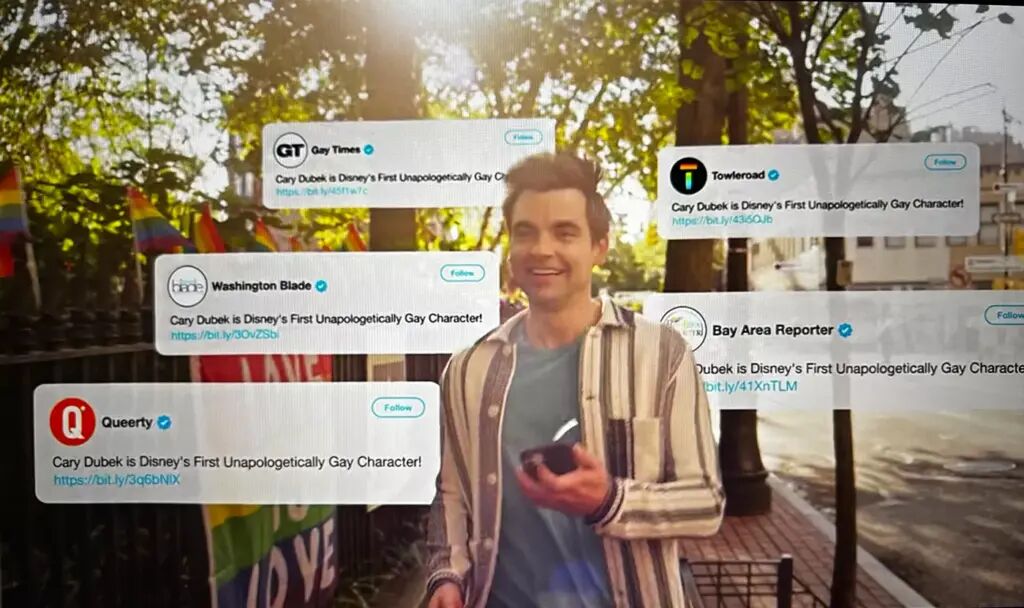 We're not sure if it was an accident or not, but Bay Area Reporter's link doesn't seem to go anywhere (https://bit.ly/41XnTLM).
If I were to take a wild guess, I'd say it would've gone to Case Walker's Wikipedia page—the actor who plays the younger brother, Chase Dubek, in the show.
Related:

'And Just Like That' returns to Max on June 22, while Kim Cattrall's cameo will take place in August. 
Alas, upon further sleuthing, it turns out Case doesn't have a Wikipedia page, so that might explain the broken Bitlink.
Get your binge on with The Other Two on Max
If you haven't already dived into the third season of The Other Two, it's high time you catch up by streaming it on Max. We're living for the queer energy and guest stars pulsating through this show, and last night's episode didn't disappoint.
Those sneaky Bitlinks were so masterfully hidden yet meaningful. It's clear that the producers put their heart and soul into every detail of the show.
We can only hope for more brilliant moments like this as we continue to follow Cary Dubek and the rest of the Dubek crew on their fun and chaotic journeys!
Don't forget to subscribe to the INTO newsletter to stay up-to-date on all things LGBTQ+ entertainment, news, and more!
Related:

Discover the best LGBTQ+ TV shows to stream. From classics to new hits, our list offers queer representation and diverse stories you'll love.
Read More in Entertainment