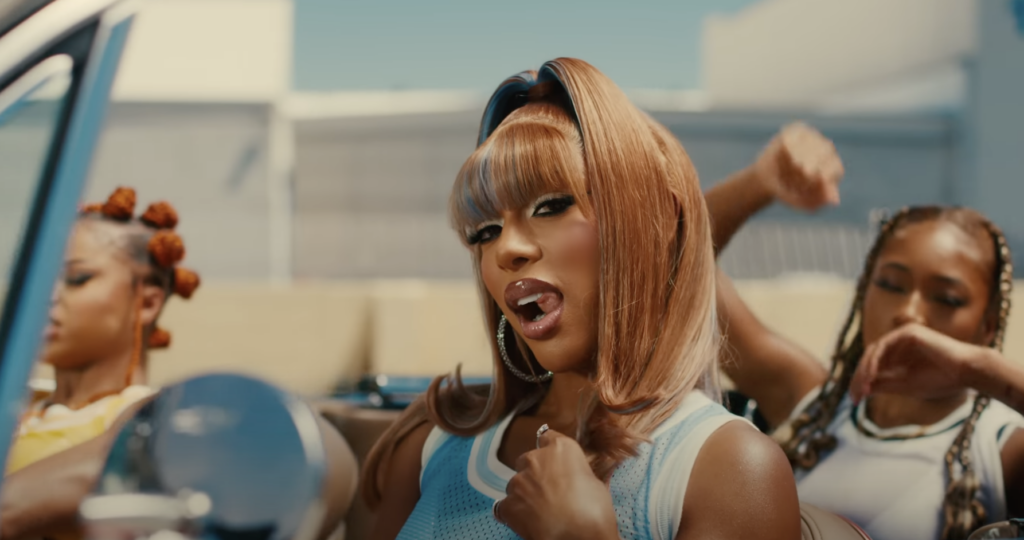 Victoria Monét is done being the humble type and is confidently ushering in her "Jaguar II" era with "On My Mama".
The internet was set ablaze by Victoria's latest bop. "On My Mama" harkens back to the days of the late 2000s full of tall, white t-shirt swag, custom grillz, candy paint on cars, and Southern decadence in hip-hop. The song even samples the 2009 hit "I Look Good" by rapper Chalie Boy, who makes an appearance in the music video. The single of her upcoming Jaguar II project is fire, but the music video sent fans into a frenzy.
This bisexual baddie is a force to be reckoned with. So, here are 5 moments where Victoria gagged us in her latest music video.
A Family Affair
Victoria gets it from her mama. So it wouldn't be a music video without an appearance from "Mama Monét" herself. Also, Victoria is a mom too, and her daughter Hazel made a lovely little cameo and even showed off some of her vocal ability. Talent runs in the family.
Related:

Looks like Keke Palmer is getting the last laugh and another check from this situation.
Meme Magic
Ok, this meme of two women walking smoothly, yet fiercely, in a parking lot purse first had Black Twitter in a chokehold for a moment. Victoria said we needed it to come back. So, she gave it a comeback and it's giving.
She also added a few more meme references for fans to spot as well.
She even did this one lol pic.twitter.com/40R0ughTe9

— ATLien SUPERSTAR 👽🪐💫💎 (@tallyohhh) August 15, 2023
Southern Decadence
While Victoria is a West coast girl, this music video is for all of the Southern girlies. In "On My Mama", dancers donned solid colored t-shirts down to their knees, basketball jerseys, long chains, and fitted hats performed dances from popular late 2000s hits like "Walk it Out", "Swag Surfin'", and "Snap Yo Fingers" at a house party, in front of vintage cars, and corner stores. Victoria, being the singer/songwriter/dancer triple threat that she is, showed off her slick dance moves reminding us all why we loved this era of hip-hop and R&B so much.
Paying Homage to the R&B Greats
Victoria is an R&B darling and her music takes influences from soul, funk, pop, and 1990s and 2000s R&B. So, she paid tribute to two of the new millennium's finest R&B stars, Mya and Ciara. The Carolina Blue jersey dress was a shoutout to Mya's "Best of Me" collaboration with Jay-Z and the beginning of her video was a nod to Ciara's "1, 2 Step" and "Goodies" era.
And it looks like Ciara approves.
Unmatched Choreo
If Victoria's moves look familiar, then you might be catching on to choreographer Sean Bankhead's signature style. The queer choreographer has worked with Beyoncé, Doja Cat, Cardi B, and Lil Nas X, to name a few. But most notably, his work gained even more popularity after choreographing Normani's dance moves in "Wild Side". He brought that same energy to "On My Mama" and it's a serve.
Related:

Victoria Monét said, "where there's 'Smoke', there's a fire music video with it"
Read More in Entertainment
in Your Inbox

Subscribe to get a twice-weekly dose of queer news, updates, and insights from the INTO team.