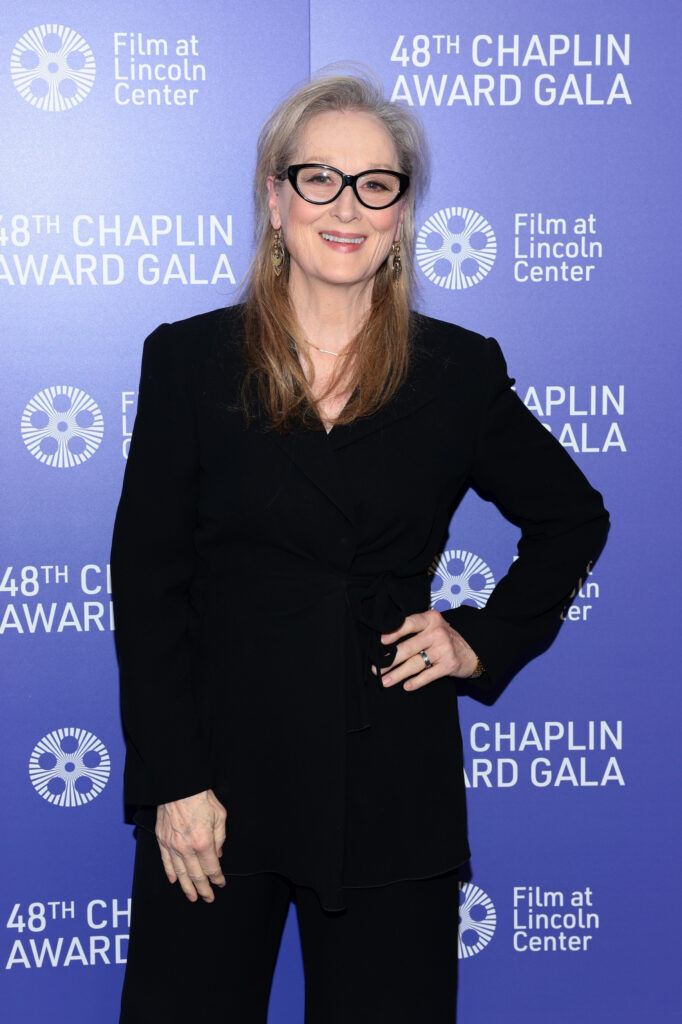 Meryl Streep is hailed as one of the best actresses of her generation and her movies have given her a large queer fanbase.
The acclaimed actress celebrates 74 years around the sun today and the world has been blessed by her acting talents for decades. The Yale School of Drama trained actress has delivered outstanding performances in films like Doubt, Kramer vs. Kramer, The Iron Lady, and Julie & Julia, and many of her iconic performances have easily become a part of queer canon. And while many queer fans have been obsessed with her accent versatility and deep acting ability, she has also been a staunch supporter of LGBTQ+ rights and has the 2017 Human Rights Campaign Ally for Equality Award to prove it.
To celebrate this acting icon's birthday, take a walk down memory lane with some of her roles that have won the hearts of the queer community.
Related:

The role represents Streep's return to television since the second season of Big Little Lies.
The Devil Wears Prada (2006)
This one goes without explanation, but we would be remiss to not discuss Streep's role as super editor Miranda Priestly in The Devil Wears Prada. With many widely assuming her character is based on Vogue editor-in-chief Anna Wintour, Streep delivers her lines with ice in her veins and a sickening gaze. Sure, she put Anne Hathaway and Emily Blunt's characters through hell, but we wouldn't have the famous cerulean sweater speech added to queer discourse if she hadn't.
Angels in America (2003)
Streep won one of her several TV Golden Globe awards and her second Primetime Emmy award for starring in Angels in America. First a Pulitzer Prize-winning play by Tony Kushner, Angels in America revolves around six New Yorkers whose lives intersect during the HIV/AIDs crisis of the 80s. The HBO miniseries had Streep portraying several characters, including Mormon mother Hannah Pitt, ghost of Ethel Rosenberg, Rabbi Isidor Chemelwitz, and Australia, one of the angels within the series. Streep recalled the miniseries as an "important piece of history" and one of the most important acting opportunities she has had.
Death Becomes Her (1992)
Death Becomes Her is a queer classic that sees Streep deliver campy one liners fabulously. Streep portrayed narcissistic Broadway actress Madeline Ashton opposite Goldie Hawn, who played her best friend Helen Sharp, as the two vie for the affections of Bruce Willis' Dr. Ernest Menville. Since debuting in 1992, Death Becomes Her has garnered plenty of queer support and many drag performers have done drag versions of Madeline and Helen. Even RuPaul's Drag Race had a Death Becomes Her-themed runway on Season 7.
Big Little Lies (2019)
Another HBO series on the list, Big Little Lies gave audiences an inside look into the ultra passive-aggressive lives of the wealthy inhabitants of Monterey, California. Streep joined season two of the limited series as Mary Louise Wright, the mother of the late Perry Wright (Alexander Skarsgard) and thorn in the side of his widow Celeste Wright (Nicole Kidman). The show already packs several Hollywood heavy hitters, like Kidman, Skarsgard, Reese Witherspoon, Laura Dern, Shailene Woodley, and Zoe Kravitz, but Streep, like she does in every role, stood out amongst the crew. Honestly, who can forget her blood-curdling scream scene that has now become a staple gif on social media.
Mamma Mia (2008)
Last, but certainly not least is Mamma Mia. The jukebox musical film tells the story of a young woman (Amanda Seyfried) inviting three men (Pierce Brosnan, Stellan Skarsgard, and Colin Firth) who could be her father to her wedding, much to the chagrin of her mother Donna (Streep). Based on the songs of Swedish supergroup ABBA, Mamma Mia is full of drama, camp, and music. Additionally, the film shows off Streep's musical talents, namely in the titular song, in one of the several musical films she has done.
Related:

It's pretty clear how loved actress Gillian Anderson is by the queer community.
Read More in Entertainment
in Your Inbox

Subscribe to get a twice-weekly dose of queer news, updates, and insights from the INTO team.