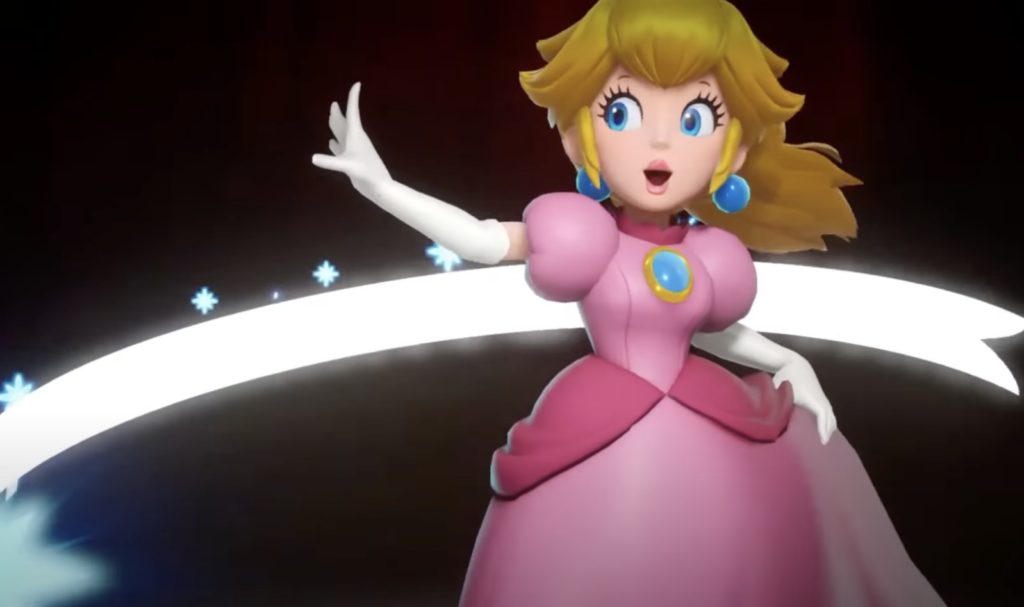 Super Mario Bros.'s Princess Peach is finally getting her own video game for Nintendo Switch, her first since 2005's Super Princess Peach for Nintendo DS. So now that the ruler of the Mushroom Kingdom's solo game is in the works, what about a few other queens who deserve their solo video game shine?
On Wednesday, Japanese video game giant Nintendo delivered a surprise announcement of its untitled Princess Peach project for the Switch. During its latest Nintendo Direct Stream, the company teased some gameplay footage with the damsel-in-distress turned magical heroine traversing through a theatrical stage-themed environment. Princess Peach was front and center fighting enemies and making time for a quick costume change from a pink dress to a white one, because there's always time for an outfit slay. Princess Peach's solo Switch game is on the horizon, but there's definitely room for more video game queens to have their solo video game throne.
Previous releases have centered on heroines across different consoles. The Last of Us: Part II, the Metroid franchise, and the Horizon franchise have all focused on badass women leads. Also, video game franchises that focused on men have created popular spin-offs like Final Fantasy X-2 where women were the center. The proof is there and the collection of queens in video games is there too.
So, here are five video game queens who deserve a solo video game.
Related:

Need to queer up you gaming in June? Humble Bundle has you covered with games on a budget so you can support charity while you play.
Princess Zelda (The Legend of Zelda franchise)
Another damsel-in-distress character, Zelda has been a central part of The Legend of Zelda franchise for many years. In certain video games within the series, she's been able to show off her magical prowess, as well as her immense physical abilities, like when she transformed into the alias Sheik in Ocarina of Time. Those same abilities transferred well to the multiversal, arena game franchise Super Smash Bros. The powers are there, the sickening outfits are there, so where is the video game?
Birdo (Super Mario Bros. franchise)
Another Super Mario Bros. character, fans can think of Birdo as a female equivalent to the lovable Yoshi. The pink creature first appeared in Super Mario Bros. 2 with the ability to shoot out eggs from her funnel-shaped mouth to stall Mario's progress in the game. Like Yoshi, Birdo has acquired her own cult following, which has expanded with queer fans deeming her a transgender icon. Well, it's time for this trans icon to have her own game that's outside of Yoshi's shadow.
Gwen Stacy a.k.a. Spider-Gwen (Spider-Man franchise)
Spider-Man and his numerous versions have had video game adaptations. There's a video game for Peter Parker and one for Miles Morales, but where's Gwen Stacy a.k.a. Spider-Gwen's game? Gwen was first introduced as a love interest for Peter Parker, who eventually dies, but in another universe, she's a super spider-powered hero. With her star shining bright in the animated film Spider-Man: Across the Spider-Verse as a trans allegory, a starring role in the upcoming Spider-Woman spin-off film, and appearances in several video games, it's about time Spider-Gwen took center stage in her own video game.
Related:

The superhero "coming out" allegory is nothing new. But in Across the Spider-Verse, it is particularly poignant and, at times, heartbreaking.
Ahsoka Tano (Star Wars franchise)
The Anakin Skywalker-trained Jedi Padawan turned Jedi Knight Ahsoka Tano has all of the charisma, uniqueness, nerve, and talent for her own video game. Introduced as a supporting character in the animated film Star Wars: The Clone Wars, Ahsoka has become a main character in her own right within the animated Star Wars franchise. Since being introduced into the live-action Star Wars universe via The Mandalorian, played by actress Rosario Dawson, Ahsoka will have her own TV series on Disney+ soon. So why not give her a video game to pair with it?
Amy Rose (Sonic the Hedgehog franchise)
First created as a "Minnie" to Sonic the Hedgehog's "Mickey", Amy Rose is the loveable hedgehog madly in love with the "Blue Blur". Energetic and cheerful, with a scary temper, Amy has been a useful part of Sonic's team, alongside Tails and Knuckles, since her introduction in 1993's Sonic the Hedgehog CD. Her usefulness comes in the form of a giant mallet that she wields called the Piko Piko Hammer and super speed, like her love interest Sonic. Put all of that together, and you have a solo hero who can keep up, if not speed past, the famous hedgehog.
Read More in Entertainment
in Your Inbox

Subscribe to get a twice-weekly dose of queer news, updates, and insights from the INTO team.