Berlin's hottest club has everything: memes poking fun at its notorious exclusivity, a permanent line out the door, and yes, the likely reward of once-in-a-lifetime fun for anyone dedicated enough to get themselves in the door. I am not one of those people. Don't get me wrong, I love fun! But on a recent visit to Berlin, I decided that life (and my trip) may be too short for Berghain this time around. So I did the next best thing and hit as many cruise bars, clubs, and back rooms as possible in a few short (but also very long) nights.
My favorite bars in any city are those that may have been voted most popular at some point, but have since mellowed without losing their original charm. I look for places where regulars still perch on the barstools, out-of-towners can get a taste of neighborhood culture, and drinks aren't impossible to come by. Next time around, I've got my sights set on Berghain — and Kit Kat Club, Schwuz, and countless more — but I'll be sure to visit these favorites, too. Berlin nightlife pretty much goes all night long, so scenes may vary depending on the hour and your stamina
Möbel Olfe
You can spot a teeming throng of bearded otters through the fogged up windows of this drinking hall in north-east Kreuzberg. Popular on Thursday nights but buzzy all weekend, Möbel Olfe is a favorite of Berlin's alternative queer crowd and a popular stop for out-of-towners. Housed in an old furniture shop (look for chairs affixed to the ceiling) and tucked into a housing estate primarily occupied by Turkish families, it combines a friendly neighborhood feel with an attractive and eclectic crowd. Grab a beer on tap to blend in with the cool kids.
Grosse Freiheit 114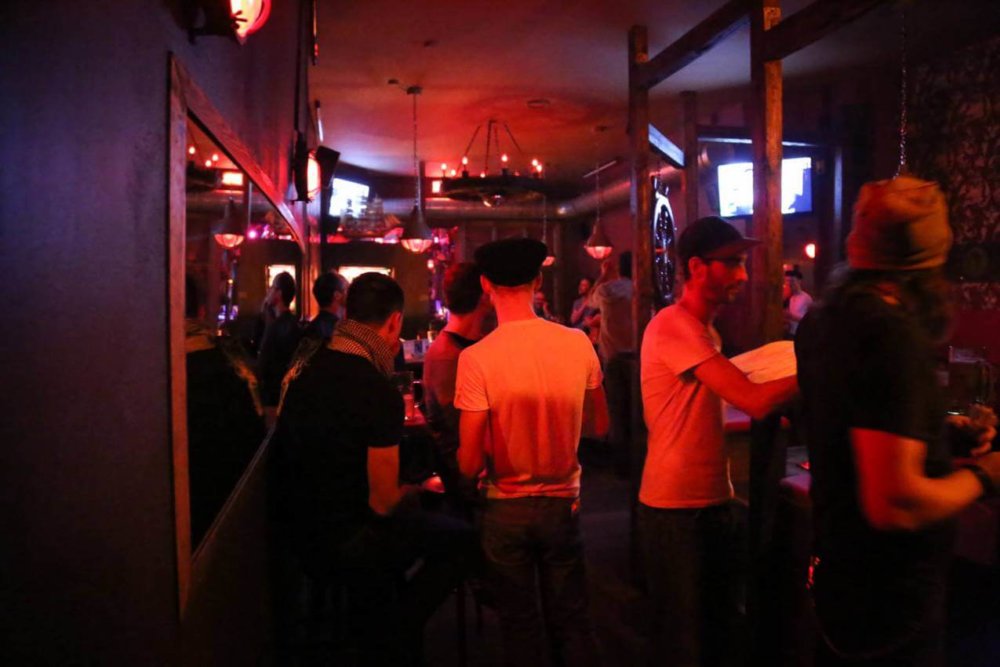 This maritime-themed cruise bar in the Friedrichshain district draws a chiller and more mature clientele. Named for a famous cross street in Hamburg's red light district, it's a friendly watering hole that aims to please an array of tastes. You'll find a welcoming smoke-free area up front, a modest backroom in the rear, and a smoking section with different kinds of fun and games (like darts) in between. Combining a pub-like atmosphere with the option to get frisky, it's the best of what Berlin has to offer.
Der Boiler
A visit to this renowned gay bathhouse is a must on any itinerary, even if you're only in town for the night. The three-story Kreuzberg establishment, tucked into an alley off Mehringdamm, includes Finnish saunas, a whirlpool, steam maze, private cabins, darkrooms, and bar and cafe areas. Despite the fun being had all over its sizable square footage, the place is impressively clean thanks to its industrious staff. Relax, go wild, or both in tandem — the friendly and personable vibe is different than many similar clubs, where urgency and exclusivity can spoil the vibe. Sunday afternoon and evening are particularly popular, but with a steady stream of international visitors, you're sure to make connections at any hour.
Tom's Bar
A mainstay of Berlin's gay Schöneberg neighborhood, Tom's Bar has been accused in online reviews of both going downhill and having a too-exclusive door policy. Personally, Tom's was my favorite spot for both its overall vibe and fun mix of patrons. Monday nights are 2-for-1 happy hour, which may have contributed to both its liveliness and my enjoyment. Though a second story backroom was under construction as of fall 2018, the existing area felt just the right size for meeting new friends and sharing a drink up front after getting acquainted. Bonus points for being named after Tom of Finland.
Woof
Gather all ye bears, otters, and fur lovers: Woof is where you'll find your kin. This Schöneberg den attracts a thick-bearded, leather-friendly crowd and the men who love them. A modest-sized rugged bar area up front gives way to a compact backroom with a few private stalls and communal spaces for show-offs and voyeurs to commune in harmony. The sports-bar vibe is in line with most places catering to bears and their admirers. A stone's throw from other Schöneberg favorites like Mutschmanns and Tom's, it's an ideal stop on a neighborhood crawl.
Ficken 3000
The meaning of this Neukölln club's name is not tough to translate and gives a pretty clear indication of the vibe. But even with an aggressive monicker like Ficken, this overtly cruisy spot draws an offbeat but genial mix of punky, scruffy guys looking for action in the basement backroom or just to feel the beat upstairs. Next to larger clubs or more happening bars, Ficken may feel relatively sleepy, but sometimes that's just the kind of pit stop you need in an all-night marathon.
Images via Facebook, Wikipedia, and official websites