Despite Thailand's famed sex industry, few visitors realize that the Buddhist country has obscenity laws prohibiting everything from prostitution to realistic dildos.
That means red light districts in Bangkok like Soi 11 and Pat Pong, notorious for their bar girls, massage parlors, and ping pong shows, are also home to street stalls selling knock-off Viagra, penis pumps, and unboxed sex toys of dubious origins. Besides the uncomfortable experience of buying them in the middle of sidewalk traffic, cheaply made toys are best avoided because of the serious health risks they carry. Typically made using materials that aren't body safe, bootlegged toys, typically sourced from China, have been linked to everything from cancer to kidney failure to bacterial infections.
For many, the solution is to buy toys abroad and smuggle them into the country, even though Thai customs classifies the import or export of "obscene objects/literature/pictures" as illegal. But based on the overwhelming amount of anecdotal evidence and advice online encouraging this method, it seems that Thai authorities aren't too busy inspecting luggage for dildos, cock rings, or whatever else falls under the vague label of "obscene."
For those who don't want to travel abroad or risk issues at the border, Bangkok's aptly named Hidden Closet offers a solution. But as the city, and possibly the country's, only erotic boutique, the cozy red-lit shop is more than just a place to buy a sex toy. With a mysterious social media presence, the space is tucked above an old-fashioned barber shop off an alley in the trendy neighborhood of Thonglor. Owner Oranan Tangpanitanon risks trouble with the law to do what might be seen as "obscene," but says she sees her shop as promoting a new kind of sexuality and confidence that she believes a new generation of Thai women are beginning to embrace.
"Traditionally, I think women in Thailand are not seen as equal to men," Oranan tells INTO, explaining her view of the country's sex culture and the prevalence of "bathhouses [where] married men go in order to relax themselves," while their wives wait at home. She also believes that fears about sex toys in the bedroom undermining masculinity have made it difficult in the past for many women to openly express their desires. She sees these conversations growing among Thai women, both young and old, and her goal is to provide a rare space that offers the tools and community to "help people enrich their relationships" and explore what makes them happy. While she counts various groups among her clientele, she especially sees the space fulfilling a need for women and couples, likening the intimate experiences shared in the shop to therapy.
Hidden Closet first opened six years ago when Oranan and a group of her friends began running it as a side project, selling what she describes as "a lot of edible stuff and not really mature [bachelor] gifts."
After two years it closed, in part due to a flood, "political situation," and the full-time demands of everyone's jobs. "[But] I was the one who managed social media, so I would still get messages every month," she says, as former customers continued to reach out asking for shopping recommendations.
In late 2016, after years of receiving messages that proved there was still a high demand for a sex-positive space in Bangkok, she quit her job and opened the shop alone. With its latex products and kink gear, she sees the new boutique as "more hardcore and direct" then its predecessor, a place for "the woman who knows what she wants."
"My shop is an erotic shop because I don't just sell dildos and vibrators. It's not just selling products–I want to empower everybody, of every gender, to have sexual wellbeing and be happy with their relationships. I'm trying to sell an experience, for people to come in and feel very intimate, very sensual. It comes in a package," Oranan says of her mission, gesturing to the racks of lingerie, rope, and specialty wear that line the walls, interspersed with polaroid images of people like Dita von Teese. Oranan's involvement in kink community events, like shibari (Japanese bondage) demonstrations in spaces across Bangkok, and her use of the shop to host gatherings like LGBTQ erotic poetry readings, are all part of that lifestyle experience.
She calls it "scary" when people use the term sex shop to describe The Hidden Closet, since the phrase is more likely to attract police attention and be considered obscene. The shop hasn't avoided notice of the authorities, but Oranan describes these police inspections as generally friendly warnings about what items need to be removed. So far, by following their recommendations, she's managed to stay open.
Still, "I don't know much about the law," she says. "It's hard to say what is okay and what is not okay [because the wording] of the law isn't totally clear. They're saying we're a Buddhist country and shouldn't be selling sex-related products, but everything is sex-relatedif you wear perfume and it smells really seductive, that's sex-related."
Rather than being intended as a catchall, she thinks this vagueness might stem from the fact that "there's a need" in Thailand for certain kinds of outlets, and rather than creating definite rules, which would mean stricter enforcement, it's easier simply to discourage behavior so that people know not to do it openly. This relates not only to her shop, but also the unclear wording around the country's prostitution laws. When officials tell her that something in the shop is inappropriate she removes it from display, but she also points out that other products that some might consider sex related, like latex and lingerie, have yet to receive any warnings.
"Traditionally, Thai culture is open behind the scenes," Oranan says, referencing places like backpacker party paradise Khao San and the country's full moon beach parties. Though these places, with their heavy drinking and partying, go against Buddhist principles, if they behave "discretely, and don't show it off to the world, that's [considered] okay." She points to the prevalence of street stalls selling overpriced and unsafe sex toys in districts where police generally turn a blind eye, and to the websites selling sex toys which she believes face less scrutiny because they aren't as visible to the public.
She sees herself floating in this grey area behind the scenes–offering a private oasis for shoppers in a way that's discrete and respectfully hidden. Rather than viewing her shop as a business, she sees it as a passion and calling. "I'm providing a service but based on the Buddhist standard–I'm offering people happiness, but I'm not offering sex; I'm not a prostitute house."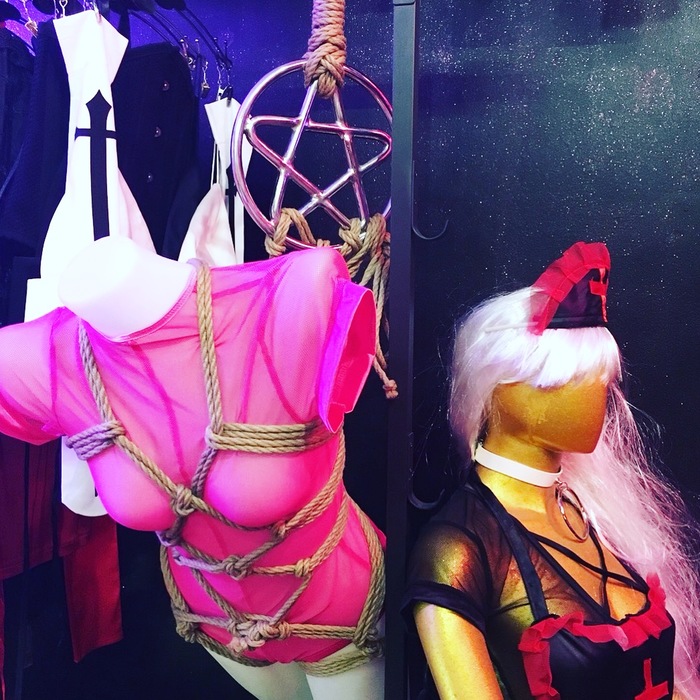 That doesn't mean the laws don't make her nervous. "I think it's risky. I [have to] watch everything on FB or Instagram that I post, I have to choose the photos, words, and hashtags carefully. Not use any sex words–that's where I have to be careful," she confides. After receiving warnings last year that her social media was being closely monitored, she deleted all of her posts including things like #sex or photos of rabbit vibrators. Small signs around the shop prohibit customers from taking photos "not because I don't want them to expose me [but it's about context]–if they write an [inappropriate] message and tag my shop, I'll get in trouble," she explains.
While this can make it harder for potential customers to find the shop, its low-key social media presence and word of mouth have been successful so far, and the number of Thai customers has increased enough that the split between locals and expats is now 50/50.
Still, Oranan takes these warnings in stride, removing the offending items and social media posts, so that she can continue to respect the unique balance between Buddhist law and Thai reality. While she does harbor some fear that the authorities might crack down, and recent years have seen the occasional raid of shops or stalls openly selling sex toys, "I think I'm doing something different here but not exposing myself too much," she asserts.
Sitting in a room filled with kink gear and gags that the police, at least for now, do not consider obscene, she again hints at the balance between open appearances and behind the scenes secrecy. "I have to be careful about what I display in my shop. So, I would choose to only display appropriate stuff here," she says, nodding towards the currently visible offering of toys contained in a single vintage suitcase display.
Her mission to create sex-positive exploratory spaces extends to an upcoming project, a boutique hotel hidden in a historical neighborhood across the Chao Phraya river. Aiming to offer lovers a private oasis, the five-room hotel will offer shibari workshops, feature artwork from local erotic artists, and of course, offer free rope along with complimentary shampoo and soap.
"Yes, there's that little dark thing that I have to be careful, but I think it pays off," Oranan says. "It's kind of risky this business, but it fulfills me. I'm doing what I want to do and also making people happy."
in Your Inbox

Subscribe to get a twice-weekly dose of queer news, updates, and insights from the INTO team.