The United Kingdom's capital is impossible to tackle in a single weekend. There are just frankly too many historical sites, museums, plays, nightlife venues, parks, and adventures to squeeze into three fleeting days. But that doesn't mean you can't try, you cheeky little thang. Here is a city composed by symphonies of diversity, sprinkled with the tokens of queer literary greats like Oscar Wilde and Virginia Woolf, and dare we speculate, Shakespeare?
In present day, it is a city catapulting to the horizon with a nightlife so varied, outre, and animated, that it may take months to finally catch up with the most recent pop up partyand as soon as you do, there's already a newer, cooler, hipper event you definitely don't even have a chance knowing about. But beyond these rich modern cultures, this is a city of surprising adventure and romantic parklife. While in town, get ready to clutch your pearls over the outrageous prices and when crossing the streetlook left, look right, and please do mind the gap when exiting the Tube.
Friday
4pmGetting Acquainted
The pep of Friday is best embodied as soon as work lets out and the weekend begins. London's pub culture energizes the entire city but may be busiest along the promenade of the River Thames. Start at the London Bridge and walk west towards the equally iconic London Eye. Sashay on the south side of the river; you'll pass the Shakespeare Globe Theater, the Mondrian Hotel (with a great rooftop bar, the Rumpus Room, if it's views your after) and enough pubs to keep everyone happy. Order a pint, socialize on the promenade, and cheers the weekend with a few new mates.
7pmNorth London Noms
Ceremony is a hot little number in North London serving an adventurous vegetarian menu that doesn't only attract plant-based dieters, but anyone looking to experience the zest of innovation. Patrons rave about the beautiful boutique space, crispy duck egg polenta, and the fleet of colorful cocktails. Oh yea- their loos have the snazziest flamingo and parrot wallpapers you'll see in your entire life.
9pm-The Best Shows in Town
Located on the East End, The Glory contains a pub, cabaret bar, and underground nightclub that pops off all week but is loudest on weekends. It's the venue to see some of London's most jaw-dropping creatives. Recent events include an all POC drag king show, Turkish Delight (a bilingual queer night), and a 50th birthday extravaganza celebration in honor of Kylie Minogue.
Saturday
9amPaddling the Thames
What better way to see the sites than by kayak? Kayak London offers half day excursions on the Thames and Little Venice Canals to help you sport the classics like Big Ben and in the least basic way possible. Work on your triceps and splash your friends as you paddle and take in London from a wet and wild vantage point.
10amReading is.
Tucked away in a corner in the Bloomsbury District is the historic bookstore Gays the Word, open since 1979.. The store is marked by a blue plaque recognizing LGBTQ activist Mark Ashton and inside is a marvelous collection of books that both impress (and arouse) the most scholarly queer. Besides it's books, the store is a historic landmark for queer rights in England where it was a communal meeting point, but also for its 1984 raid from the Customs and Excise which removed thousands of pounds of merchandise. Because of its historic importance, the store featured in the 2014 film Pride.
11amFrida Kahlo
The Victoria and Albert Museum of Art and Design leads the pack with a stunning array of exhibits. While a majority of the museum is accessible to the general public for free, a few exhibits, events, and talks require tickets. Currently, the belongings of Mexican artist Frida Kahlo displayed for the first time outside of Mexico in the exhibit "Frida Kahlo: Making Her Self Up" running until November 2018. Other current exhibits include "The Future Starts Here" and "Fashioned from Nature."
2pmPiping Hot Tea
There is nothing like tea in London. It certainly isn't breakfast or lunch, nor is it a heavy brunch or early dinner. No matter, just come hungry to the Hotel Royal Cafe for royal tea at the Oscar Wilde Bar– where it's rumored the novelist fell in love with Lord Alfred Douglas. The establishment also claims the tearoom is where David Bowie retired Ziggy Stardust. Enjoy the award-winning tea time ample with sandwiches, cookies, coffee, and of course, tea.
4pm- Street Tours
Unseen Tours was founded in 2011 with the goal of building an enterprise that helps combat homelessness in London while introducing tourists to the lesser known pockets of the city. Here's the gigarama: the company offers a variety of neighborhood tours by "homeless, ex-homeless, and vulnerably housed" guides who show their groups the unknown and looked over secrets of their neighborhoods. Highly recommended is the Shoreditch art tour.
6pmDeep Fried Halloumi
Camden's Oli Baba's has you covered. At this 364-day a year shack find one of London's greatest wonders deep fried halloumi served with za'atar yogurt, pomegranate molasses, and turkey chili. This is the snack of champions and the dinner of the shameless..
LatePop Up Parties
The best parties in London never stay put. Depending on the weekend, a plentitude of revelry await. One of the most progressive parties, Little Gay Brother, lands in town every so often and attracts a crowd that brings both lewks but also, nonchalance.
Ladies will consider dancing late into the night at one of the monthly rotating parties at The Ace Shoreditch's Miranda, with events like Aphrodyki, a party that "welcomes all women, trans and nb babes who love pop."
Sunday
11amMaltby Street Market
I know. The nightlife of London kept you out quite a bit later than you expected, babe. Recharge this morning at Maltby Street Market. A wealth of brunch options present themselves on Sundays from 11am-5pm. Located in south-east London this 8 year old market provides the perfect pick-me-ups from around the world, all in one convenient location. Highly recommended hangover cures are Dhan Waffles (imagine a waffle, a doughnut, and a cake in one) as well as African Volcano for you savory MFs.
12pmHampstead Heath Ponds
Up for a swim? Take the tube to Hampstead Heath and spend an hour walking among the 790 acre park. On the south and southeast corner or the park, three historic swimming ponds are flocked with swimmers and sunbathers, each complete with diving boards. There is the Kenwood Ladies Bathing Pond, The Highgate Men's Bathing Pond, and the mixed bathing pond. Highgate attracts a mixed but predominantly queer crowd that swims in speedos, short shorts, and boardies, while a few nudists lay on the concrete in a section of changing area. Whichever pond their in, Londoners cannonball their stress away and embrace the warmest days with the front crawl.
The Snugs
Fancy Pants The LaLit London
Located steps away from the Tower Bridge, The LaLit London is one of the city's most welcoming 5-star accomodations for the queer community as they spread their 2018 message of #purelove. All are welcomed to this exquisite 51-room boutique property (that was converted from a historic grammar school) by an affable and attentive staff. Hotel features include a tasty upscale Indian restaurant, Baluchi, two bars, a na'anery, and of course, a tearoom. Rooms from 260 GBP and up.
Goldilocks The Ace Shoreditch
The Ace Shoreditch may be the buzziest snugs in all of London. Located in trendy Shoreditch, the hotel is chock full of rock'n'roll interiors, a gym, a restaurant (which a string quartet performs in on Sundays), rooftop bars, and a very popular cafe. Best yet, the property's event space hosts a variety of queer programming like Naked Boys Reading and Aphrodyki, an all women's pop and R event. Rooms from 160 GBP and up.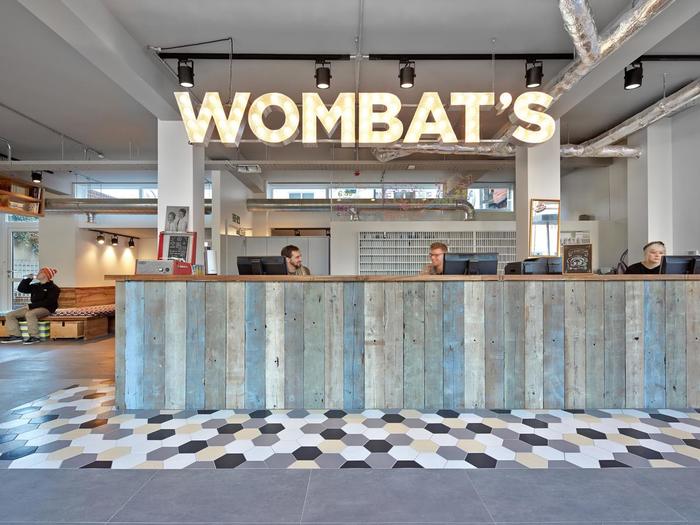 BackpackersWombat's London
There's a reason Wombat's City Hostel London is one of the best reviewed in the city. The quality to price ratio is off. the. charts. Rooms are astoundingly clean for a hostel, guests are sociable in the hostel's tavern, and one of the best features for a busy city hostel: room keys access room lockers for safe storage of all of your valuables. Beds from 26 GBP and up.