LGBT music lovers had a lot to celebrate when the2018 Grammy nominations were announced this morning, as some members of the community and many who support it were named as nominees. Both chart-topping superstars and backstage players were honored, and each of them brought something different to the table, showing that great music can be produced by anyone.
There are plenty of other LGBT musicians who deserved to be recognized this year who were overlooked, but the Recording Academy seems to be making an effort to be more inclusive with every passing ceremony, so hopefully, future presentations will feature an even more diverse group of nominees.
Here's a look at this year's Grammy-nominated singers, musicians, and songwriters who identify as LGBT (and the allies we love, too).
Lady Gaga
When she first broke into the mainstream a decade ago thanks to songs like "Beautiful Dirty Rich" and "Just Dance," it was the gay community that was supporting this up-and-coming dance-pop singer, and few could have predicted how successful she would go on to become. It didn't take long for Gaga to come out as bisexual, which she has sadly been forced to defend in the years since. The Grammy winner's Americana experiment Joanne has earned her two new nominations, bringing her career total to 19.
Perfume Genius
The out singer isn't technically listed on the nomination, but it's his album, No Shape, that garnered engineersShawn Everett and Joseph Lorge and master engineer Patricia Sullivan their Grammy nod for Best Engineered Album, Non-Classical.
Justin Tranter
The former Semi Precious Weapons frontman (who toured with Gaga when they were both trying to make a name for themselves as stars in their own right) has been busy behind the scenes in the music industry over the past several years crafting some of the most successful hit songs for a range of pop icons. This year, the glamorous rock star and pop songwriter is up for Song of the Year as a co-writer on frequent collaborator and friend Julia Michaels's "Issues."
Kesha
The longtime gay icon and bisexual woman has now finally received the love she's been seeking for years from the Recording Academy, collecting a pair of nods for her latest collection. Her powerful anthem "Praying" is nominated for Best Pop Solo Vocal Performance, and her comeback No. 1 album Rainbow will compete against Lady Gaga's Joanne for Best Pop Vocal Album. While her new music isn't as party-focused as her previous output, it's still fun, well-written, and if it means she might finally have a golden gramophone to place on her shelf, the change in sound was worth it.
Shane McAnally
One of the few openly gay musicians in the country music world, Shane McAnally is only nominated in one category this year, but he's actually up for two awards. The songwriter, who is one of the most sought-after talents in Nashville, co-wrote both Sam Hunt's smash hit "Body Like A Back Road" and Midland's "Drinkin' Problem," and the two are competing against one another for Best Country Song, a prize he's won before.
Kehlani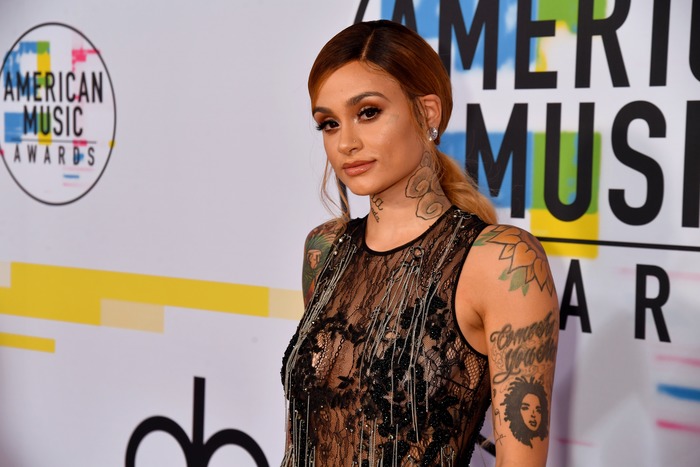 While many feel she was shafted and deserved more, R newcomer Kehlani has collected just her second Grammy nomination for her single "Distraction," which she says is about a woman she had a romantic entanglement with. Kehlani hasn't been shy about her bisexuality in the past, and it's wonderful to see a song about a woman having feelings for another woman be recognized in this manner.
Tyler the Creator
The eccentric hip-hop artist was nominated for Best Rap Album for his new full-length Flower Boy, which dropped this past summer. This is his first Grammy nom on his own, and it comes thanks to a record where he might have come out. On Flower Boy, the Odd Future group member raps about "kissing white boys since 2004," and while that line might seem fairly self-explanatory, beyond a few other hints, Tyler hasn't fully stated that he identifies as queer. Instead, he seems to be letting the music do all the talking.
Allies
In addition to the musicians mentioned above, there are dozens of others nominated for Grammys this year who have proven themselves to be allies, and some even did so with the music that was honored by the Academy this time around. Names like Jack Antonoff, K. Flay, Logic, and pop singers like Kelly Clarkson and Pink are all potential winners when the Grammys roll around in January once again.
Perhaps most surprising is Jay-Z's conquering of the awards, as his album 4:44 and the songs featured on it ended up snatching coveted slots in three of the four top categories. On the record, he features his mother Gloria Carter on the track "Smile," where he raps the line "Mama had four kids, but she's a lesbian / Had to pretend so long that she's a thespian," revealing to the public for the first time that his mother is gay. He may win several trophies for that record, which would be a big step forward for hip-hop.
Tune in to see who will win when the Grammys air live on CBS January 28, 2018 at 4:30 PM PST.