If the frenzy surrounding the upcoming Barbie movie has taught us anything, it's that dolls aren't just for kids. They help provoke inspiration, creativity, and play in us long after our preschool years are over. And some celebrities are not shy about making that known.
From Todd Haynes making an entire film using Barbies as actors to artists like Greer Lankton drawing from dolls for inspiration, here are some of the most glorious uses of dolls that we've ever seen.
January Jones Creates Quarantine Passion Plays
Remember the early days of quarantine, when no one had the slightest idea of what to do with themselves? Mark Duplass wrote a hilariously premature COVID opera, Vanessa Hudgens pissed people off when she said that old people should probably just die already: and what did queen January Jones do? Play with her dolls, of course. The "Mad Men" star has an impressive collection of Barbies, and a nation watched in stunned silence as Betty Draper put on a series of…plays? minisodes? experimental art pieces? using her dolls.
Related:

Greta Gerwig's 'Barbie' is the latest chapter in doll culture's queer-coded legacy.
Todd Haynes Enters the Dollhouse
In 1987, one certified gay genius by the name of Todd Haynes decided to make the finest Karen Carpenter biopic known to man. He called it Superstar: The Karen Carpenter Story, and he searched high and low for an actress who would truly fit the role. He found her in Barbie. In fact, he found all his actors in Barbie and Ken dolls: the resulting feature is a gay fever dream in which viewers are treated to Carpenter's final, tragic years of succumbing to a life-long eating disorder. It's an insane, moving, and truly original work from the director Velvet Goldmine and Safe, and one of the boldest casting moves in recent memory.
Greer Lankton Makes Dolls an Art Form
If you watched 2022's heartbreaking, incredible documentary All the Beauty and the Bloodshed, you might recall seeing the Downtown artist Greer Lankton among its large cast of characters. Lankton—a contemporary and friend of Peter Hujar and Andy Warhol—was a trans woman who made incredible life-sized dolls, often inspired by friends or people in the queer downtown scene. Lankton died in 1996, at only 38, but her legacy lives on at the wonderful Greer Lankton Archives Museum, where modern viewers can still discover her mind-blowing work.
Nicki Minaj Busts Out of the Plastic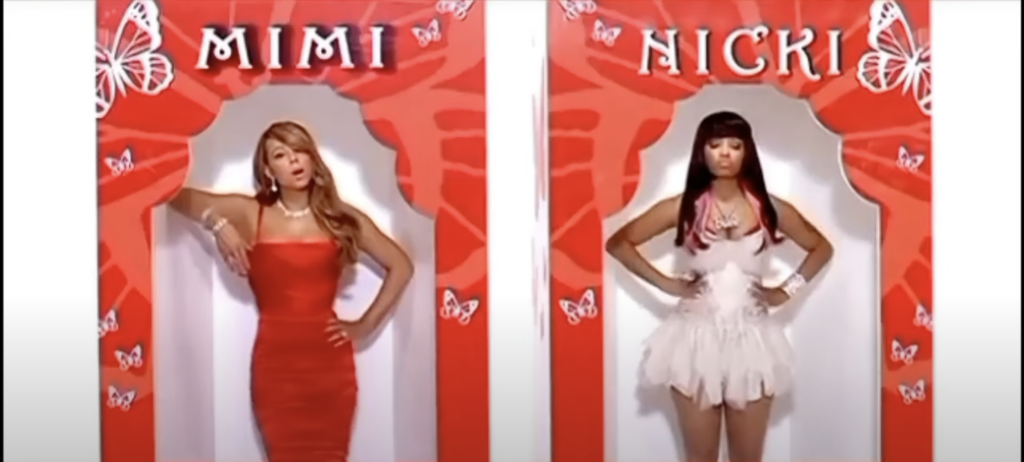 Back in 2010, when a young rapper named Nicki Minaj was working up to the release of a little album known as "Pink Friday," she was also appearing as a guest artist on some certified bops. Onesuch was the fantastic "Memoirs of an Imperfect Angel" B-side "Up Out My Face." The iconic video opened with both Mariah Carey and Nicki in Barbie packaging, and showed the icons busting out of the plastic to tell us all about a cheating lover who's been "sneakin' with the Deacon." What a moment, what a collab, what a duo of dolls!
Trixie Gives Us Decades of Dolls
We can't talk about dolls and celebrities without a tip of the pink visor to the living doll herself, drag icon Trixie Mattel. In addition to tricking out her very own Trixie Motel with vintage dolls of past eras and styling her own look on Barbie, Mattel's YouTube series "Decades of Dolls" gave us the rundown on doll history. We even got a celebrity edition! If there's anyone we can count on to remind us of a limited run of Clueless tie-in dolls, let's face it, it's Trixie.
in Your Inbox

Subscribe to get a twice-weekly dose of queer news, updates, and insights from the INTO team.