With the current administration hell bent on dividing our country from our neighbors to the south, there's no better time to drive across the Mexican border to explore the splendor of Baja California, where the beaches are inviting, the food is deliciously cheap and the people are friendly. Long gone are the days of a dangerous Tijuana, as the border town has jumped on the bandwagon of becoming a tourist attraction. Tijuana is just moments from San Diego and deserves more attention. And of course, just beyond TJ, Baja California is proving that the Mexico accessible by car (for border states) is just as worthy as the Mexico we all dream of flying to (Cabo San Lucas, Cancun, etc.). Check out these unique experiences you can drive to in Baja (or fly to via San Diego and then drive to).
Surf Camp in Rosarito
Just a 30-minute drive from Tijuana, Rosarito is home to some of the best surfing Mexico has to offer. Baja juts out into the Pacific and is exposed to storm-generated swells that can come from the North Pacific, creating some of the best surf on the west coast. When you stay at the Rosarito Beach Hotel, guests can surf the waves where the Mexican national championships were held! Don't forget to re-fuel post-swells with the region's standout delicacy – (cheap) lobster.
Craft Brewery Hopping in Tijuana
While Tijuana still evokes a vibrant nightlife scene, the city has also evolved into a hotspot for innovative craft beer that rivals its north-of-the-border neighbor, San Diego. The Plaza Fiesta craft beer district includes an open-air galleria with 15 craft breweries, many of which have opened in the past five years. Favorite breweries include Border Psycho, Fauna, Insurgente Brewery, and more.
Hike Through Giant Cactus in the Valley of the Giants in San Felipe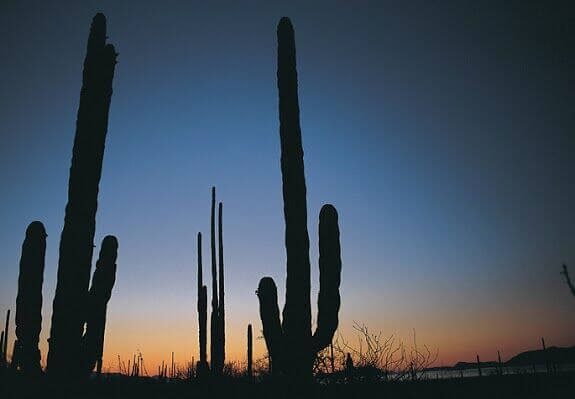 A short drive south of San Felipe, you will find the appropriately named park called Valle de los Gigantes. The valley is home to an impressive forest of cardón cacti, the tallest growing cactus in the world. The massive cardóns can only be found in Baja California and Sonora and are capable of growing to heights of well over 60 feet and can weigh up to 20 tons.
Visit a Secret Beach in San Quintin
Located 35 miles from the center of San Quintín, La Lobera is a special place—a huge sea cave, created by a natural ceiling collapse that has exposed a 'secret beach,' often enjoyed by sea lions. It is considered a natural sanctuary for resting and breeding sea lions and has become one of the most impressive and beautiful tourist attractions in the region.
Stargazing in a Bubble Between Ensenada and Valle de Guadalupe
Campera Hotel Burbuja (translation: Bubble Hotel) is an eco-minded resort with 12 clear bubble-shaped tents that offer guests unobstructed views of the vineyards and starry night skies. Immersed in Valle de Guadalupe, the fast growing travel and wine region of Baja California, the hotel is located just minutes from dozens of nearby wineries and restaurants that showcase the same level of next-gen design and innovation.
Swimming with Whale Sharks in Bahia de Los Angeles
Bahía de Los Angeles, also known as the "Bay of Angels," is a coastal village along the Gulf of California where people visit to experience the great outdoors through a variety of adventurous activities. One of the most unique offerings of the area is the chance to swim and snorkel with whale sharks in the Sea of Cortez, where travelers can share the ocean with 20 to 30 of these magnificent creatures, which can grow up to 50 feet in length. For example, trained experts at Ricardo's Diving Tours take groups of 6 on half-day diving or snorkeling boat excursions, after outfitting them with all of the necessary equipment to see the legendary "gentle giants" up close.
Visit Ancient Cave Paintings in Cataviña
Located in and around Cataviña are a number of cave paintings, mostly around 1,000 years old. The paintings hail from the Yumano and Cochimí Indians that inhabited the Baja peninsula for generations. The paintings are usually found in deep caves and in between large rock formations, where they are protected from extreme temperatures and wind.