I travel to the Caribbean frequently for work, mostly to explore and experience different hotels and resorts. The Caribbean has never been the friendliest of places for LGBTQ travelers and Jamaica still tops the list as one of the worst offenders. But regardless, I've never let a country's general attitude towards my sexual orientation keep me from visiting, mostly because some of these resorts are places most only dream of going to, and when it comes to resort travel, I don't often find myself wandering off the property, where the danger typically is.
Sandals Resorts International is a massive company based out of Jamaica and it's famous for its adult-only, all-inclusive couples resorts. More than 13 years ago, the company improved its messaging to the LGBTQ market by changing its mission statement from "Couples only" to "Sandals Resorts warmly welcomes all adult couples." This was a major move for the company and although they haven't rolled out anything further regarding same-sex couples since the language swap, they are holding firm to their current mission statement.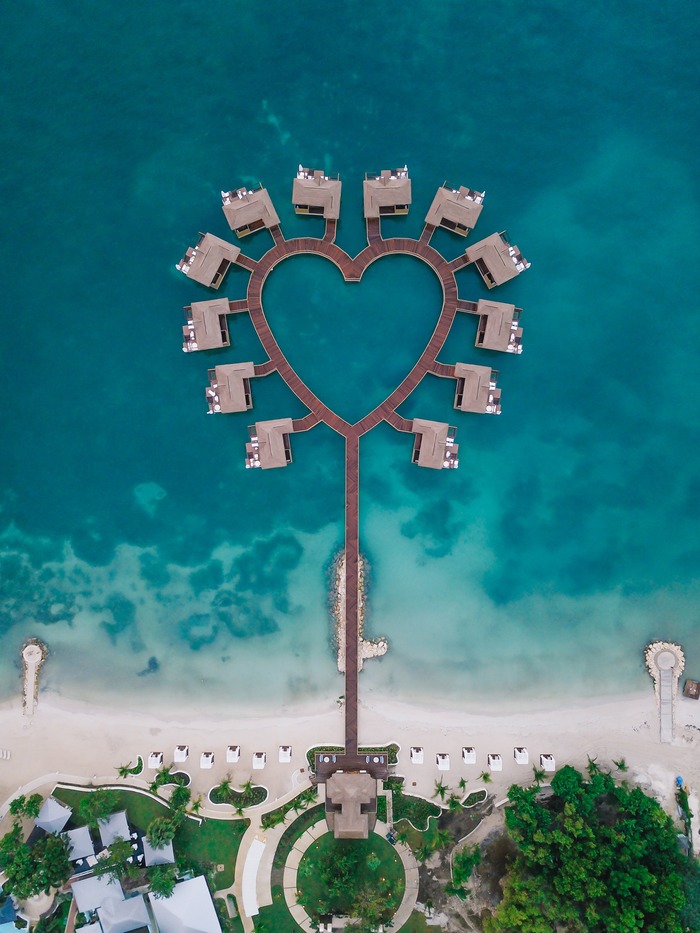 Gay country music personality, Cody Alan, recently proposed to his partner at Sandals South Coast in Jamaica while hosting a concert series at the property, and has been giving the resort a glowing review ever since. Sandals Resorts haven't become a company that gays are flocking too, but it's nice to know they have a willingness to adapt, and since Sandals South Coast was one of the first resorts in North America (the first two being Sandals Royal Caribbean and Sandals Grande St. Lucian) to offer over-water bungalows, I had to head to Jamaica to try them out.
I've been fortunate enough to experience over-the-water bungalows in places like French Polynesia and Southeast Asia, and boyare they something else. On a scale from amazing to I'm never leaving, you're going to have to drag me out of here, I'd say most would lean further towards the latter. The new Sandals bungalows offered what the brand calls, Butler Elite, a service I was unaware existed at Sandals until we booked our trip. Upon landing in Montego Bay, and clearing immigration, we were promptly greeted by someone from the butler team, who escorted us to our private driver for the 1.5 hour drive through the winding roads to White House, Jamaica, where the resort is located.
Once there, we traded our BMW for a golf cart and were taken to a private check-in at the lobby of the bungalow entrance. From the lobby, it's a long straight walkway to 12 Tahiti-style bungalows, which are positioned in the shape of a heart, which can only be seen from an aerial view. The bungalows, which officially opened this month, feature modern luxury with exotic palapa-style architecture. An expansive patio features a Sandals Signature Tranquility Soaking Tub for two, an over-the-water hammock, outdoor shower and suspended patio swim-up platform for easy access to the ocean. Inside, there is a butler's pantry as you enter the bungalow, which leads into an oversized bedroom with a "sea-through" glass floor, a king-size bed and a spacious spa-style bathroom with an elegant shower, in case you are too shy to shower outside (I was definitely not).
Trained in accordance to the exacting standards of the Guild of Professional Butlers, who provide butlers to nobility and celebrities, the personal butlers at Sandals handle every detail of your trip. I'm not going to lie; at first we were a bit embarrassed to use our private butler smartphone, which was given to us at check-in. But it wasn't long after our first experience with their service that we continued to drain the battery on the phone from using it so much. Ok, it wasn't that extreme, but we did use ita lot.
The resort offers nine restaurants and seven bars, all of which are included in the price; therefore, over-indulging is common practice at these resorts. Since our bungalows came with 24/hour room service and our butlers were willing to bring us food from some of the specialty restaurants, we spent a lot of time eating on the bed or on our outdoor deck. The couple times we did make it out to the restaurants, the experience was pretty special. Guests at the resort do not need to make reservations at the restaurants, instead it's a first come, first served ruleunless you are equipped with a private butler. When it was time to head to dinner, we were escorted by our guy (there are female butlers too, btw) to the restaurant where he then showed us to our table, which was dressed up with candles and flowers, which in retrospect, probably comes off a bit pretentious to non-bungalow guests, but heyit's part of the paid service. After dinner, with a quick text or call, our butler was there to escort us back to the privacy of our bungalows.
As for activities and things to do, there are tons of free options. Land-based sports such as tennis, volleyball, and life-sized chess, etc., are available. And for water sports, sailing, scuba diving, windsurfing, water skiing, kayaking, and more are all included options. For paid optional activities, Island Routes Caribbean Adventures has an activity desk on property with a plethora of different options. We opted for what probably is the most popular tour, an ultimate swim with dolphins at Dolphin Cove. I've always been hesitant to swim with dolphins since I personally don't agree with keeping them in captivity, but these beautiful creatures were swimming in ocean water, in a large cove and the trainers were extremely gentle and loving. I know that can come off as an excuse, which partly it is, but if you're going to interact with dolphins, this is one of the best places to do so.
I didn't spend much time outside of the resort and that was OK with me. I wasn't traveling there to see Jamaica, I was traveling there to experience the resort, the bungalows, and the 5-star service of the Butler Elite program. I was never much into the all-inclusive style of travel, but when it's at this level, I'm definitely more of a believer. And the adults-only aspect of the resort, well, that's just pure perfection.