Whenever you mention Downtown to a long time Angeleno, they will almost always utter the appointed city-wide dialogue- "you should have seen it years ago", alluding to a time of dejectionempty buildings, trepidation, and rampant homelessness. While the first two have been largely diminished, little progress has been made in finding solutions for the nearly 58,000 homeless in L.A. county, with up to 2,000 individuals occupying the sidewalks of Downtown's Skid Row as the rest of the neighborhood rockets to international glory in arts, culture, and cuisine.
Despite its pockets of destitution, the neighborhood is quickly establishing itself as one of Los Angeles' newest gayborhoods, drawing adventurous creatives, chefs, fashionistas, and other innovators who crave the possibilities of queer renovation. The neighborhood consequentially acts as its very own scruffy middle finger to West Hollywood's obsession with smooth, clean-cut beauty. DTLA's spooky, and at times grotesque drag scene, is just a sample of the zeal embedded in the fibers of L.A.'s newest queer neighborhood that leads the resistance with an old school punk rock rebellion flair, but in places, glitters that grit with luxurious opulence.
FRIDAY
Getting Acquainted
5pm- From the 1930s to 1960s, Pershing Square was one of the cruisiest places in Los Angeles with a lineup of gay-friendly establishments called "The Run". 80 years later, the park joyfully flaunts its queer past in the open with DTLA Proud's Block Party (a wildly popular festival that 7,000+ and takes place every late August, now in its third year.) Start with a walk from the lively purple and yellow embellished park and stroll Northeast along Hill street to Grand Park. Veer left in the park punctuated by pink chairs and head Northwest to Grand street for sights of the fanciful Walt Disney Concert Hall designed by Frank Gehry.
Noms, For Days
7pm- Be delightfully overwhelmed with choice in Grand Central Market for a delicious and approachably priced dinner. The 101-year-old indoor market has an impressive collection of vendors selling exotic groceries, but more importantly, a smattering of brilliantly prepared world cuisines. For a pick me up from the travel day, try PB LA's Red Eye, a twist on the childhood favorite with espresso peanut butter and dark chocolate raspberry jam. Or, for something more substantial, slurp some legendary Los Angeles ramen at Ramen Hood.
Cocktails
9pm- Bar Mattachine is named after the pioneering Mattachine Society, a brave collection of of souls that began their own gay rights movement in Los Angeles' Silver Lake neighborhood in the 1950s. The lounge bar now serves rebelliously innovative drinks like whisky heavy Harry Hay (named after the society's founder) and always provides experimental entertainment. Upon one visit, go-go boys stood on boxes and silently read fine literature.
Queen Kong
10pm- Make sure to get to Precinct for Friday night's Queen Kong before the line starts to curl on Broadway. Bring cash for the $7 dollar entry. The weekly show is constantly high energy, diverse, grotesque, and has a staggeringly high shock value rating. Bu of course it does, it's hosted by the ghoulish Boulet Brothers, creators of the cult hit reality T.V. show "Dragula: Search for the Next Drag Supermonster". RPDR girls appear regularly for the show with more twisted performances than their fans are accustomed too, but regular performers like drag queens Meatball and Vander Von Odd and boylesque icon Tito Bonito, are the show stealers.
SATURDAY
Flower Power
8am- Today, we rise excited for flowers like Baby's Breath, Billy's Balls, Asiatic Lilies and plenty of succulents. The Original Los Angeles Flower Market has been operating since 1921 and is quite naturally located in Downtown's Flower District. The 55,000 square foot indoor marketplace features a stunning collection of up to fifty vendors with in season floral cuttings from around the world. It's hard not to smile in such early morning efflorescence. Buy them, smell them, or just walk amongst them.
Urban Adventure
10am- Downtown is full of adventure. Check out Touchstone's LA Boulders for a fun morning of indoor rock climbing. The 11,500 square foot building contains over 200+ climbing routes for complete beginners to expert climbers and is perfect to experience alone or with friends. The company proudly presents a trans friendly bathroom policy and celebrates Pride all June long.
Mid-Day Noms
12pm- Just around the corner from LA Boulders in the Arts District is the bustling Zinc Cafe. The restaurant, bar, cafe, and market space has a lovely outdoor patio among twisting trees and pleasant fountains: an oasis in the concrete jungle of converted warehouses. Have a lavender lemonade and a hearty of order of brunch chilaquiles.
DTLA's Take on Beverly Hills
2pm- Spend a few hours shopping in the most audacious shopping center in Downtown, perhaps even Los Angeles. The Row DTLA features over 100 unique stores and 15 restaurants (and a boatload of office space) all housed in the old American Apparel office and manufacturing warehouses. Two stores to look out for: the high fashion French styles of 13 Bonaparte for men, and Galerie.LA which sells sustainable, eco-friendly women's fashion picked by a Dechel McKillian, a celebrity stylist who's dressed everyone from Lionel Richie to Nicki Minaj.
Little Tokyo
4pm- On your way to the impressive permanent collection at The Japanese American Museum (or this summer's exhibit "What We Carried: Fragments and Memories from Iraq & Syria") stop into Cafe Dulce for a quick snack of their famously celebrated milk-tea lattes and green tea donuts.
Sushi in the Sky
7pm- Ride up 70 floors at the InterContinental Los Angeles Downtown's in speedy smart elevators to be greeted by a stunning 360 view of a twinkling Los Angeles. Sora's intimate two person booths provide an airy view while you pick your favorites sashimi and rolls from a conveyor belt scooting around the restaurant.
DTLA's Longest Standing Gay Bar
9pm- A bilingual staff and affable clientele welcomes all to Downtown's oldest Latinx gay bar, The New Jalisco Bar. One Google reviewer has summarized the place on a pin- "A friendly place that might be the only place in the world which has the Blue Demon telenovela in the front and a drag show in the back."
Late Night Life
Late Night- Downtown hosts many of Los Angeles' queerest rotating parties. While dates are never set in stone, Saturday is usually the regular night for queer revelry. For a pansexual party paradise infused with disco and late night techno (and plenty of looques) look out for A Club Called Rhonda.
SUNDAY
Modern Art Love Triangles
10am- By now, you've seen most of The Broad's permanent collection Instagramed by your friends who visited the popular modern art museum during their trip to Los Angeles. But that doesn't mean you can't see it for yourself. Be sure to grab tickets weeks before visiting online (or, wait in line at least 30 minutes before opening at 10.) Admission is free for the permanent collection, but special collections, like the current Jasper Johns exhibit, typically cost $25, but are well worth it to modern art enthusiasts. With the John's exhibit, the museum now hosts a small collection each of the three men once in a famous love triangle: Johns, Cy Twombly, and Robert Rauschenberg.
Get Lost in the Stacks
12pm- "What are you waiting for? We won't be here forever." Reads The Last Bookstore's foreboding slogan. While Downtown's favorite and largest bookstore may not actually be the last bookstore in the world, it may be the last place you're seen as you wander the stacks of new and used books. Please, be careful, an afternoon here dwindles and the traffic to LAX is never good.
The Snugs
Fancy Pants
Perch above the entire Los Angeles basin in the InterContinental Los Angeles Downtown with 360 views of the shimmering Pacific, the Hollywood sign, the Inland Empire, and the lofty San Gabriel mountains from the tallest building west of Chicago. Besides the view from the 70th floor sky lobby, highlights include an incredibly sexy gym, a posh pool, six restaurants, and a 73rd story rooftop bar, but, the affable and obliging staff make the experience a true delight. Rooms from $379 and up.
Goldilocks
The Ace Hotel opened in 2014 in the historic United Artists' building. Inside the wonderfully gothic exterior the hotel impresses with trendy, minimalist rooms sized from small, to medium terraced, to the grand suite. Of course there is a stunning rooftop pool, bar, and mezzanine, but the real draw is the hotel's commitment to performance. Find Dublab on Sundays for progressive DJ sets, sporadic Drag Queen shows (like a Lady Bunny Brunch), as well as the historic theatre's performance by Taylor Mac, a four part performance running every Thursday from this week onward. Rooms starting from $229 and up.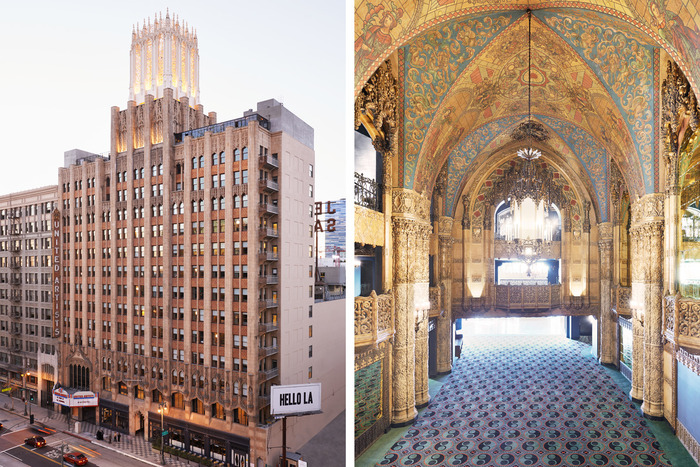 Backpackers
With a diverse set of room layouts from expansive studio suites to shared bunk rooms, The Freehand Hotel welcomes all with true California gusto. Enjoy the bright on-trend decor, a lively rooftop pool, Flowerboy shop, two bars, a cafe, and an eclectic middle-eastern restaurant. A multilingual staff helps accommodate foreign travelers. Shared bunk rooms from $59 and up, with rooms starting at $229.