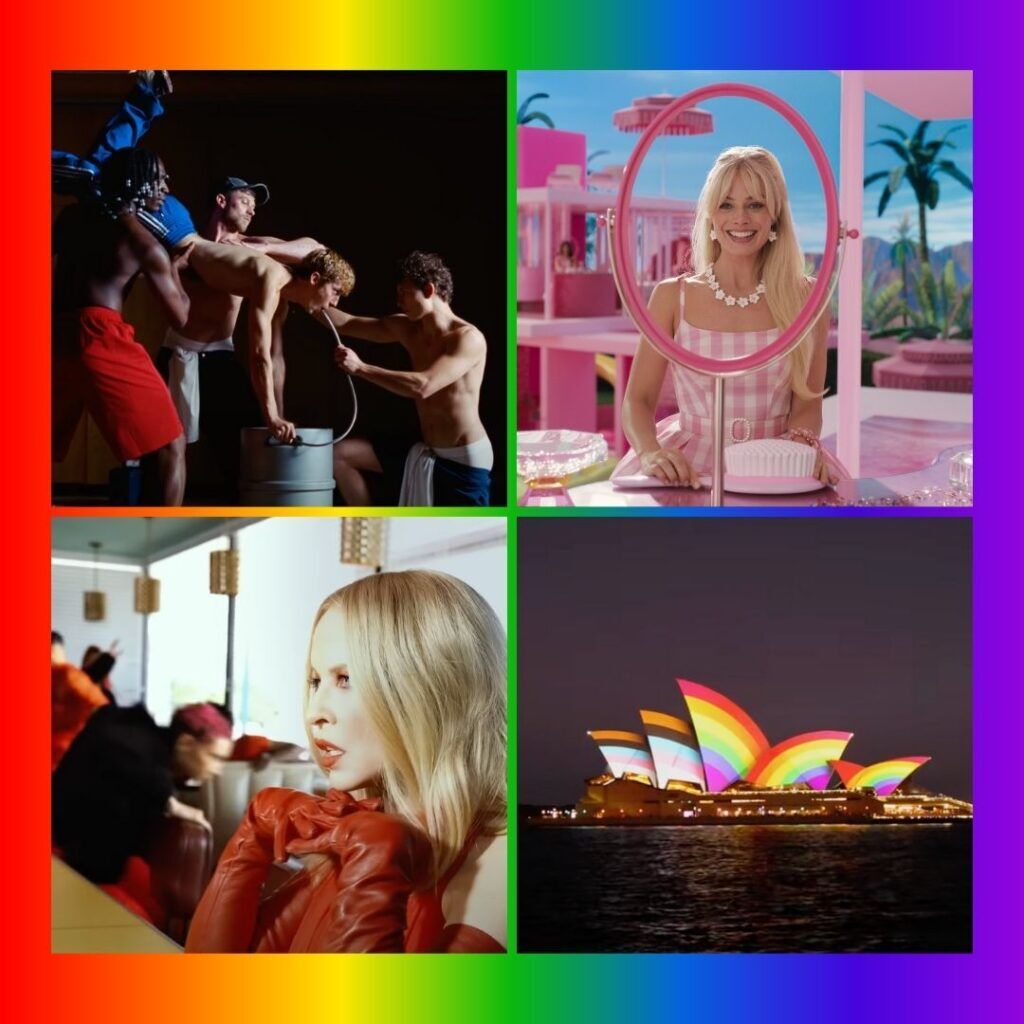 The "Aussiesance" is here and the world is ready for it.
In case you missed it, Australia is having a good year and it's thanks to its queer exports that are taking over the world. Some might say it's the year of the queer Aussie or that we are entering an Australian Renaissance, an "Aussiesance", if you will. As reported in The Guardian, who also gets credit for "Aussiesance", Australia has consistently provided for the gays and we have plenty to be thankful for. We have Nicole Kidman blessing us with cinematic roles, like her AMC commercial which deserves an Oscar nomination, Kylie Minogue's plethora of gay anthems, and the word "naur" (or "no" said with an Australian accent).
Now, 2023 ushers in the "Aussiesance" with new queer blessings for the world to enjoy. Take a look at some of these queer cultural moments that come from the land down under.
Kylie Minogue Blessed Gay Clubs With "Padam Padam"
Kylie Minogue is the queen of the dance floor, creating bops for gay bars since the '80s. She continues her reign with the earworm "Padam Padam". Titled after the sound a heartbeat makes, and confusing the masses over it, this pop hit all about knowing someone wants to take you home has become one of Kylie's greatest hits within her discography. We've entered a "Padam-ic" and it's here to stay.
Margot Robbie Bringing Barbie to Life
There's no doll on earth whose influence is felt stronger than Barbie's and thanks to Greta Gerwig and Margot Robbie, we have the famous doll coming to the silver screen. The trailer take audiences to "Barbieland" and we're not sure if we ever want to leave this pink, campy paradise. Robbie plays the titular doll and does double duty with producing the film as well. Since Robbie hails from "The Outback", her film is a win for the queer community and Australia.
Related:

Greta Gerwig's 'Barbie' is the latest chapter in doll culture's queer-coded legacy.
You feel it, you sniff it, and it's so good. "Rush", Troye Sivan's new bop named after a popular brand of poppers, created a frenzy online and provided a new queer summer anthem. The music video is the personification of queer hedonism and we stan another Aussie who knows how to make pop music.
Tár's Award Season Run
You have your queer heroes, but you have to balance that out with queer villainy. That's when Tár comes into play. The film follows one of Australia's best actresses Cate Blanchett as Lydia Tár, a world-renowned music conductor facing accusations of misconduct. Sure this came out in 2022, but it was still racking up awards well into 2023, including several Oscar nominations, and the film and Blanchett's influence was felt all over the world.
G Flip and Chrishell Stause Got Married
When news of Selling Sunset's Chrishell Stause and Australian rapper's G Flip's relationship came out in 2022, the queer world stopped. G Flip was already making headlines as an indie rapper with a debut album that went platinum and Stause was doing the same stateside with their hit Netflix reality TV series. Now, in 2023, they've solidified their queer "it" couple status with a lovely marriage announcement on social media.
Of An Age Put Us Into an Emotional Chokehold
This film is as steamy as it is a tearjerker. So bring your tissues for whatever reason. Of An Age follows the story of teenager Kol (Elias Anton), a Serbian-born, Australian amateur dancer who spends 24 hours with Adam (Thom Green), his best friend Ebony's (Hattie Hook) older brother. One day shared together leads to love and longing that lasts for several years between these two. And one watch of this queer Australian romance drama will make you fall in love with it forever.
Related:
Murray Bartlett Made Us Believe in Love During the Apocalypse on The Last of Us
In case you've been living under a rock, Australian actor Murray Bartlett has been living his best actor life in some of the United States' biggest TV show hits. His role as the hotel manager Armond in The White Lotus earned him a Primetime Emmy Award and immense online popularity for the *ss-eating scene witnessed across the world. In 2021, he got us hot and bothered. In 2023, he made us cry uncontrollably as ½ of the couple Bill (Nick Offerman) and Frank (Bartlett) in episode 3 of The Last of Us.
Sydney WorldPride Brought Queer Joy to the Land Down Under
WorldPride brings queer joy to an international level with festivals, parades, parties, and events that are out of this world. This year, WorldPride was held in Sydney, Australia, bringing LGBTQ+ folks from around the globe to the land down under in celebration of all things queer.
in Your Inbox

Subscribe to get a twice-weekly dose of queer news, updates, and insights from the INTO team.