Welcome back to the INTO RuView, where we recap RuPaul's Drag Race week by week. This episode, the queens atoned for their Snatch Game sins in a lip sync LaLaPaRuZa. And it was excellent television.
For me, one of the highlights of this episode from start to finish was DeJa's commentary on the situation. As last week's winner, she was immune from the lip sync smackdown, and instead she got to laugh at everyone else's misfortune. Her suggesting formats — "Individual lip syncs! They'll bring back all the eliminated girls! You'll all lip sync at once!" — and everyone else telling her to shut up was fabulous.
It was also interesting to see everyone's evaluations of each other's lip sync skills. Apparently, Willow is the one to beat when it comes to camp, while Angeria will kill a ballad, Jasmine a dance number, and Jorgeous literally anything. No one wanted to be against Jorgeous, and I get it — she's done wonderfully in her lip syncs so far. But I do think with a more expressive, less movement-heavy song, she could be taken down. We'll have to see how her story on the show comes to an end.
Before we get to the battles themselves, let's rank these lip sync looks. Yes, all eight.
Category Is … Lip Sync LaLaPaRuZa Smackdown
Best Look: Willow Pill
Willow stood out for wearing a dress in a sea of bodysuits. And a cute dress, too!
Second Best: Daya Betty
Daya's bodysuit is nothing special, but this scene girl hair is everything to me.
Third Best: Lady Camden
She said it herself: she's Sonic the Hedgehog's bitch girlfriend. The silhouette and hair choice put this look a notch above the rest.
Fourth Best: Jasmine Kennedie
Jasmine looks so pretty! Have I seen it before? Absolutely. But if it ain't broke…
Meh of the Week: Jorgeous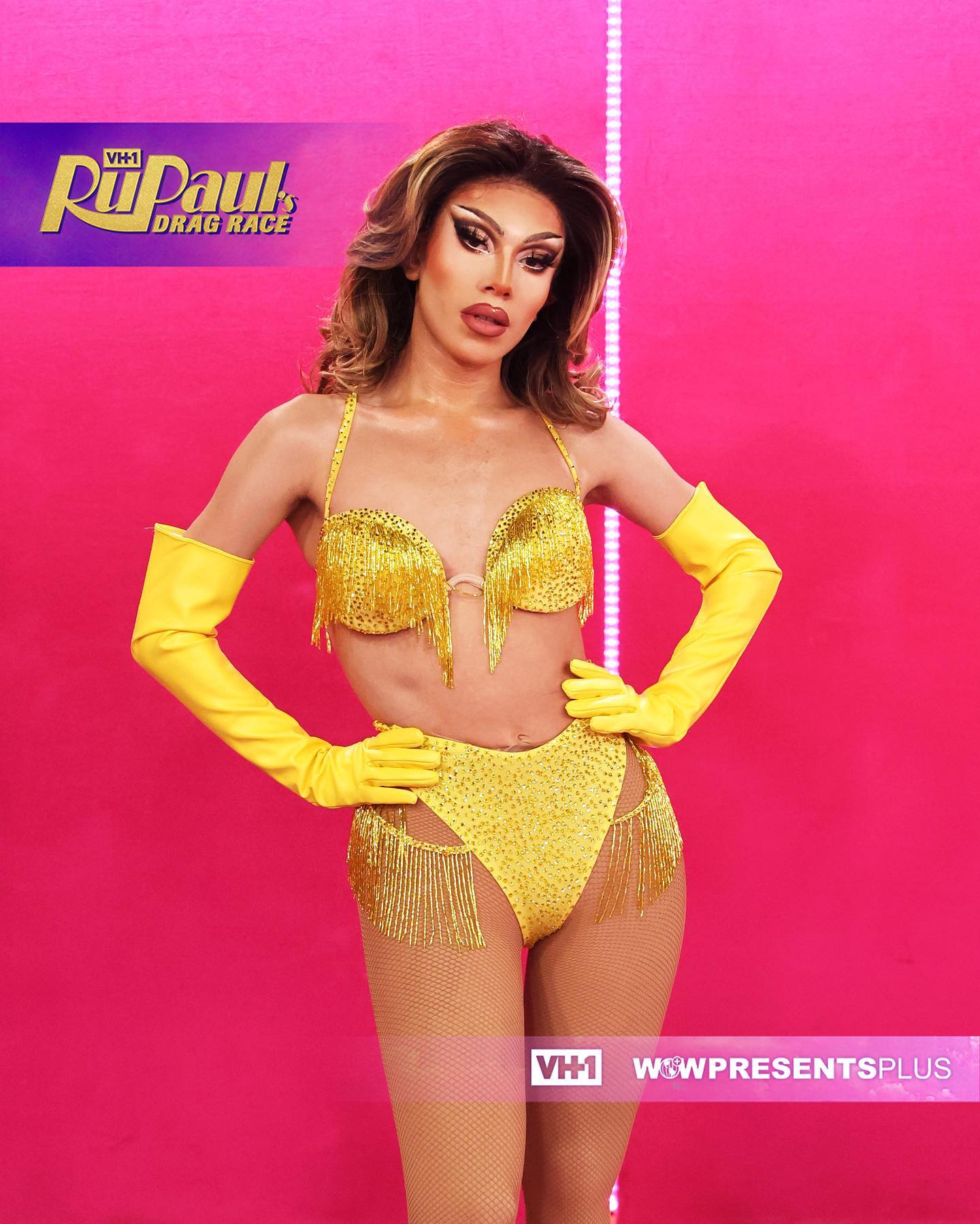 Jorgeous looks stunning as always. But she falls below Jasmine because I hate how her bra is pulling away from her chest. Just size it a little differently.
Third Worst: Angeria Paris VanMichaels
Angeria is the worst of the bodysuits because the hair is the least suited to a lip sync smackdown, in my opinion. But she, Jasmine and Jorgeous are basically interchangeable in this ranking.
Second Worst: Bosco
There's just not much look to speak of. Plus, Bosco's worn a variation on this look — bra, belt, panties — for the last three weeks in a row. I do love the hair, though.
Worst Look: DeJa Skye
DeJa had the freedom to wear whatever the hell she wanted this week. And she chose … this. You do you, girl.
The smackdown begins by randomly selecting one girl's name from a bingo cage. That lucky lady is Jasmine Kennedie, who then gets to choose her opponent. She, of course, chooses Daya, who has yet to win a lip sync on the season and was even already eliminated. I would've done the same thing.
But the twist is that Daya gets to pick the song for their battle. Jasmine's face immediately falls. I'm obsessed. She opts for "Respect" by Aretha Franklin, knowing it's more about emotion than dance moves.
But Jasmine apparently didn't get that memo, pulling out every trick in the book as Daya stands firm at the front of the stage and delivers. Daya also lip syncs the main Aretha vocal, while Jasmine mouths the backing track. It's the little details like that that make a huge difference, and Daya deservedly pulls out the win. We live in a world where Daya Betty beat Jasmine Kennedie in a lip sync, and I, for one, am happy to be here.
Daya joins DeJa to watch from backstage as the next queen is randomly selected: Willow Pill. She wants an opponent who will pick the song she wants, so she chooses Bosco. And sure enough, Bosco selects "Never Too Much" by Luther Vandross, which Willow wanted all along.
This is a more low-key lip sync, but it's still fabulous. Willow delivers the soul of the song, along with some campy moments like a syncopated head wobble. Bosco tries to sell sex and comedy instead, and unfortunately, it doesn't stand up to Willow's interpretation. Willow snags the win, and Bosco heads to the back of the stage to wait for the second round.
There are three girls left, so they all have to lip sync together. Camden, Angeria and Jorgeous all step forward, where Jorgeous is given the honor of choosing their lip sync. Everyone expects her to choose the J.Lo song from the list — I mean, she looks just like J.Lo in this outfit — but no. She picks "Radio" by Beyoncé, gagging all the girls backstage.
This is probably the best three-way lip sync we've gotten on the show — on American Drag Race, I mean. (Check out this epic Drag Race Thailand battle to "Toxic" if you haven't already.) Camden is giving both dance and comedy, Angeria is … casting a spell? In a fierce way. And Jorgeous is delivering her signature effortless dance moves. I'm with DeJa — I wish Camden had done a death drop to make it three in a row! It's still a great number.
I would've given this win to Camden, but Ru gives it to Jorgeous. I can't be mad — all three of them killed it and could've gotten the win.
As it stands, though, we have four girls still up for elimination: Jasmine, Bosco, Camden and Angeria. Lady Camden is chosen to go next, and she picks Bosco as her opponent. Again, I would've made the same choice: Bosco was the least impressive in the first round.
Bosco chooses their song: "Don't Let Go" by En Vogue. Her reasoning is that Camden won't be able to use her dance moves in a ballad. What she fails to consider is that Camden isn't just a dancer — she's also an actress. And she's the clear winner of this lip syncs from its first stunning shot.
THE CAMERAMAN NEEDS A FUCKING RAISE #RPDR pic.twitter.com/AiUlvgo5Gz

— rio | 𐤀 (@riyojan) March 19, 2022
I'm with Daya here: Camden looks good. She wins the lip sync and secures her safety, sending Bosco to the final lip sync of the night.
But first, Angeria and Jasmine have to battle it out. And they don't get to choose their song; they get the last one on the list, "Love Don't Cost A Thing" by Jennifer Lopez. Call me crazy, but I thought Jasmine totally won this. She was serving more body and more face than Angie — but let's be real. They were never gonna eliminate Angie this episode.
So Angeria is called safe, and Jasmine and Bosco are left for the true Lip Sync For Your Life of the episode. The song is "Swept Away" by Diana Ross, which is now on my playlist, thank you. 
They both switch up their strategy for this number. Jasmine has been giving lots of tricks and stunts, so she decides to go with a campier take on the song. Meanwhile, Bosco pulls out all the stripper tricks that she's been saving. They both kill it, in my opinion, but Bosco does just a little better and snags the win.
Jasmine doesn't have the gold bar. Can you imagine, this whole episode ending with another non-elimination? No, Jasmine is sent packing as the contestant with the most lip syncs on a regular season of the show: six, after this episode. She really grew on me throughout the season, and I can't wait to see her kill an All Stars season someday.
Honestly, this LaLaPaRuZa format should just become a main season staple. That was so entertaining! And it's a great way for everyone to show off their lip sync chops, even if they're not landing in the bottom. Producers, write that down.
Next week, our top seven are headed into a Rusical challenge based on Moulin Rouge!. I'll be shocked if anyone but Camden wins this. She is the actress, after all — but who knows? So was Jan.